Lauren Groff on Yūko Tsushima's Quietly Defiant Sensualities
On Woman Running in the Mountains
At dawn one hot August morning, a young woman in labor walks down a dim alleyway in Tokyo. Her name is Takiko Odaka, and she is unmarried and determined to make her way to the hospital alone. When she stops to let a contraction pass, "The pain made her think of the pressure of ocean depths. She had heard that when a deep-sea fish is hauled rapidly to the surface the change in pressure causes its body to blow up and burst like a balloon. She felt exactly as if such a deep-sea fish were in her belly. It seemed to want to bring all the surrounding pressure to bear on its small body until it hardened and sank, deeper and deeper. She must stay quite still and withstand the pressure or her own body would be sucked down by it too." Takiko waits patiently until the pain leaves her, then she strides on. Within moments, she is repaid for her endurance with great beauty: "As she turned to the right, all of her was bathed in the direct light of the morning sun for the first time that day. It was a dazzling light. The city streets spread out at her feet and the dawn sky spread above, faintly pink . . . No one was aware of her joy at this instant—not her mother, not her father, not a soul. She didn't think there could be any moment more luxurious than this."
This scene of entangled pain and rapture from the novel Woman Running in the Mountains (first published in Japan in 1980 as Yama o hashiru onna and translated by Geraldine Harcourt in 1991) could stand as a motif for the larger urgencies that animate Yūko Tsushima's fiction. She wrote again and again of profoundly conflicted maternity and the burden of single motherhood in Japan, during a time when it was rare for women to raise their children alone; she wrote of physical anguish and ecstasy, of troublesome dreams and shimmering, transfiguring light. Her heroines carry their despair around with them, drink too much, sleep with the wrong people, sometimes even deliberately hurt their own children. Still, they always stay afloat, never letting the difficulty of their lives submerge them. In 1989, Tsushima wrote in the Chicago Tribune that she loved the work of Tennessee Williams because
his heroines are dissatisfied with the existing condition and are courageous enough to spring out into a new place no matter how dangerous it may appear from a common-sense judgment. They hate to be self-contained in everyday life. Self-destructive, maybe, but I feel close to their expansionism—going outside to find happiness. Women figures I created in my novels also don't compromise with reality. They may appear stoic, but they are strong enough to search for their own happiness in their own ways.
For many of Tsushima's heroines, this searching seems to emerge out of personality, out of stubbornness and sheer, relentless common sense. In Woman Running in the Mountains, Takiko is given something both finer and rarer: a deep sensitivity to beauty and a craving for the kind of freedom she has only ever known indirectly, from her glimpses of other lives, from stories she has been told or has seen in films, from her own wild dreams. Throughout her pregnancy, Takiko has pictured herself "holding a baby lightly to her breast and running at top speed . . . At school she hadn't actually liked running at all, yet now she couldn't stop seeing this image of herself. It was not that she was running away. She just wanted to be tough and free to move." Takiko's home life is devastating: She is afraid of her physically abusive drunk of a father, of her mother's slow and inexorable illness, of the pain of her baby's hernia, of her debilitating poverty and her inability to get a job while her child is still so young. The only respite she can find is in her own mind.
Woman Running in the Mountains tracks one insignificant person's defiance in the face of the overwhelming darkness of the world.
Because Tsushima frequently wrote what in Japan are called I-novels, otherwise known as watakushi shōsetsu or shishōsetsu, her biography has often been conflated with her fiction. The I-novel literary genre is a form of autofiction, often told in the first person, arising out of the Meiji period from the late 1860s to the first decades of the twentieth century, when Japan expanded out of feudalism and began opening to global influences. The I-novel emerged from the collision of traditional Japanese diaristic narratives with the Western literary school of naturalism, an extreme mode of realism that sought to extend the nineteenth century's development of the experimental method in science into the "passionate and intellectual life" of literature, as practiced by Émile Zola, who first defined the genre in his essay "The Experimental Novel." Japanese writers and readers were enthralled by intimate access to characters' psychology, and the I-novel became immensely popular.
In Tsushima's work, life and fiction do circle warily, both constantly returning to the same shared places. The primary thread in her work, single motherhood, has a doubled biographical resonance because Tsushima, a single mother, was herself raised by a single mother. She was born in 1947, but never knew her father, the celebrated I-novelist Osamu Dazai, because he committed suicide in 1948; the absent father, or the father who has committed suicide and left his children, is a common refrain in her work.
Her fiction is also haunted by the recurrence of a mentally handicapped older brother who dies young, like Tsushima's own beloved brother. Yet a reader should be wary of such conflations, particularly because Tsushima reached for fiction so that she could create an imagined life that would be so vivid and true it would become a new sort of reality. She said, "If I stop writing, I will feel like a kite without a string. I write fiction, but I experience the fiction I write. In that sense, they are not fiction anymore, but reality. That's frightening. Like other novelists, I live a real life and a life as a writer. At times I get confused which is which."
In this light, it feels significant to mention that Yūko Tsushima is in fact a pen name, a way to deliberately delineate the boundaries of her own narrative. She kept her real surname, though it might have been easier for her career as a young novelist to choose Dazai, her father's professional pseudonym; by eschewing it, she turned away from publicly claiming his influence. Though her first name was originally Satoko, Tsushima wrote that "when it came time for me to think of my own pen name, every writer's privilege, I chose Yūko, a simple character, but one which suggests movement toward the outside. And it means happiness." Her pen name is her own small replica of her heroines' stubborn persistence—they who stand outside of society due to their poverty or the choice to bear children out of wedlock, yet who still insist on their own happiness.
Takiko, our profoundly unheroic heroine, resolutely holds the space inside herself to dream, to take pleasure in her body, to fall in love.
Tsushima was only twenty-four and still in college when she published her first short story, and she swiftly became celebrated through her mastery of the form, publishing at least twelve collections before her death in 2016. She also published numerous novels in Japanese, of which four have been translated into English. Like the elegant and recently reissued Territory of Light, Woman Running in the Mountains began in serialized form, covering a whole year in the life of a struggling mother, a cascade of potentially devastating failures transcended by moments of astonishment. This may seem familiar to anyone who has known the grind and ecstasy of caring for a small child, the way that time folds in on itself, simultaneously a single endless agonizing moment and a span too swift to capture. Yet the two books differ vastly. In Territory of Light, the heroine's imagination relentlessly circles back to the difficulty of raising a child as a single mother, turning the text hermetic.
Though it is very beautiful, the book's inverted imagination makes it a closed circuit. Woman Running in the Mountains has a grandeur to it, a constant flickering outward to the wider world because Takiko, our profoundly unheroic heroine, resolutely holds the space inside herself to dream, to take pleasure in her body, to fall in love, to discover a green place called Misawa Gardens and pursue a job there surrounded by calm and beauty.
It is with great wonder that the reader beholds Takiko, this uneducated and ordinary young woman, who, though exhausted and at her highest pitch of despair, retreats to the cool mountains of her imagination, seeing herself as a girl running "faster, faster. Something in the girl's body echoes like the howl of an animal among the mountains. It sweeps down to the vineyards as a gust of wind. The girl races on and on. When she has run till her body is empty, she stops abruptly and lets her gaze return again to the distant, delicately sparkling world below. Rivers trace silver lines. The sea is in sight. As her eyes follow the coastline, drifting ice appears and expands into a world of white. There's something running freely over that white expanse, its heartbeat reverberating."
Over and over, through Takiko's tremendous longing for beauty, through her carefully nurtured imagination, Tsushima in turn gives the reader such astonishing, glittering moments of wonder. Woman Running in the Mountains tracks one insignificant person's defiance in the face of the overwhelming darkness of the world. Although its struggles are the drudgery of the domestic, of the kind of maternal pain that is not often taken seriously either in life or in literature, the ferocious truth of this book is that it is out of such smallness that true and daily greatness arises. The result is a book that shines with hope.
__________________________________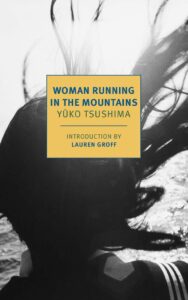 From the introduction to Woman Running in the Mountains by Yūko Tsushima, introduction by Lauren Groff, published by NYRB Classics. Introduction copyright © 2022 by Lauren Groff.
---