Laura Spence-Ash on Crafting an Epic Family Saga
Jane Ciabattari Talks to the Author of Beyond That, the Sea
Laura Spence-Ash's first novel, Beyond That, the Sea, opens with the urgency of the Blitz. In 1940 when German bombs begin falling on London, Millie and Reginald send their eleven-year-old daughter to the U.S. to safety. She travels by ship and meets her hosts Nancy, Ethan, their sons Gerald and William, in Boston. Bea comes of age straddling the Atlantic, and forever after her sense of home includes "going to the island" off the coast of Maine where her American family summers.
Spence-Ash enriches her characters by giving each a narrative voice, weaving together perceptions from multiple generations. She also carries her story forward into the 1970s, offering the wisdom of hindsight to those who will never forget World War II. Our exchange took place during a series of winter storms.
*
Jane Ciabattari: How have these past years of tumult and uncertainty been for you? Your family and work, your writing, the completion and publication of Beyond That, the Sea?
Laura Spence-Ash: We have been very lucky over the past years; I live in rural New Jersey, and we were able to easily isolate and continue working from home. My children are in their twenties, and they both completed graduate degrees in the past two years—I'm grateful that they were able to do that without too much disruption.
I wrote most of the book in 2018-2019—pre-pandemic but during the prior administration, and it was a refuge, of sorts. A place I could go where I had control, a place where characters—although flawed—were always trying to be the best versions of themselves. I started querying agents in February 2020, which in hindsight was not a good moment to do so, and it took me until May 2021 to find my wonderful agent, Gail Hochman. She sold the book very quickly, and my experience with my publisher, Celadon Books, has been terrific, even though we haven't met as frequently in person as we might have in the before times.
[The] weight of the past on the present is something that fascinates me.
JC: Your title comes from Virginia Woolf 's The Waves, also used as an epigraph: "In the beginning, there was the nursery, with windows opening on to a garden, and beyond that the sea." Why this title? How has Woolf's work influenced this novel, its shape and content?
LS-A: I have long admired this line. I love how the sentence moves from the beginning to the end, from inside to outside, from childhood to adulthood, from the known to the unknown. For me, it's a description of how life unfurls, and, at its heart, that's what this novel is about. All the point-of-view characters change and grow over the course of the novel, as their lives open up and develop.
They all come of age, in different ways. In addition, I like that the title incorporates the sea as the Atlantic ocean is the big thing that separates the two families in the book. And, finally, I think the title speaks to both yearning and unknowing, which is something every character in the novel feels and experiences.
I love Woolf's work. She is one of a handful of writers—the others are Alice Elliott Dark, Jhumpa Lahiri, Colm Tóibín, and William Trevor—whose work I read again and again. I love their sentences, and I love their focus on the quotidian moments and on time. I will never be as strong a writer as any of them, but they inspire me every day.
JC: What drew you to write about this era, and to center your story on Beatrix, who leaves her working-class London parents in 1940 to shelter in a safer space with a family in Boston, not knowing when the war will end?
LS-A: In 1998, I read an article in The New York Times about a group of older British adults who returned to the states to see where they had lived during the war. While I had known that children were sent to the country, I had no idea that children were sent so far away and often alone. It's estimated that 14,000 children left England during the war.
My children were young when I read that article, and I had a hard time imagining sending them away. I couldn't stop thinking about it, and I read everything I could find. But it was when I read a memoir by a man who had been sent to the town where I went to high school that a story began to develop in my mind. I knew the town and the school; I had a setting. Everything else developed out of that.
JC: You've written about your uncle, who fought in World War II and later found himself in a Kay Boyle short story. How did this uncle, and any other family background, lead you to write about this historic period?
LS-A: That's a great question! While that uncle was a decorated fighter pilot, my father and other uncles also fought in the war. But my father didn't enter the war until he turned 18 in early 1944, and he arrived in Europe for the tail end of the Battle of the Bulge. He hardly talked about the war, but he wrote, later in life, that he thought about it every day.
So I was interested in the war because of my father's and my uncles' experiences and also my mother's, who talked about rations of gas and stockings! But the fact that my father didn't talk about it stayed with me. I suspect that we all have memories of important moments in our lives that we revisit constantly, but that we don't necessarily talk about with our family and friends. And that weight of the past on the present is something that fascinates me, and it is also a thread that runs through the novel.
JC: Why choose to tell your story as a polyphonic narrative, which includes Beatrix, her parents Millie and Reg, the Gregory family (Nancy, Ethan, their sons Gerald and William, who are slightly younger and slightly older than Beatrix, among others)?
LS-A: When I first started writing the book—which was in 2008—Bea was the sole narrator. Then I expanded it, so that Bea, William, and Gerald each narrated a decade. But I found that I was increasingly interested in the older generation and how the decision to send Bea to America affected them as well. While Bea is the spine of the book, it really is a novel about family.
Then I wrote a short story, called "Desire Lines," which spans 30 years, and the POV pings back and forth between two characters. I loved writing that story, which focused on moments, rather than scenes. When I decided to include eight points-of-view and to cover a good bit of time, I needed to write very short chapters, and I used that story as a model. I liked how rich and developed the world of the novel became with all the different perspectives.
JC: What sort of research was involved in writing this novel? You mention Michael Henderson's memoir, See You After the Duration, about being a British evacuee during the war; the BBC story archives, the Imperial War Museum (and what others?)—how did they help you render these scenes with such authenticity?
LS-A: Early on, I did quite a bit of research into the Blitz, including reading accounts by evacuees but also learning about life in London, for those who remained. I read both nonfiction and fiction. There's a wonderful children's novel by P.L. Travers—of Mary Poppins fame—called I Go By Land, I Go By Sea, which was based on her experience as an escort for children of friends who came to the States.
But I began to wonder if I would ever write the novel if I kept doing research. I don't really think of myself as an historical fiction writer—for me, the characters carry more weight than the time period. So I started writing, moving forward chronologically, and I would then do a deep dive into a time period when I got there. I love reading newspapers—the articles as well as the ads tell you so much about a given time.
It was helpful to get grounded in this way, and of course, you always find wonderful details that may shape a character or a thread. One of the characters is infatuated with Jackie Kennedy, and that was very fun to explore. Other characters play postal chess, and when I did research into postal chess during the war, I discovered that many postal cards were destroyed or redacted because it was thought that the notation was code. I loved that detail and of course it made its way into the book.
JC: What made you decide to extend the span of this historic novel from the war years to 1977?
LS-A: I'm always interested in the passage of time. From the start I knew that I wanted to watch the ripple effects of the decision to send Bea away. Because the initial focus was on 1940 to 45, when Bea lives in the States, I decided to then jump 20 years forward in time—I liked the idea of contrasting the war years with the first half of the 1960s.
I want to know how people change over time, how they react to the changes that occur.
I wanted the middle to feel very different, though, so I decided to write about just two of the characters who meet in the summer of 1951. I liked the structural balance of the five-year sections, with a hinge in 1951. It wasn't until I got close to the end, that I decided that I needed an epilogue in 1977, because I was curious about what happened to everyone after 1965.
JC: Through what process did you weave together the love stories, the stories of loss, the coming-of-age stories, in this complex novel?
LS-A: I really relied on time to move the novel forward. I'm not much interested in plot that feels engineered or manufactured. I want to know how people change over time, how they react to the changes that occur. As I followed the characters forward in time, life happened to them—from births to deaths and everything in between. What I didn't really understand until I had finished the book was that it is a novel about family and about love, in all their forms.
JC: How do your critical essays (especially those you write regularly for Ploughshares) nourish your fiction?
LS-A: I love writing critical essays. I learn so much about fiction from exploring someone else's work, especially the craft choices that they make. Too much of the time, I'm reading quickly, and I don't slow down enough to really consider why and how something works. By writing those essays, though, I get to spend time doing exactly that. I hope that some of what I learn finds its way into my own work but, more importantly, I become a better reader as I gain perspective on what makes great fiction great.
JC: What are you working on now? Another novel? More stories? Essays?
LS-A: I'm working on a novel that has grown out of three short stories that I wrote a few years ago. The characters were not connected originally, but now they are, and their stories span the 20th century. The focus is on three women: one in 1925, one in 1959 and the third in 1993.
I'm fascinated by how women's lives changed in the 20th century but also by how things stayed the same, and that's something that comes across quite readily when lives from different time periods are placed side by side. It's quite a fun project to work on, as I know the characters quite well, and it's somewhat like spending time with old friends—I love being with them and learning more about their lives!
__________________________________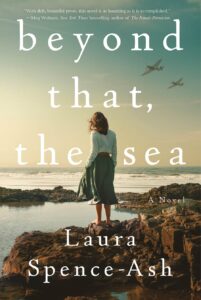 Beyond That, the Sea by Laura Spence-Ash is available from Celadon Books, an imprint of Macmillan, Inc.
---