LA's Resident Mountain Lion is a Lonely Hunter
"To be forever alone in your own kingdom seems a unique kind of heartbreak."
Here in Los Angeles, the true stars have single name recognition and are skilled at evading the limelight. Fitting then, that the biggest star in town should be known merely by a designation and be so reclusive that few civilians will ever manage to catch a glimpse of him. Yet P22 is not an actor, a director, or a triple-threat multi-hyphenate. That "P" stands for "puma"; P22 is a mountain lion.
Still, a mountain lion is not what many of us immigrants to California first assume. The term is not merely American hyperbole for a bobcat, for in fact the mountain lion—aka the cougar, the red tiger, the puma conclor—is the fourth-largest big cat in the world. Adult mountain lions weigh over 200 pounds, sprint at 40 miles an hour, ambush their prey at twilight and then devour its heart first. Mountain lions, then, are nothing if not real lions.
But if a mountain lion is a real lion, P22's chosen home of Griffith Park is not a real park. It is far more than that: an eight square-mile urban wilderness of hills and canyons that also encompasses an observatory and a zoo. It is not a park but a kingdom, and P22 holds dominion over every inch of it.
At Cahuenga Peak, Griffith Park's highest point, he can look down over the Hollywood sign to the lights of Los Angeles and out to the pacific ocean; turn to the east and there is Burbank and the Disney campus, birthplace of that other young lion who came to rule a kingdom.
Yet for all its vistas, P22's own kingdom is an island nation, hemmed in on three sides by freeways and on the fourth by the city itself. P22's parents roamed the rural Santa Monica Mountains above Malibu to the far west, and to reach Griffith Park our princeling must have somehow crossed both the Hollywood and San Diego Freeways. Understandably, he seems unwilling to risk ever doing so again.
To begin with, P22's journey was indisputably worth it. Mountain lions are fiercely territorial and with its shade, water and all-you-can-eat mule deer buffet, Griffith Park was the perfect place for a young male to grow without challenge. Unlike in the Pride Lands or the rural Santa Monica mountains, here there were no nepoticidal uncles; here the worst it seemed could happen was for P22 to be tranquilized and radio-collared by the park rangers.
To be forever alone in your own kingdom seems a unique kind of heartbreak, and I wish P22 knew how beloved he is.
Once we knew he was up there, his new neighbors quickly fell in love with P22. The LA Times obtained the data from his radio collar and ran a feature entitled "A week in the life of P22." Our lion king began his week on the park's northern edge at Forest Lawn, the classier of Hollywood's two celebrity cemeteries. But P22 had not gone there to pay his respects to Carrie Fisher or Bette Davis: the mule deer visit the cemetery to eat the flowers left by grieving fans, and P22 goes to eat the mule deer.
Over the next seven days, the LA Times reported, P22 prowled the entirety of Griffith Park, up to Cahuenga Peak and the Hollywood sign, before descending at dawn to drink from the cool waters of the Lake Hollywood reservoir. Just as they do with a Brad or a Leo, the newspaper respectfully kept back any information that might lead over-enthusiastic fans to P22's resting places or secret haunts.  Here in Los Angeles, everybody understands that even the biggest celebrities need their privacy.
*
P22's arrival coincided with my own first years in Los Angeles. I lived a few blocks from Griffith Park, and my then-girlfriend and I hiked its trails several evenings a week.  Every Angeleno runs an eternal half an hour late, and even as newcomers to the city we quickly caught this habit and frequently found ourselves descending in darkness.
Mountain lions are peaceable creatures—they are known to have killed only five humans this century—but that proved little comfort to my partner, for whom every rustle in the undergrowth signified the imminent consumption of our very hearts. My attempts to reassure her that we would not encounter P22 always failed, perhaps because they were so unenthusiastic. I desperately wanted to meet him.
P22 yearned to meet somebody too, but that person was not me. Night after night, the rangers report, he still diligently marks out his territory and declares his presence with deep paw scrapes, piles of leaves covered with his scent, and the occasional vocalization in the still of the night. But no female mountain lion ever replies, and none ever will, because there are all those freeways in the way.
To be forever alone in your own kingdom seems a unique kind of heartbreak, and I wish P22 knew how beloved he is. Local stores sell P22 athleisure wear, Angelenos have made Twitter accounts and even Tinder profiles for him, and many of us believe he can do no wrong. When the zookeepers at the LA Zoo arrived at work to find Killarney the Koala missing, we scolded them for then rushing to accuse P22 without any evidence.
When they subsequently produced CCTV showing P22 wandering through the zoo and perusing the animals in their enclosures like meats at a deli counter, we told them this was all entirely circumstantial.  When they announced they had found DNA that placed P22 at the scene of the crime, we told them that if they did not want their koala eaten, they should have taken better care of it.
A few months later, a maintenance worker encountered P22 sheltering under the deck of a family home in the streets below Griffith Park. The media descended in their satellite trucks, but the cops simply closed the streets until P22 decided it was time to end his state visit and return home to the park.  Just as the media here know how to keep a secret, the LAPD know well enough how to handle a visiting dignitary.
Why do we love our P22 so?  For some of us newer Angelenos, I suspect he reminds us of ourselves. He is a lonely hunter that came here from somewhere else in hope of a better life.  He yearns for connection and yet has chosen to seek it in an impossible place.  He is hemmed in by the freeways and set free by the canyons. He knows in his heart Los Angeles is no place to grow old in, and yet he cannot bring himself to ever leave.  He is an animal lover—he especially adores mule deer—who does not generally believe in zoos, but nonetheless can see they have their advantages in certain circumstances.
Whatever the reason we love him, three years after Koala-gate, P22 is more popular than ever.  Griffith Park now even hosts an annual P22 Day: rangers give talks, kids get their faces painted to look like our hero, and there is live music.  His party attracts tens of thousands of people, but like some kind of leonine Gatsby, few of them will ever see their reclusive host.
*
As far as I know, I have only once come close to seeing P22. In those early years I had read online about a legendary secret hike in Griffith Park with spectacular views. The directions I'd found said the trail began at a firebreak, but when we reached what should have been the spot, there was no firebreak and only the narrowest of trails.  I nonetheless reassured my long-suffering then-girlfriend this was undoubtedly the right place.
We followed the trail through the trees in to ever deeper undergrowth. The path was frequently blocked by tall boulders that were a challenge even to scramble over, and we complained to each other about the kind of fool that had made this trail: just how long were their legs, and why hadn't they had the sense to simply circle the trail around these boulders?
P22 can run twice as fast as I can cycle, but he has not once knocked me from my bike and devoured my heart.
We were still having this conversation 20 minutes later when the trail abruptly terminated at a bush the size of a family car.  The idiot who had made this trail had played a trick on us, with a path that went nowhere. We were the idiots.
And that was when we heard it: a noise so low and primal my first thought was that it was an earthquake. But I had already lived in Southern California long enough to know that earthquakes do not growl, they rumble, and this was unequivocally a growl. Hearing a frantic rustling in the undergrowth behind me, I closed my eyes and waited for the inevitable bite on my carotid artery.
When it did not come, I turned around and saw the rustling had been made by my then-girlfriend running away.  There was a brief silence, and then the growling grew louder again, slowly building towards a roar. I understood then that the noise was coming from inside the bush, and I turned and ran too.
*
Like so many of our animal-loving celebrities, P22 has leveraged his fame to help his four-legged friends. After many stalled years, work will soon commence on the world's largest wildlife crossing. It will bridge the Hollywood Freeway at Liberty Canyon, some 25 miles west of Griffith Park.
The bridge will not benefit P-22—it is too far for him, and anyway there would still be the San Diego Freeway for him to overcome—but it would not be happening at all without his star power.
As for me, I still hold out hope I might one day see him, and I now cycle in the evenings in Griffith Park. I still set out too late, and frequently find myself descending in the dark. P22 must have seen me many times now, my red rear light flashing in the night like the neon sign on a late night pizza place. P22 can run twice as fast as I can cycle, but he has not once knocked me from my bike and devoured my heart, and I have no fear that he ever will.
I like to think he knows that I have disclosed to nobody the location where he takes his afternoon naps, but our lion king is anyway a benevolent ruler. He belongs to us all and we, the loyal subjects that he generously permits to enter his kingdom, belong to him. Long may he reign.
__________________________________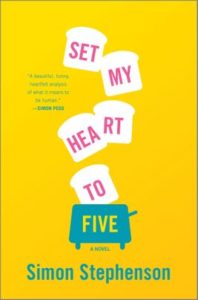 Simon Stephenson's novel Set My Heart to Five is available now.
---