Kyle Lucia Wu on What Novelists Can Learn From Poets
"New scenes unspooled easily once I'd stopped thinking about them."
The following first appeared in Lit Hub's Craft of Writing newsletter—sign up here.
*
While writing my first novel, I was hungry for advice, like many young writers, and soaked up tenets like write every day or wake up before work to go to your desk or hit 1000 words every session. But these ended up giving my daily routine an anxious, obligatory feeling, and often resulted in me avoiding my manuscript entirely.
Everyone I worked with was a poet, and when I heard them talk about writing, it was in a different way than I was used to — one in which they never spoke about hitting word counts dutifully. In a period of feeling creatively blocked and tender from rejection, I signed up for a poetry class.
At the time, opening the Word document of my novel felt like pressing on a bruise. Yet in a class for a genre I'd never studied, I was free to be a beginner, to not understand basic rules, to play and discover. It felt nothing like writing my novel; it felt like an open window in a stale room. It felt good to not think about the project I'd been working on for years, but instead to think about the unconventional moments I found in poetry: how few words could be used to arrive at something weighty; the distinct imagery, the narrative turns, and the way bright clarity often crashes like a wave at the end, leaving behind something frothing and alive in its wake. When I showed my new poems to a poet friend who had read my novel, she surprised me by asking, What if you rewrote these into a scene?
It was clear to her, though not me, that I had been able to approach something I was having trouble saying in my prose, perhaps because I had enforced such strictness in how I wrote. Poetry felt close yet distinct, enough that it opened a trapdoor for me to access my characters and their inner lives. I repurposed certain kernels and images, and the new scenes unspooled easily once I'd stopped thinking about them.
There are certain things to be strict about in a novel: the structure, the intention, the timeline. The scaffolding that holds everything up. It took years for me to uncover those rods from which to hang my story. But at a certain point, I needed room for intuition and play. I wanted sunlight to stream through the pages as if they were a prism; I wanted to discover something about my characters rather than simply invent it. So my favorite way of moving forward in my novel became to pretend I wasn't writing it. To pretend I'd left fiction behind and to write poems instead. They became a prism that could refract my writing into something vibrant — something I wanted to watch dance along the walls.
*
Read more on writing poetry:
Caroline Hardaker on writing fiction with a poet's eye.
Sam Riviere on poetry and who owns an idea.
Aruni Kashyap on poetry as political resistance.
Elizabeth Bales Frank on what poetry and lawyers have in common.
*
5 Vibrant Poetry Collections
RECOMMENDED BY KYLE LUCIA WU
Li-Young Lee, Rose
Tiana Clark, I Can't Talk about the Trees Without the Blood
Marie Howe, What the Living Do
Patricia Smith, Incendiary Art
Cathy Linh Che, Split
__________________________________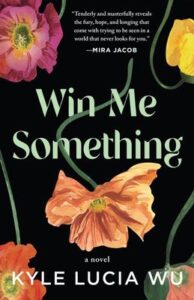 Win Me Something by Kyle Lucia Wu is available via Tin House Books.
---