Kingdom Quarterback: Mark Dent and Rustin Dodd on Race, Kansas City Football, and Super Bowl MVP Patrick Mahomes
In Conversation with Whitney Terrell and V.V. Ganeshananthan on Fiction/Non/Fiction
Following a gutsy, thrilling 2023 Super Bowl win by the Kansas City Chiefs, sportswriters Mark Dent and Rustin Dodd join co-hosts V.V. Ganeshananthan and Whitney Terrell to discuss their forthcoming book Kingdom Quarterback: Patrick Mahomes, the Kansas City Chiefs, and How a Once Swingin' Cow Town Chased the Ultimate Comeback. Dent and Dodd map out the relationship between race and football in Kansas City from the Chiefs' move to the city in the early 1960s to the activism and engagement of players like Mahomes in the Black Lives Matter era.
Check out video excerpts from our interviews at LitHub's Virtual Book Channel, Fiction/Non/Fiction's YouTube Channel, and our website. This podcast is produced by Anne Kniggendorf.
*
From the episode: 
Whitney Terrell: For most of my life, the Chiefs were, I don't know… "mid" would be what my son would say. They really sucked in the late '70s and early '80s, and then they kind of got better when Schottenheimer came to town. But they never really were winners—they weren't great. What does it feel like for them to be a national and international sensation now?
Rustin Dodd: It's quite shocking, actually. Mark and I both grew up in the suburbs of Kansas City—Overland Park, to be exact. And we're the same age, so we really don't have much memory of the '70s and '80s Chiefs, which were quite bad. The '90s Chiefs were kind of good, but they always broke your heart. So those were the Chiefs we knew, the Chiefs that made the playoffs a few times here or there, but always lost at home in the first round.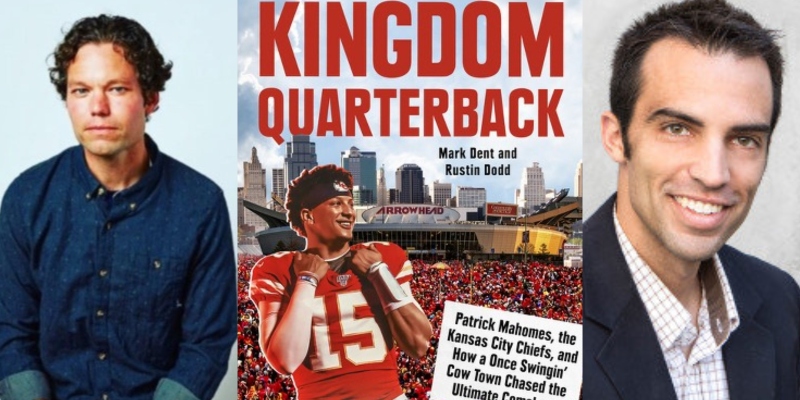 The Chiefs always felt like… they weren't inept—although, sometimes they were—but they just were never good enough. We talked about this as we were doing the book, but it kind of felt like a theme of Kansas City, as we were growing up, too. It was a city that had its positives, but it just never felt quite good enough. That was my connection to the Chiefs.
Mark Dent: Yeah, I think there was this sense of how the Chiefs could never really go on to win the big game. I mean, they couldn't even make it to the conference finals for the most part. Except for one time when Joe Montana was there in the very early 90s. Kansas City felt to be the same way, where a) the Chiefs will never win a Super Bowl or even go to one and then b) you wondered about Kansas City. Can it make this leap to be the city that it needs to be? Because everybody loved Kansas City, too, just like how everybody loved the Chiefs. And yet sometimes it felt like the love wasn't always returned.
WT: The story of being a Chiefs fan was the story of missed opportunities. This field goal wasn't made, or we didn't manage to get the other team to punt in this game. This is the string of tragedies rather than actual final success.
RD: No doubt. I think we're glossing over a major thing: they never had a quarterback, which was sort of the major theme and, obviously, why our book is called Kingdom Quarterback. They were this team where, for 20 years, they found their quarterbacks in the backups of other teams. That almost quite literally is what they did. They would find a 49ers backup or a Patriots backup and they would hope that he was good enough. And, generally speaking, they could be okay but never quite good enough.
MD: Meanwhile, the teams that were defeating the Chiefs in the playoffs all those years, a lot of times they had these franchise quarterbacks who had been drafted and grown into these heroes of that city. Dan Marino especially comes to mind. While he never won the Superbowl in Miami, he did beat the Chiefs twice in two really depressing games in the 1990s in the playoffs. Later on—on Andy Reid's first teams when Alex Smith was the quarterback—the Pittsburgh Steelers beat the Chiefs at Arrowhead when they had Ben Roethlisberger. The Chiefs were favored to win that game but the Chiefs' offense did nothing, and Ben Roethlisberger did just enough for the Steelers.
WT: And during this period of the wilderness, the only quarterback that the Chiefs drafted… I mean, Len Dawson was obviously their first great quarterback who did win the Super Bowl. But then the other person they drafted was Todd Blackledge, who was in a great quarterback class, but he was not one of them.
RD: No. The only quarterback they took in the first round for 25 years.
VVG: I was really interested to read about how Kansas City's owner and founder Lamar Hunt hired Black players from HBCU institutions to play for the team when other teams weren't doing that. I was wondering if you could talk a little bit about how that happened and what his motivation was.
RD: Yeah. The story starts with Lamar Hunt who was the founder of the American Football League in the 1960s. So the American Football League—very famous story—was this upstart league that takes on the National Football League, which was the old establishment, the institution based in New York. Lamar Hunt was from Texas—he wants to become an NFL owner, and they don't let him have a team. So he finds a bunch of billionaires to start a new league, the AFL. One of the things that the AFL had to do was that they had to find market inefficiencies. They had to find ways to be creative.
And, Lamar Hunt—one of the first things he found was that the National Football League historically had not recruited, drafted, or emphasized Black players. There were many reasons, obviously, many of them racist. College football obviously had its own history of racism. Most of the players from the major conferences tended to be white, and those were the players that went to the NFL. There was a history of quota systems in the NFL, where teams would only have a certain amount of Black players. And so a lot of talented Black players, especially from the South, found themselves at HBCUs and programs that really got zero media coverage. So Lamar Hunt thought—as they were starting this league—there's dozens, potentially hundreds, of really talented Black players that were not getting an opportunity to play in the NFL, and this is an untapped market.
Lamar Hunt was the son of a billionaire from Texas, one of the richest families in the country. Ironically, the Hunt family has quite a big history of being big into conservative politics and big conservative donors and big Republicans, especially back at that time, in the '60s and '70s. So, you have this established Republican guy in the 1960s but he found that this was the best for business—to go out and find these Black players at Prairie View A&M or Grambling, various places. If you talk to the Chiefs of that time, it's an interesting story, because I think Lamar Hunt was motivated by business.
But if you talk to the players that they ended up drafting—Willie Lanier, Buck Buchanan, a number of other players. Otis Taylor was a great wide receiver, he came from Prairie View A&M. If you talk to these players they say Lamar Hunt was a very enlightened man. I think Willie Lanier's quote was that—I'm paraphrasing—Lamar Hunt was the most enlightened white man he'd ever met at the time. So it was an interesting story with a little bit of nuance where a lot of the motivation was financial. There were these market forces that were coming into play that made them want to go out and recruit Black players from Black colleges, but it also made the Chiefs a pioneering team at the time.
*
Selected Readings:
Mark Dent and Rustin Dodd
  •  Kingdom Quarterback: Patrick Mahomes, the Kansas City Chiefs, and How a Once Swingin' Cow Town Chased the Ultimate Comeback • Opinion: "The Chiefs proudly broke racial barriers. Kansas City erected them." by Mark Dent • "How Chiefs QB Patrick Mahomes authored his greatest comeback in Super Bowl LVII," by Rustin Dodd
Others:
 • America's Game: The Epic Story Of How Pro Football Captured A Nation  by Michael MacCambridge  •  Kansas City (as 'K.C. Loving') written by Leiber and Stoller, recorded by Little Willie Littlefield (1953)  •  The history behind J.C. Nichols' development, restrictive covenants in Kansas City  •  The King of Kings County by Whitney Terrell  •  Race, Real Estate, and Uneven Development by Kevin Fox Gotham
---