Khaled Hosseini on the 20th Anniversary of The Kite Runner
The Author Reflects on an Unlikely Path to Publication
A book never belongs more to its writer than while it is still in the act of being summoned forth from the imagination. Through most of 2001, while still a practicing physician, I woke at 4:30 a.m. daily and spent three hours alone in the early morning darkness with Amir, Hassan, Baba, and the rest of the souls populating The Kite Runner. Then I showered, dressed, and drove to the clinic to treat ailing hearts and aching joints and dormant thyroids. I listened to wheezing lungs and injected cortisone into frozen shoulders. But Amir never strayed far. I had a foot in his world every waking hour, and he in mine.
Hunched over the kitchen table in the quiet dark of those early mornings, my ownership over Amir's tale felt total. Our bond was thrillingly private. Amir and Baba became my delicious secrets. I had the illusion that everyone around me lived one life, while I lived many. But once a book leaves its creator for bookstore shelves, that connection with the characters is no longer exclusive. Out in the world, Amir and company formed bonds with others. They became the center of a many-spoked wheel—with me as the original spoke. They whispered to each reader in their own unique and private language, as they once did to me. They pitched tents in the minds of strangers continents away. My ownership diminished.
Just how many tents they pitched, in how many countries, stunned me—in how many languages, and on how many stages and movie screens they shared their story. It's still hard to believe. While it's now thought of as a runaway success story, The Kite Runner's path to publication was unlikely, to say the least. I was an unknown, part-time writer with no literary track record. The book was dark. Really dark. For much of it, the protagonist was cowardly, self-involved, covetous, needy, dishonest, unethical, and infuriating; meanwhile, the characters who were actually noble, true, and just fell to the worst fates. And Amir's long, gut-wrenching journey ended on barely a whisper of a hopeful note. Not the ideal formula for a bestseller.
The manuscript was roundly rejected by more than thirty literary agencies—nearly all of them with the two-sentence boilerplate "Thank you but this isn't right for us" variety of response. The rejections did not surprise me, and I take some pride in reporting that I took them in stride. The only rejection that stung did so for unexpected reasons. The agency had actually read and liked the chapters I had sent, and the letter was promising at first. But it declined me representation because it felt that the US public had moved on from Afghanistan; the agency was instead combing for stories about Iraq. This was June of 2002, barely nine months after American forces and Afghan mujahideen had forced the Taliban from power. I was shaken by what the note implied about America's perspective and priorities, that Afghanistan was destined to go forgotten once more. It was a disturbing revelation and an ominous sign of things to come for my birthplace.
In June of that year, The Kite Runner was published to solid reviews and sales that I would charitably call modest. I went on a two-week-long national book tour in the US, an often humbling experience that left me dubious about the book's future prospects. I spoke to mostly empty bookstores. After, I returned home and went back to seeing patients at the clinic. Life resumed a semblance of normalcy, and all was quiet for a little over a year. My second daughter was born. The Kite Runner wasn't making much noise, and though I remained deeply proud of it, I had resigned myself to the reality that in the end it was just another book in a sea of books. I went back to being a husband, a father, and a doctor.
Then in the fall of 2004, a couple of months after the paperback was released in the US, something strange began to happen. I would walk into local coffee shops and spot people reading the book. I began to receive invitations to speak at libraries, universities, and at community-wide reading programs across the country. Once, I sat on an airplane next to a middle-aged woman who was reading the paperback and dabbing at her eyes. I thought about introducing myself, but my constitutionally private nature proved prohibitive.
Just why The Kite Runner has become so popular isn't entirely clear to me, but based on letters that I have received over the past two decades, I can take an educated guess. There is a universality to this tale of a boy who feels inadequate and longs for his father's love. Amir is deeply flawed; he can be maddening, and his cowardice and hypocrisy at times border on appalling. But I think he is always recognizably human. He walks the world painfully aware of his faults and failures. They haunt him through adolescence and into adulthood. He knows that a more noble version of himself lies somewhere ahead, but the reach is far, the path treacherous, and to get there he must summon the courage he disastrously lacked as a child. Despite our aversion to his actions, we root for him, perhaps because we find fragments of ourselves reflected in him: We all know we fall short; we all want to walk in the shoes of that more noble self. The Kite Runner hit the New York Times bestseller list in September of 2004, fifteen months after it first came out, and squatted there for an absurdly long time.
I am most grateful that The Kite Runner has changed the way readers around the world see Afghanistan
While this development did wonders for my writing career, it complicated my medical practice in ways I had not expected. I had twenty to thirty minutes to see each patient, but I noticed that I was spending a rather disproportionate fraction of that time instead answering questions about Amir and Hassan and personalizing copies of The Kite Runner, cutting down on time available to treat those edematous ankles and flaring sciatic nerves. I realized a choice had to be made, a choice further forced on me by the fact that I was working on my second novel, A Thousand Splendid Suns, the deadline for which was looming. In December of 2004, I bid farewell to medicine and dedicated myself full time to writing.
All these years later, I am deeply grateful for what The Kite Runner has done for my life. It has allowed me to pursue my lifelong love of writing as a career. I bear enormous respect for the medical profession, and I was honored to be entrusted with the health and well-being of my patients, but it was never my true calling. Writing was my first love, my high school sweetheart, and to make a livelihood tending to one's passion is a staggering privilege.
But I am most grateful that The Kite Runner has changed the way readers around the world see Afghanistan, offering those unfamiliar with the country a more human, nuanced, and textured portrait. For so long, stories about Afghanistan revolved around war, displacement, hunger, extremism, and the maltreatment of women and girls. Sadly, many of those stories remain relevant today, but they are not the only truths of the place. I am delighted when I receive letters from readers in Italy, India, Israel, the UK, Brazil, and other regions, expressing newfound appreciation for Afghanistan and its rich history, its transcendent beauty, and the humble, poetic soul of its too often beleaguered people.
 __________________________________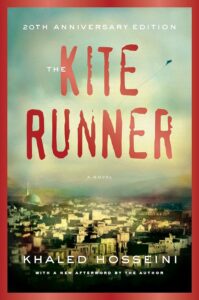 The 20th Anniversary Edition of Khaled Hosseini's novel The Kite Runner is available from Riverhead.
---