Kevin Barry on Flowers in the Attic, 2666, and The Talented Mr. Ripley
Rapid-fire book recs from the author of That Old Country Music

Welcome to the Book Marks Questionnaire, where we ask authors questions about the books that have shaped them.
This week, we spoke to the author of That Old Country Music (out now in paperback), Kevin Barry.
*
Book Marks: First book you remember loving?
Kevin Barry: Flowers In The Attic by V.C. Andrews, that throbbingly weird and deeply humid late '70s mega-seller about siblings being held in an attic and developing incestuous feelings. As a ten-year-old I could recite reams of it off by heart. Make of this what you will.
KB: Flowers In The Attic.
BM: What book do you think your book is most in conversation with?
KB: I suppose it's in conversation with my two earlier story collections. It's saying, listen, I'm calmer now, I'm not jumping up and down on the page looking for attention, or at least not so much.
BM: A book that blew your mind?
KB: Helter Skelter by Vincent Bugliosi, about the Manson Family murders and the subsequent trial. It was in every house in Ireland when I was a boy. Perversely enough it's one of the things that got me really into The Beatles.
KB: A re-read, actually. The Talented Mr Ripley by Patricia Highsmith. It's reading very well these days. In the dim smiling gleam of the psychotic Tom Ripley and his obsession with surfaces there is somehow a chillingly contemporary note—you sense that he could have been huge on Instagram. I love the pragmatic way Highsmith knocks a novel together with endless stretches of glorious exposition. It's all sustained by her unceasing imagination and the brio of the sentences.
BM: A book that made you cry?
KB: In life I am frequently a sobbing mess but as a reader I am not a man quick to tears. I suppose some dramatically bad books make me want to cry but they shall remain nameless here as there is enough bloodshed in the world.
BM: What book from the past year would you like to give a shout-out to?
KB: It's hard to imagine a story collection managing to live up to a title like The Earth, Thy Great Exchequer, Ready Lies but Jo Llyod's debut does just that. She's a fabulously talented storyteller.
BM: A book that actually made you laugh out loud?
KB: There are many books that prompt an occasional lazy guffaw but tears-rolling-down-the-face hilarity is rare enough. I go back to the Collected Stories by VS Pritchett a lot and he can be deeply funny because he never searches for the humour, he doesn't try too hard, he lets the fun spring naturally from the characters' foibles. There's some very funny stuff in Colin Barrett's new collection Homesickness also.
BM: Classic book on your To Be Read pile?
KB: My stack of unread classics stretches all the way to heaven. I should definitely read more Faulkner and I should definitely have another go at Virginia Woolf – on previous forays I've found both hard to love despite (or because of?) their knockout styles.
BM: Favorite book of the 21st century?
KB: I think it's hard to get past 2666 by Robert Bolano and the scale of its ambition and the deranged energy of its execution. I re-read chunks of it all the time.
BM: Book(s) you're reading right now?
KB: A debut novel, The Deadwood Encore by Kathleen Murray. She's a noted story writer here in Ireland but this is her first outing over the longer form. It's brilliant, full of vitality and voice, and she's a masterful writer of dialogue.
*
Kevin Barry is the author of the novels Night Boat to Tangier, Beatlebone, and City of Bohane and the story collections Dark Lies the Island and There Are Little Kingdoms. His awards include the IMPAC Dublin Literary Award, the Goldsmiths Prize, the Sunday Times EFG Short Story Prize and the Lannan Foundation Literary Award. His stories and essays appear in the New Yorker, Granta and elsewhere. He also works as a playwright and screenwriter, and he lives in County Sligo, Ireland.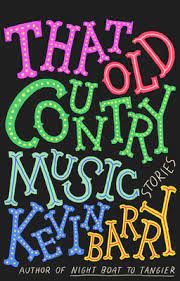 Kevin Barry's That Old Country Music is out now in paperback from Anchor Books
*
· Previous entries in this series ·
---