Kelly Link: Why You Should Read This Classic Trilogy
On Robertson Davies's Fifth Business
A reader lucky enough to live to a certain age must grow accustomed to the sensation of dislocation that is a symptom of realizing what a great swath of time has been eaten up since they picked up a favorite book. And so let me begin with a confession. A decade or so has somehow passed between the last time I sat down to read Fifth Business and the rest of the Deptford Trilogy and now. It was, in part, this realization that made me eager to write an introduction. Then, too, I have always kept a spare copy of either Fifth Business or World of Wonders to press on to friends (as Fifth Business was once pressed on me). An introduction is surely a more efficient system of recommendation, and it does seem, this the last decade or so, that I have more friends who love novels who have never read Davies.
And so, friends and readers, here is my pitch to you as to why you should pick up Fifth Business and its sequels. It is the story of a small act of malice (a boy throws a snowball that contains a rock) and the remarkable consequences of that act, as we follow the ripples outward.
The first novel, Fifth Business, begins out of pique—retiring schoolmaster and moderately successful hagiographer Dunstan Ramsay will give an account of his life as a rebuttal to the impression left by a condescending write-up of his career in a college newsletter. His vanity has been pricked. And so the book begins in the double vein of the tragic and the comic, only to unfold—so expansively that its construction feels like a kind of magic trick of its own—into a series of encounters with marvels and miracles and mysteries and Mysteries, too. Fifth Business is a chatty, profound, and slippery novel that starts in a small town in rural Canada in the first decades of the twentieth century and, over the course of it and the subsequent two books, takes its characters and readers on a sort of pilgrim's picaresque. Book after book, Davies alchemically transmutes peevishness and spite (qualities that seem, time and again, to be literally a base note of each of his narrators' construction) into joy and escape and delight.
At the heart of the Deptford Trilogy is a set of mysteries. There is the question of whether the woman struck in the head by the snowball may or may not be, afterward and as a consequence, a saint capable of raising the dead and other miracles. Tied to this is the question of the peculiar death of a man named Boy Staunton. At the end of Fifth Business, a clue is offered by a Brazen Head, which floats above a stage. "He was killed by the usual cabal," it says. But the cabal of characters here and in Fifth Business's sequels is anything other than usual. It is, in fact, an extraordinary cabal and unlike any you are likely to encounter in novels less bold in their scope. Davies has the scalpel-like acuity of a mystery novel sleuth who has been invited to attend a birthday party and for his own entertainment proceeds to pin down the secret desires, transgressions, and petty misdeeds of each guest. In fact, part of the strangeness and originality of Fifth Business is that, in the moment where a clue is offered by the Brazen Head, it becomes apparent that we are reading a mystery novel in reverse order. First, we are given a leisurely and pleasurable introduction to a cast of disreputable, eccentric characters along with their motivations, opportunities, and confessions. Then, as the book draws to its end, we arrive with a jolt at the moment when a body is discovered under the most perplexing circumstances. Afterward, rather than being given a solution, we are briskly shown out of the novel by its narrator.
Like the stone in the snowball at the start of Fifth Business, the death of Boy Staunton is the grisly bit of solid matter around which the rest of the narrative (three books' worth!) has been distributed. Dunstan Ramsay has already, at the beginning of his autobiography, given us his thoughts on boys. He has, he says, spent his life in their company, and he thinks that writers in general give too much credit to their virtues. And, of course, he is thinking of this particular Boy as much as he is summing up his pupils. Staunton, Ramsay's longtime friend and rival, has lived an enviable life in which he was a wealthy industrialist, a womanizer who married the girl whom Ramsay also once loved. At the moment of his death he is about to become the Lieutenant-Governor of the Province of Ontario—and once when he was young, he threw a snowball that badly injured a pregnant woman.
A reader lucky enough to live to a certain age must grow accustomed to the sensation of dislocation that is a symptom of realizing what a great swath of time has been eaten up since they picked up a favorite book.
Fifth Business is not only an accounting of Ramsay's own adventures and shortcomings, but also a tearing down of Boy Staunton's triumphs—a kind of second murder. Readers in this particular historical moment may find this aspect of Fifth Business meanly pleasurable: we currently live in a world where there are any number of Boy Stauntons who take up a great deal of attention. I will admit to schadenfreude in seeing a privileged member of the one percent anatomized as thoroughly and mercilessly as Boy is in this novel. This is Dunstan Ramsay's narrative, and so of course Ramsay triumphs in the end while Staunton is vanquished. But the emotional grit of human spite and envy and all the pettiest emotions can make a novel a suffocating experience, and Fifth Business juxtaposes these qualities (all of which Ramsay acknowledges in himself) with the largeness of his unabashed longing for wonder and miracles and magic. The mix of the high and the low is, I think, the source from which the great, lasting liveliness of Davies's novels comes welling up. People are interesting to Ramsay (and to Davies, and to us) because they contain endless secrets and possibilities that manifest from the worst and most fearful, shameful places into mythically complex patterns.
A confession begins Fifth Business. It informs the reader that what follows is meant to serve as a correction to a glib newsletter summary of Ramsay's life and career. But the ending turns out to be just as much an announcement that Ramsay is ready and eager to shed the trappings of his former life. "As we neared our sixties the cloaks we had wrapped about our essential selves were wearing thin," he tells us. A new and much more interesting life of possibilities (companion to a magician and an ogress) awaits him.
The scope of The Manticore is smaller—the shortest and most compressed of the three novels—and, in fact, can be summed up quite quickly. The son of Boy Staunton travels to Switzerland to undergo Jungian psychoanalysis in order to work through the complications and entanglements of his childhood, only to go on vacation where, by coincidence, he encounters many of the characters from Fifth Business who may have been involved in his father's death. But even on a smaller canvas, Davies is still a fascinating writer. Not much happens in The Manticore, and yet it reads like a page-turner and a necessary prologue to the much stranger and more awful chronicle of the childhood and early life that Magnus Eisengrim recounts in World of Wonders.
A character in this trilogy says, wisely, that "wonder is costly." But in a work like the Deptford Trilogy, wonders spill over abundantly. Nothing in these books is, strictly speaking, fantastical. Even the miracles that Ramsay is convinced that he has been witness to are explained away by other characters as coincidence or evidence of psychological or physical trauma in a manner much the same as Magnus Eisengrim explains his stagecraft and magic in World of Wonders. The fantastic is a kind of embroidery all around the borders of the Deptford Trilogy. It flows from the lives of Ramsay's saints, and from the popular biography that Ramsay invents for Magnus Eisengrim. David Staunton, in The Manticore, dutifully records a series of fantastical dreams in which various allegorical figures appear, and his analyst, interpreting these dreams, gives him access to the language and symbolism of Jungian myth. In World of Wonders, the magician Magnus Eisengrim recounts the story of his own life in which he is a victimized and stolen child, a boy in a brass head, a doppelgänger who stands accused of stealing the life force of a fabled actor, a repairer of clockwork toys in a Gothic castle, and the most famous magician of his time.
Readers in this particular historical moment may find this aspect of Fifth Business meanly pleasurable: we currently live in a world where there are any number of Boy Stauntons who take up a great deal of attention.
Fifth Business is, we are told, a character who is neither the hero nor the villain nor any other easily defined role. It is the character by which the pin of the plot is hinged, so that revenge or justice or even a happy ending may be arrived at, and, similarly, the idea of magic or the marvelous or the impossible is the pole around which all of these books revolve. Perhaps the most fantastic aspect of the trilogy is how the mechanism of coincidence operates over and over again to bring this set of characters together at key moments. By this I don't mean to suggest that the arc of the novels feels too easy or that coincidence feels overused, but rather that the pattern Davies is interested in laying out is one that feels deliberate and mysterious and imbued with a kind of pleasing, intentional strangeness.
Over the course of the trilogy, various characters tell us that the magical and the mythic are necessary nourishment in our lives; that although we desire, always, explanations and answers, what we make ourselves out of are the events and marvels and signs in our lives that breed wonder. If you are the kind of reader who looks for traces of the marvelous and the unexpected in narrative as well as daily life, then soon you will, like me, treasure these novels.
__________________________________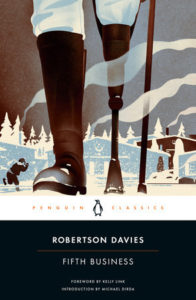 From Fifth Business by Robertson Davies with a foreword by Kelly Link. Used with the permission of Penguin Classics, an imprint of Penguin Publishing Group, a division of Penguin Random House, LLC. Copyright © 1970 by Robertson Davies.
---