Kelly Link Can't Write Narrative Before 3pm: And Other Tips For Purposeful Writing
"It's too much to expect that your first draft will be any good."
In her latest short story collection, White Cat, Black Dog, MacArthur "Genius Grant" fellow Kelly Link reinvents seven fairytales into modern, realist short stories about, for example, an aging billionaire choosing a successor, and a house-sitting gig that goes awry.
Link is also the author of the collections Get in Trouble, Stranger Things Happen, Magic for Beginners, and Pretty Monsters, and took time out of her tricksy short fiction writing to share with us her thoughts on how to approach a book, and the advice and soundtracks that fuel her work.
*
What time of day do you write?
I've spent a lot of time trying to figure out why I hate writing so much, when it's also the thing that I want most to do—it turns out a large piece of this is that I mostly hate writing when I'm attempting to do it between waking up to around 2 pm. For a long time, I thought that real writers settled down to do their work first thing, and so I must be a dilettante not to be able to get anything done without finding it excruciating.
Finally, after lots of experimenting, I've realized that before 2 pm I can't really make much headway, and that at some point between 2 and 3 in the afternoon some little switch in my brain flips, and I can think about narrative. And so now, on days when I'm going to write (including important emails), in the morning I do dishes, play games on my phone, and even watch some TV. From 3 pm to around 1 am, given the freedom to just write, I can get a lot of work done.
What's the best or worst writing advice you've ever received?
Holly Black said that a story (or a novel) makes a promise to the reader on the first page concerning what will be at the heart of that narrative. She also said, about writing a novel, that it's too much to expect that your first draft will be any good. It's enough if your expectation is just that you will keep going until you've finished it.
She also told me that I should write a novel on purpose, because otherwise I would write one accidentally, and it's better to start with deliberation—and so I wrote a novel. Basically, if Holly Black ever tells you something about your book or about writing in general, you should listen to her.
Which book(s) do you reread?
I reread Peter Straub's novels and short stories. I reread M. R. James, and Diana Wynne Jones, and Grace Paley, and Joan Aiken. I reread Dodie Smith's I Capture the Castle, and Laird Barron's horror collections, and Mariana Enriquez's collections, too. I reread Terry Pratchett and Laurie Colwin and Stephen King and Tananarive Due's novel The Between. I reread Lynda Barry's Cruddy, and poetry by Natalie Diaz and Morgan Parker and Kaveh Akbar. I've read The Lord of the Rings and The Hobbit many, many times. Also Dracula!
Which non-literary piece of culture—film, tv show, painting, song—could you not imagine your life without?
If we're talking about a particular piece of culture, I would have to say the television show The Vampire Diaries. Or maybe I just love a supernatural melodrama? I love Evil, too, and Interview with the Vampire is so good I have to watch one episode and then stop for a while. But if we're talking about the arts, and having to pick one strand, it would be music. I don't think I could write without music.
What is your favorite book to give as a gift?
I'm going to cheat and give you a bunch of books. If I'm giving a book to someone who doesn't read fiction, I give them Jeffrey Steingarten's The Man Who Ate Everything. If it's for a younger reader (or someone who reads young adult fiction), I give them Megan Whalen Turner's The Thief, or some Diana Wynne Jones. If they like science fiction, I give them Robert Jackson Bennett's City of Stairs. If they're open to reading romance, Eva Ibbotson's A Company of Swans, or Georgette Heyer's Venetia.
If they like more experimental work, I'll pick out one of Kathryn Davis's novels—Duplex, or Hell, or Versailles, or The Thin Place. If I don't have a great sense of what they like to read, my secret weapon is The Hearts of Horses by Molly Gloss, an absolutely perfect historical novel. Right now I'm excited about giving everyone I know Marian Enriquez's Our Share of Night, and Megan Gidding's sublime second novel The Women Could Fly.
___________________________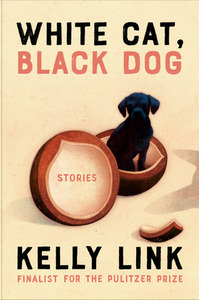 Kelly Link is the author of White Cat, Black Dog, available now from Random House.
---