Kate Durbin on Finding Beauty in the Possessions That Possess Us
Chelsea Hodson Talks with the Author of Hoarders
When thinking of the TLC reality show Hoarders, one might envision piles of objects so dense that it's difficult for the film crew to make their way through the room. But in Kate Durbin's book of poetry, also called Hoarders (out now from Wave Books), just a few objects are listed on each page, which, in turn, places a spotlight on each rotting peach, electricity bill, Barbie ornament, and Mount Rushmore replica. Television wants to provide a tidy narrative—dirty home transformed into clean home, sad changed to happy. But Durbin's curations, inventions, and re-imaginings allow this material to transcend its form, and the result is a fascinating collection about connection, desire, and what it means to be American.
In the book, one of Durbin's characters, Alice, says, "The reason I collect cats is I have this feeling in me that I'm helping save something." This book, too, is interested in saving something—the idea that beauty and understanding can come from anywhere, and it might be hiding under all those things we can't let go of, at least not yet.
I spoke to Durbin over Zoom last month—here is an edited transcript of our conversation.
*
Chelsea Hodson: How did you decide to make art out of a reality show like Hoarders? And what was your process like in terms of watching the show and taking notes?
Kate Durbin: In my first book about reality television, E! Entertainment, I paid attention to everything in the environment on these shows. I wanted to foreground the objects instead of having them be in the background, like they normally are when you watch. Over time, through the writing, the objects became strange to me. Like, I was writing about Keeping Up with the Kardashians, and there was a golden bowl hanging above Kourtney Kardashian's head in one scene that started to take over, as if it were some kind of alien artifact with magic powers.
And then I wrote this section about the Playboy Mansion, The Girls Next Door, in which I completely erased the people and told the women's stories through their objects, their pink loofahs and their Hello Kitty bow tie pillows and their aquariums with pink rocks and Ariel Little mermaid figurines inside it. After I finished that book, instead of driving past strip malls, like Marshall's or Bed Bath and Beyond, I would feel drawn to go inside and write things down, like all the Yankee Candle names. I would notice every candy wrapper or squashed McDonald's nuggets box on my daily walks. It was as if objects were sending out signals to me.
I was drawn, then, to Hoarders for its incredible object density, and because I wanted to explore the relationship between people and objects. I had never really watched Hoarders before I decided to write about it. It's a sad show, and I come from a family with a lot of substance abuse and hoarding and other problems, so it can be difficult to watch for personal reasons. But I thought, as I always do with any project, "Well, let's just see what happens." I wanted to stay open to the process. It ended up being an emotional experience. I cried a lot. I wrote down everything in an episode. That was challenging because, if you've ever seen the show, the objects are all kind of mushed together. That process of writing from the TV took a year and a half.
Durbin's curations, inventions, and re-imaginings transcend its form, and the result is a fascinating collection about connection, desire, and what it means to be American.
Once I went into the poems, it was intuitive. I didn't stick to the notes but used them in various ways. I wanted each poem to have its own mood or spirit. And I wanted each poem to focus on a relationship between a person and a category of objects. So there's the plant hoarding poem, the shit hoarding poem, the Barbie poem with all these glorious specific Barbies: Claude Monet Water Color Barbie, Tippi Hendren in the Birds Barbie, Gladiator Barbie. And the objects had a lot to say—not only about how they felt about their owners, but also about what life is like in the United States for some people. Writing Hoarders was almost like having a seance with objects.
CH: It's interesting to hear you say that you felt like the objects had something to say, because your book pairs dialogue from the show alongside the objects themselves. The objects speak by way of existing, perhaps, or it's as if two different characters are speaking to each other—do you see it that way?
KD: The person is telling their story about what happened to them in their life, and their objects are like a Greek Chorus joining in. Sometimes, the objects will disagree with what the person is saying—say, if the person is in denial about some difficult truth—through the nature of their existence, or their arrangement. Although the disagreements always feel somewhat soft to me, never harsh against the person. At other times, it's as if the objects are comforting, or saying, "Yes, this is how awful it's been for this person and we are the physical manifestation of that." For example, in one poem about hoarding Barbies, there's this pile of Barbies with a Katniss Everdeen Hunger Games Barbie on top. It's humorous, but it's also saying, look, living in the US, you always have to fight to survive, it's exhausting. In still other instances, I think the relationship between object and person becomes even more complex—almost as if they combine to become one creature.
CH: Your book seems to sometimes be observing and articulating the conflict between what we want and how we live. There's one character in the book that says, "Painting is the primary motivating force in my life, and I've lost the space to"—we see this paired with a "painting of a naked blonde with red lipstick." Someone else says, "My name is Linda, and I love cooking"—this is paired with the image of "rotting food." And then there's the person who says "I think I just am too emotional and I don't want anything to die" paired with an image of a "dead cat slumped against a wall." These characters acknowledge that their hoarding is in direct opposition to what they imagine their lives to be, and yet they're unable to stop. Is this tension between reality and fantasy something that interested you about this show?
KD: This tension between fantasy and reality is how the book came to be not just about people and their objects, but about this country. The conflicts these characters experience, how impossible their lives are, how much those lives don't match up with their wishes for their lives, are the result of both intensely personal traumas and larger cultural traumas, that they have little to no control over. But this idea that you don't have control over your destiny is not something that is a part of the American ethos. The fact that it is not a part of our understanding of the world makes it that much harder for anyone to face the devastation of their lives or their neighbor's lives.
I wanted to foreground the objects instead of having them be in the background, like they normally are when you watch.
CH: Manipulation of time is something I noticed in this book as well. So, we see these people living their lives in "real time" on "reality television." But then there's the show's editing, which curates the time. And by way of you, the writer, pausing the show and writing each object down, you further slow and manipulate time. Are you conscious of that when you're writing? Are you interested in this concept of different valuations and perceptions of time?
KD: Ever since I was a kid, I've been scared of time. I remember every year we would go camping in the Redwoods, and I would create these sand castles by the creek in this secret spot. I'd be like, these sand castles are going to be here when I come back and I will have stopped time. Of course the sandcastles were always gone the next year! I was frightened by the thought that my childhood was passing me by. And I think that those fears are still in the back of my head when I write. But in writing about reality TV, there is something really satisfying about being able to slow down time, to go deeply into a moment and see what is there. These shows capture time in a way that is already very different from a standard TV drama. It's already more slowed down and spacious. Like I love the scenes on the Kardashians where they are just staring at their phones, because that's what we all do!
CH: I wonder, too, about time's relation to mundanity, especially in reality television. Even in writing about these more wealth porn type of shows like Keeping Up with the Kardashians or The Real Housewives, I feel that your focus remains on the mundane, the overlooked object or moment. Do you think beauty can be found anywhere if someone looks with enough attention for a long enough amount of time?
KD: Absolutely. The other day I wanted to write a poem about all of the Oreo flavors. To me, it's incredible that we live in a time where there's Lady Gaga Oreos with pink filling. There is a wonder to it, but it can also be kind of nauseating in its intensity. There's something in that feeling of endless flavors of Oreos I want to capture in my work. The most mundane aspects of capitalist life are what draw me. Part of it is a challenge, to find beauty in a culture that is so extreme, even unwell. But another part of me looks at a Swedish Fish Oreo and thinks, it's just simply a marvel that this exists.
__________________________________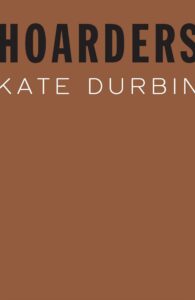 Kate Durbin's Hoarders is available now via Wave Books.
---