Kaitlyn Greenidge on Toni Morrison, Karen Tei Yamashita, Melissa Broder, and More
Rapid-fire Book Recs from the Author of Libertie

Welcome to the Book Marks Questionnaire, where we ask authors questions about the books that have shaped them.
This week, we spoke to the author of Libertie, Kaitlyn Greenidge.
*
Book Marks: First book you remember loving?
Kaitlyn Greenidge: A Tree Grows in Brooklyn
BM: Favorite re-read?
KG: Jane Eyre
BM: What book do you think your book is most in conversation with?
KG: Toni Morrison's Paradise
BM: A book that blew your mind?
KG: Karen Tei Yamashita's I Hotel
BM: Last book you read?
KG: The Women's House of Detention by Hugh Ryan
BM: A book that made you cry?
KG: I don't think I've cried because of a book.
BM: What book from the past year would you like to give a shout-out to?
KG: 100 Boyfriends by Brontez Purnell
BM: A book that actually made you laugh out loud?
KG: I don't think I've laughed out loud at a book.
BM: What's one book you wish you had read during your teenage years?
KG: I Await the Devil's Coming by Mary MacLane
BM: Favorite book to give as a gift?
KG: Praisesong for the Widow by Paule Marshall
BM:Classic book you hate?
KG: It's a short story but "The Yellow Wallpaper" by Charlotte Perkins Gilman
BM: Classic book on your To Be Read pile?
KG: Sundiata: An Epic of Old Mali
BM: What's a book with a really great sex scene?
KG: The Pisces by Melissa Broder
BM: Favorite book no one has heard of?
KG: Angel by Elizabeth Taylor
BM: Favorite book of the 21st century?
KG: Wayward Lives, Beautiful Experiments by Sadiyaa Hartman
BM: Favorite book you were assigned in high school?
KG: Philadelphia Fire by John Edgar Wideman
BM: Favorite children's book?
KG: Right now it is Time is a Flower by Julie Morstad
BM: Book you wish would be adapted for a film/tv show?
KG: Black Girl in Paris by Shay Youngblood
*
Kaitlyn Greenidge's debut novel, We Love You, Charlie Freeman, was one of the New York Times Critics' Top 10 Books of 2016 and a finalist for the Center for Fiction First Novel Prize. She is a contributing writer for the New York Times and the features director at Harper's Bazaar, and her writing has also appeared in Vogue, Glamour, the Wall Street Journal, and elsewhere. She is the recipient of a Hodder Fellowship from Princeton University's Lewis Center for the Arts, as well as fellowships from the Guggenheim Foundation, the Whiting Foundation, the National Endowment for the Arts, Substack, and the Radcliffe Institute for Advanced Study. Her second novel, Libertie, is available now.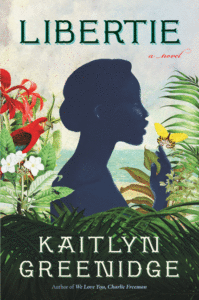 Kaitlyn Greenidge's Libertie is out now in paperback from Algonquin
*
---