Joyce Carol Oates Thinks You Should Write Your Heart Out
A Conversation with the Author of American Melancholy: Poems
Joyce Carol Oates has written some of the most enduring fiction of our time, including the national bestsellers We Were the Mulvaneys, Blonde, which was nominated for the National Book Award, and The Falls, which won the 2005 Prix Femina; her most recent work is the poetry collection American Melancholy.
*
Literary Hub: Who do you most wish would read your book? (Your boss, your childhood bully, Michelle Obama, etc.)
Joyce Carol Oates: Our books are often read by people we would never have imagined would read them—that is the hope of writing. Receiving letters from readers is always a pleasure. Poets particularly hope to be read by other poets since the readership for most poetry is small, self-selected, a kind of community.
LH: What do you always want to talk about in interviews but never get to?
JCO: The phenomenon of the Interview Alternate World: a world entirely constructed of issues raised only by interviewers, questions no one ever asked themselves, questions in which no one is much interested, that are only asked during interviews.
LH: What time of day do you write (and why)?
JCO: I begin work at about 7 am and work through the day, discontinuously. I am usually outdoors from 2 pm until later in the afternoon, during the pandemic walking or hiking with friends. If I am alone walking/ running, I think intensely about my work so that when I return, I can "remember" what I've been deliberating, and often the writing will go much more smoothly. In the early evening I am likely to be reading; at about 10 pm I am likely to be watching a classic movie; at about midnight I read in bed for an hour or so. Much of this is not formal work, but helps immeasurably with the work.
LH: How do you tackle writers block?
JCO: This is (surely) a mythical condition of extreme self-doubt, or perhaps just under-preparation. Before we can write we must think through the work—concentrating in a kind of wakeful daydream—taking notes, writing outlines, sketches. Making a movie requires much pre-production preparation; the actual filming can be fairly short. So too with writing a novel—one should not begin to write without having thought through the material carefully. To me it's essential to know the beginning, the ending, and the title of the work.
LH: Which book(s) do you return to again and again?
JCO: Emily Dickinson's Collected Poems, Thoreau's Walden, stories by Faulkner, Hemingway, James Joyce, Chekhov, D.H. Lawrence.
LH: Which non-literary piece of culture—film, tv show, painting, song—could you not imagine your life without?
JCO: "Not imagine my life without"——a somewhat twisty query but I think my answer is painting/art/including the art of photography.
LH: What's the best writing advice you've ever received?
JCO: "Write your heart out"—
LH: What was the first book you fell in love with ?
JCO: Lewis Carroll's Alice's Adventures in Wonderland and Alice's Adventures Through the Looking-Glass  because it is a great work of the imagination.
LH: Name a classic you feel guilty about never having read?
JCO: Until the pandemic I had never finished War and Peace—it was an opportunity to immerse myself in this long, ambitious, defiantly uneven 19th-century work. Certainly a great novel and well worth reading but (sorry!) perplexingly repetitive and didactic/preachy—brilliant prose juxtaposed with crankiness about what history is, how historians have failed, what the "good life" is —(for women, having babies). The brilliant artist Tolstoy at odds with the self-righteous preacher, who, unfortunately, gets the last word in the Epilogue.
LH: Is there a book you wish you had written?
JCO: Is this a serious question? There are thousands of worthy books, not to mention great plays by (for instance) Shakespeare, Euripides, Eugene O'Neill. One would have to be terribly naive not to wish to have written any great classic. (Except of course the question is meaningless since, to have written any work—Kafka's fiction, for instance—one would have to be that person, and it is possible to be only ourselves.)
__________________________________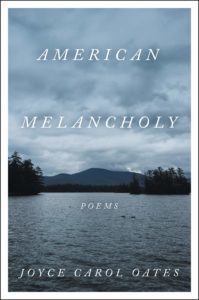 American Melancholy: Poems by Joyce Carol Oates is available now via Ecco Press.
---