Joy Harjo on Words as Maps, and a Poem by Craig Santos Perez
From the Upcoming Anthology, Living Nations, Living Words
The very first maps were drawn into the earth with stick or stone implements. They told us where we lived, the location of food, water, and danger. Some were star maps of the heavens, histories notched and painted, or symbols of stories that gave directions on how to live. The earliest indigenous maps of North America were not drawn. The placement and orientation of a village, its buildings, and even mound structures were markers that mirrored the meaning of the heavens, or other directional senses. Even a basket could be a map, or a song. We carry maps of destiny in our poems.
One of the earliest existing maps, known as Imago Mundi, is a cuneiform tablet of the Babylonian world estimated to be from the sixth century BCE. The map shows Babylon on the Euphrates River surrounded by other nations. What I appreciate most is the language of the text that accompanies the map. One region is described as "the winged bird ends not his flight"; another is "the light is brighter than that of sunset or stars," or "where a horned bull lives and attacks the newcomer."
When I started my term as the 23rd US poet laureate, I immediately began considering a signature project. As the first Native Nations poet laureate, I was aware that indigenous peoples of our country are often invisible or are not seen as human. Or we are known from false images and narratives carried over from the vitriol of New England Puritan Cotton Mather and others who imagined us as demonic heathens not capable of civilized and ordered thought and action. You will rarely find us in the cultural storytelling of America, and we are nearly nonexistent in the American book of poetry. For my project, I conceived the idea of mapping the United States based on the poetry of Native Nations poets. I liked the idea of mapping America by poetry with poets.
The result was a digital project published online last year through the Library of Congress, which eventually became the anthology Living Nations, Living Words. Both feature representative poets from locations across the country. Each poet chose their poem based on the theme of place and displacement, and with four touchpoints in mind: visibility, persistence, resistance, and acknowledgment. They also chose where they wished to place themselves—where they currently live, in their homelands, or where they feel most rooted. In the digital project, you can see the map and the poets' locations, read their poems, and hear them recite and comment on their poems.
When editing or curating any Native Nation project the question always arises: who is indigenous? We have chosen to allow tribal nations to define who is a tribal member. It is not up to us to be the arbitrators. Many of us are established in our communities, known in languages other than English. There are those coming up who are the purl of the next wave of young indigenous poets. We are like any other living American poets who venture into the craft with the tools of knowledge and creativity to ride the waves of language, even as we also tend to our indigenous cultural systems and communities. Our common language of English, or sometimes Spanish, is a crossing place, as is poetry a common language and crossing place to meet many from all over the world. These Native Nations poets therefore become representative of a much deeper and wider field of poetry.
Maybe we are at the place where many roads come together under the dimming sun. We must make a new map, together where poetry is sung.
–Joy Harjo, 23rd US Poet Laureate
*
"Off-Island CHamorus"

My family migrated to California when I was 15 years old.
During the first day at my new high school, the homeroom
teacher asked: "Where are you from?" "The Mariana Islands,"
I answered. He replied: "I've never heard of that place.
Prove it exists." And when I stepped in front of the world map
on the wall, it transformed into a mirror: the Pacific Ocean,
like my body, was split in two and flayed to the margins. I
found Australia, then the Philippines, then Japan. I pointed
to an empty space between them and said: "I'm from this
invisible archipelago." Everyone laughed. And even though
I descend from oceanic navigators, I felt so lost, shipwrecked
on the coast of a strange continent. "Are you a citizen?"
he probed. "Yes. My island, Guam, is a U.S. territory."
We attend American schools, eat American food, listen
to American music, watch American movies and television,
play American sports, learn American history, dream
American dreams, and die in American wars. "You
speak English well," he proclaimed, "with almost no
accent." And isn't that what it means to be a diasporic
CHamoru: to feel foreign in a domestic sense.
Over the last 50 years, CHamorus have migrated to
escape the violent memories of war; to seek jobs, schools
hospitals, adventure, and love; but most of all, we've migrated
for military service, deployed and stationed to bases around
the world. According to the 2010 census, 44,000 CHamorus
live in California, 15,000 in Washington, 10,000 in Texas,
7,000 in Hawaii, and 70,000 more in every other state
and even in Puerto Rico. We are the most "geographically
dispersed" Pacific Islander population within the United
States, and off-island CHamorus now outnumber
our on-island kin, with generations having been born
away from our ancestral homelands, including my daughters.
Some of us will be able to return home for holidays, weddings,
and funerals; others won't be able to afford the expensive plane
ticket to the Western Pacific. Years and even decades might pass
between trips, and each visit will feel too short. We'll lose contact
with family and friends, and the island will continue to change
until it becomes unfamiliar to us. And isn't that, too, what it means
to be a diasporic CHamoru: to feel foreign in your own homeland.
Even after 25 years, there are still times I feel adrift, without
itinerary or destination. When I wonder: What if we stayed? What if
we return? When the undertow of these questions begins pulling
you out to sea, remember: migration flows through our blood
like the aerial roots of the banyan tree. Remember: our ancestors
taught us how to carry our culture in the canoes of our bodies.
Remember: our people, scattered like stars, form new constellations
when we gather. Remember: home is not simply a house,
village, or island; home is an archipelago of belonging.
–Craig Santos Perez
__________________________________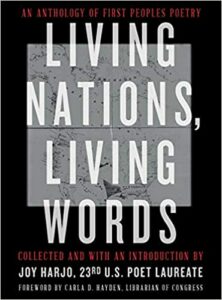 Introduction adapted from Living Nations, Living Words: An Anthology of First Peoples Poetry. Used with permission of the publisher, W. W. Norton & Company, Inc. All rights reserved. "Off-Island CHamorus" is excerpted from Living Nations, Living Words: An Anthology of First Peoples Poetry. Poem copyright © Craig Santos Perez 2019. Used with permission of the publisher, W. W. Norton & Company, Inc. All rights reserved.
---