Joshua Jelly-Schapiro on the Rich Etymologies of Place-Names
Jazmine Hughes and Will Butler Speak with the Author of Names of New York
In place-names lie stories. That's the truth that animates Joshua Jelly-Schapiro's new book—a journey through the names of New York City's streets and parks, boroughs and bridges, playgrounds and neighborhoods, which becomes a profound meditation on the power of naming to shape experience and our sense of place. Jelly-Schapiro traces the ways in which native Lenape, Dutch settlers, British invaders, and successive waves of immigrants have left their marks on the city's map. He interviews the last living speakers of Lenape, visits the harbor's forgotten islands, and meets with linguists who study the estimated 800 languages now spoken in New York, a city whose recent arrivals continue to make its streets their own, and where those same streets filled, last summer, with protestors chanting "Say their names!"
In a special conversation at Pioneer Works in Brooklyn hosted by Jazmine Hughes of the New York Times and joined by resident New Yorker and musician Will Butler of Arcade Fire, Joshua Jelly-Schapiro discusses the infinity of places and stories the city contains—and how the names that stick to its streets can function not only as portals to explore the past, but also as a means to reimagine what's possible now.
*
Jazmine Hughes: Josh, I would love for you to tell us a little bit about what compelled you to write this book, especially after Nonstop Metropolis. I wonder if those two projects spoke to each other?
Joshua Jelly-Schapiro: Nonstop Metropolis was this atlas of New York that I made with Rebecca Solnit, along with Will Butler and a bunch of other great people. It's a collection of maps and essays predicated on the idea that anyone who lives in a city could map it in their own way; that the city contains at least as many maps as it does people. That project involved getting immersed in the place-names of the city. And so, this book in certain ways grew out of it. But also, it came out of my fascination with these signifiers that are the means by which we navigate our days.
Names are an amazing way to uncover the layers of the city and who shaped it. But they are also this incredible way to understand not only history, but the present. Which is why they've become newly politicized in recent years. I thought it would be interesting to do a book about where they come from, that's also an essay about this magical power names have, to become a part of the places that they describe. I'm a geographer who is also a writer. I have a thing for place, but I also have a thing for words. Place-names are where those loves meet. As the geographer Yi-Fu Tuan wrote, "A great city is made up not just of stone, but of words." And those words are place-names.
Names are an amazing way to uncover the layers of the city and who shaped it. But they are also this incredible way to understand not only history, but the present.
JH: Speaking of this magical power, I have a question for both of you: What sort of feelings have you guys experienced being evoked in particular place-names? There have been so many conversations about schools named after Robert E. Lee and so on. And I wonder if over the course of your life there have been any particular place-names that evoked a strong feeling in you, good or bad?
JJS: The name of New York itself certainly evokes strong feelings in me—and has done since I was a kid. New York is a city whose name has become iconic of many things, and that exerts this pull. I have family history here, but I've only lived here for 12 years or so. I grew up in Vermont. But New York's name had a certain pull, as did names of certain parts of the city—Brooklyn, Harlem . . . Linden Boulevard (thanks to a Tribe Called Quest). And in light of that, one of the germs for this book was to dig into where the name "New York" comes from. The simple answer is that the English came here in 1664, and took over New Amsterdam from the Dutch, and re-named the town for their sponsor, the Duke of York. But if you dig deeper you learn that "York" comes from this Celtic word, Eburaka, which meant "where the yew tree grows," which the Romans then turned into Eboracum, when they were in England, and the Vikings made Yorvik, before finally it became York in English. But it's also interesting to ponder the songs in which New York became iconic to me.
Will Butler: I lived for a long time in Montreal, a great city but very Catholic in its names. What I appreciate about New York is some of the bedrock of it is a bit more mysterious. The Dutch names here, for example, may signify a colonial power that did horrible things, but they don't conjure up a legacy in the same way that Saint Catherine or Saint Laurent do. But of course, there are names in New York that conjure images.
JJS: One of the things that's unique about digging into place-names in a city in America as opposed to Europe, is that here you can dig into those layers and figure out where they come from—there have been a few powers and languages in control here, reaching back a few centuries, but not dozens that reach back millennia. I've loved learning the story behind names like say, Gramercy Park. That name sounds English, but it's actually just an English riff on a Dutch phrase that people liked the sound of—there are a lot of these. Gramercy, to the Dutch, was the krom moerasje, "the crooked marsh" of that part of Manhattan. The English just riffed on to the Dutch to coin "Gramercy." Then there are also Dutch names that just stuck—Harlem is one. These Dutchmen wandering upper Manhattan, in the early 1600s, named this area for a town outside Amsterdam. And what to me is interesting about that is that Harlem now is not evocative of the Netherlands. It's evocative of another history . . . of Harlem as this mecca of Black freedom and culture and pride.
JJS: Jazmine, you asked before about when and why we change names. This is a vital conversation that's happening now. And it's a remarkable thing to witness, as someone who cares about place and cares about history. But changing names, and doing so in a rushed way, is also something to be careful about. It is a complex conversation in part because people have had the power over time to change many names' meanings. I don't know that we're in a position to change the meaning of Robert E. Lee. But clearly, we were in a position over centuries to change the meaning of Harlem. And I think it's important and fascinating to think about why and how that happens. Because I think part of why is just the truth that some words hit our ears right. And Harlem is one of them.
JH: This actually brings me to one thing you talk about, these positive or good-hearted efforts to supplant a name of something that may not work. In Harlem there's a great example of this that you discuss, the renaming of 125th [Street], "MLK Jr. Boulevard." What was interesting there is that the numerical street name, "125th," was already symbolic of this concept of Black pride and liberation. So to have a piece of legislation come in and try to put a rubber stamp on this concept was actually sort of condescending. It goes against the very thing that the street stands for.
JJS: That's a great example. In the 1970s and 80s when cities and towns around the country were naming streets for Dr. King . . . New York got its MLK street in Harlem. But it's fascinating what happened there on 125th Street, which crosses Lenox Avenue, which was given a second name in 1987—Malcolm X Boulevard. Because few people in Harlem took to those new names. 125th Street was already iconic of these very values that you just articulated, and same with Lenox Avenue.
JH: I want to talk to you about co-naming. There's this process, here in New York, that I learned about in your book. It's much easier to co-name a street in New York than it is to rename it. How do you feel about co-naming? Will there ever be a point in which we are permanently renaming these institutions or these streets, for people who deserve it who aren't, you know, a Kennedy or a Cuomo?
JJS: A great question. The city law that brought about this huge flourishing of co-names is called Local Law 28. It was passed in 1992 and basically it made it much easier for City Council to add these honorary names. Before that, honorary names had occasionally been added to the map, or put on signs in place of old names. In the 1940s, Fiorello La Guardia succeeded in re-naming Sixth Avenue the Avenue of the Americas, though people hated that. It didn't happen all that much. But it happened enough that the people who literally make the city map—it's kept on these huge sheets of Mylar, I don't mean a digital version, I mean the official map they kept then for tax purposes—hated it whenever there was an official name change. I learned this from a wonderful guy I write about in the book, a retired city planner called Gilbert Tauber, who runs oldstreets.com. And apparently those mapmakers were part of why, when more City Council people were looking to create honorary streets, they made it much easier for them to do so. By creating these "co-names" that go on street-signs but aren't on the official map—they honor neighborhood heroes, politicians, police officers and firemen who'd been killed in the line of duty, cultural heroes, icons, activists, all sorts of people.
Nowadays fully a quarter of local laws passed by City Council are street co-namings—they do well over 100 a year.
Do the Right Thing Way, [where Spike Lee shot the film] in Bed-Stuy. Manny "The Wrong Man" Balestrero Way, in Jackson Heights, for this man there who had an Alfred Hitchcock film made after him. And in that same part of Queens is the Scrabble Corner. It honors the fact that the most popular word game in history was invented there, in the basement of a church in Jackson Heights.
WB: Normally when I see an honorary name like these, [I think], "Just tell me the real name, please." But in the book, you add context, you talk to this man who is making a database of context. And it is a meaningful thing. You understand—all right, this isn't necessarily for me, or for my Google Maps. But it can become part of the fabric instead of a random superstructure that's just slapped on top.
JJS: Right. The question about when we actually make names official is a weightier one, and I think that New York, in a way, has done a kind of end-around by having these honorary names, adding these shout outs to people without changing the literal geography of the place. But it is important to note that there are also real shifts happening, especially with monuments, which are a less subtle form of celebration of people than streets. Up until a few years ago, in the city there was something like 195 statues of men—real men, figures from history who did various things as politicians or soldiers or awful doctors like the one [J. Marion Sims] whose statue was recently removed from Central Park—and only, I think, three statues of women. Plus, a couple of imaginary ones. But now the city is making an effort to begin to make some balance. There are new statues, in Central Park, of Susan B. Anthony and Elizabeth Cady Stanton and Sojourner Truth. A Shirley Chisholm statue going up in Prospect Park.
JH: One thing you talked about in the book is that there are around 70 street names in Brooklyn alone that are named for slaveholders. When I was reading this, I was thinking of this guerilla sticker campaign in my neighborhood, Crown Heights in Brooklyn, that I started seeing last summer. These stickers that said things like, "John Bergen was a slaveholder." What was it like to confront the violence that we live among every single day?
JJS: For me, it's really powerful and important how people are now using names to confront and think about the layers of history that make up this place. I've always been just as interested in the ways in which landscape is not history made visible. Here in New York, out of the Occupy movement, there was a push to mark the fact that Wall Street was the site of the main slave auction block in Manhattan. There's a plaque on Wall Street that marks that site, and thus points toward the ways that slavery and the Atlantic slave trade were intrinsic to American capitalism and to the development of Wall Street. This isn't something that people were made to think about in the place before. But now, hopefully, it is.
WB: When you think about the layers, there's also a layer here, of native place naming—starting with Manhattan, the meaning of which is basically lost to history.
JJS: Yes, our best translation now is likely, "A place where we gather wood for bows and arrows." But as you say, it's hard to know—the Native American word from which we get Manhattan, "Manna-hatta," was written down by one of Henry Hudson's crew. It's impossible to know what that sailor actually heard, or what the Lenape he encountered, who spoke an Algonquian language called Munsee, were actually trying to convey. But this of course happened all across America.
JH: In the book, you write about those names we've lost. Also, about how lots of relaxing or recreational places were given Indigenous names—summer camps and resorts. But what are the ways that both the state and we as individuals can honor Indigenous history, without being embarrassing?
JJS: Now in Australia and Canada, there's a growing custom of doing land acknowledgements when one is giving a public presentation or writing an article. And I think that's a start. One of the joys of researching this book was diving into the language and history of the Lenape people who were here when Europeans turned up. Two hundred years after the arrival of the Dutch, many of the Lenape had dispersed to Connecticut, New Jersey, nearby places. Now their descendants mostly live in Oklahoma and Ontario. But their language now is being taught and revived.
I had the pleasure of going to a Munsee class at the Endangered Language Alliance by Union Square, given by a woman who drives down 12 hours from Ontario to teach. It was a magical thing to hear the language that was spoken here before the arrival of Europeans, to know that people are still speaking and nurturing it. And to do so, moreover, in the offices of the Endangered Language Alliance, my favorite little nonprofit in the city. They helped me a lot with this book. The linguists there, and the people in their network, love to talk about how, though the census tells us there are something like 200 languages currently being spoken in New York City, there's actually more like 800, maybe many more… New place names are always cropping up—"making place" is just something we humans do.
__________________________________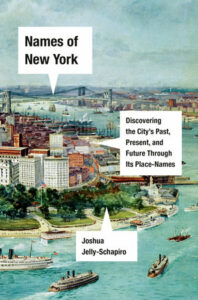 Names of New York: Discovering the City's Past, Present, and Future Through Its Place-Names by Joshua Jelly-Schapiro is available now from Pantheon Books. 
---