John Wray on the One Book That Has Helped Him Become a Better Writer
"I'm talking about an unassuming trade paperback, published a few decades back, with a deceptively un-sexy title."
This first appeared in Lit Hub's Craft of Writing newsletter—sign up here.
American literary discourse—especially in its plankton-rich breeding grounds across social media—is awash with foolproof tips on how to become a better writer. My Instagram feed, on certain black days, is practically choked with them; and I do my best, in spite of my annoyance, to keep my mind and options open.
But this little essay isn't about Instagram. It's about the one resource, of the many things I've tried over the years—workshops, meditation, prescription drugs, long-distance running, recreational drugs, that Stephen King book, gardening, tai chi, solitude, company, long walks with my dog—that has clarified my writing practice more than any other. I'm talking about an unassuming trade paperback, published a few decades back, with a deceptively un-sexy title: Writing Mysteries.
This would be pretty humdrum, as confessions go, if I happened to be a mystery writer. But I'm not—at least not in any conventional sense. (All novels are mystery novels, of course, but we won't go into that here.) I had no intention whatsoever of writing "crime" or "whodunnit" or "procedurals" when I started out, and I don't have any particular ambition in that direction even now (though I have to admit, it sounds fun). From the beginning, I aspired to write books that were impossible to put in any set of "brackets" whatsoever—I failed in that, I think, but not for want of trying.
My point here is that the type of fiction I was "into," the ambitions I had in those early days, made no difference at all. I could have been floundering at romance, science fiction, swords and sorcery, dirty realism, political satire, or all of the above. Writing Mysteries would have saved me anyway.
The plainly stated intention of Writing Mysteries is to de-mystify, in the most literal sense.
Which isn't to say that my choice of writing bible was arbitrary. Just the opposite. The genre of so-called crime fiction, or whatever name you choose to call it by, is more obsessed with the nuts-and-bolts of craft, in my experience, than any other. In this medium-sized paperback, published by Writer's Digest Books (!) and conscientiously edited by the inimitable Sue Grafton, I found a banquet of concise, three-to-seven-page chapters on virtually every element that plays a role in the creation of fiction: "Characterization," "Pacing and Suspense," "How to Write Convincing Dialogue," "On Work Schedules," "Depiction of Violence," "Historical Mysteries," even "The Medical Thriller."
Though some of these entries were written by giants of the profession—Sue, clearly, had called in some favors—they are, almost without exception, magically free of cant and self-seriousness and pretension. Mystery writers, it turns out, don't regard their vocation as the domain of the privileged, sophisticated few. They'll tell you in plain English what worked for them and what didn't, with the clear implication that you're free to disagree. I found myself disagreeing quite a lot, actually, as I made my way from lesson to lesson—which turned out to be every bit as useful as agreeing. Arguing in my head with Writing Mysteries, in fact, was how I came to figure out what kind of writer I wanted to be.
Take, for example, the second essay in the anthology: "Sparks, Triggers and Flashes," by the charming and articulate Marilyn Wallace, whose many classics of the genre—A Case of Loyalties, So Shall You Reap, Primary Target—were completely unknown to me. A great deal of Ms. Wallace's advice is so straightforward and unglamorous that it might be mistaken for truisms, even platitudes—but wisdom lurks behind her every tidy turn of phrase.
Of particular help to me, as a first-time author struggling with the magnitude of the work ahead, were her words on the motivational power of setting, which I'd never once considered: "Some places are so thoroughly imbued with menace, or with delight, that a writer's imagination is automatically stirred into action. Watch for places that excite strong responses in you."
Such simple, intelligible words of advice. I followed them with my first novel, The Right Hand of Sleep, setting the primary action in the little town in the Austrian Alps where my mother was born, and I've done it with every book since. It works just as well with one's choice of class and cultural setting: Gone to the Wolves, my new novel, takes place almost entirely in the heavy metal demimonde I spent my teens in. I loved going back to that time and that place, and it shows in the writing. I'm not sure I could have finished Gone to the Wolves—or any of my other books—without Marilyn Wallace's straightforward advice. The plainly stated intention of Writing Mysteries is to de-mystify, in the most literal sense. Isn't that incredible?
There are dozens of other examples I could dive into here, and it would give me great pleasure to do so—but you can check out this novelists' Necronomicon for yourself. That, after all, is what the internet is for.
__________________________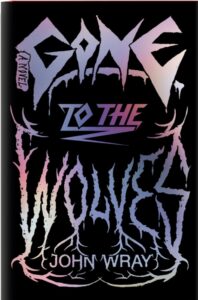 John Wray's Gone to the Wolves is available now from FSG.
---