Jessi Jezewska Stevens Goes to Some Galleries and Looks at Art
The Author of The Exhibition of Persephone Q Takes a
Virtual Tour with Michael Barron
I read Jessi Jezewska Stevens' debut novel The Exhibition of Persephone Q in a single sitting on the Sunday afternoon before the quarantine. I was magnetized not just by a great story, but one that felt uncannily timely. The novel is set in the days after 9/11, a period when America was suspended by a national trauma. Percy, a new wife and soon to be mother, receives a catalog for an exhibition of a former fiancé's photography. Among the works is an image of a nude woman in a bed looking out into the New York skyline, a detail the curators are quick to exploit. But Percy notices something else: the woman is her. By setting out to prove it, Percy is forced to confront questions of identity and selfhood that feel both poignant and meta during a time of crises.
For our interview, the plan had been to go visit art galleries while conversing about the book and the impact of Stevens' art writing. Gallery closures and social distancing during the coronavirus pandemic caused us to rethink this idea. We decided instead on a live virtual tour of ongoing exhibitions, talking over speaker phone while viewing the images featured on gallery websites. These would serve as prompts to guide the following conversation. 
 I.
Jennifer Guidi, "As I Look Into You I Begin To See Myself," Gagosian Gallery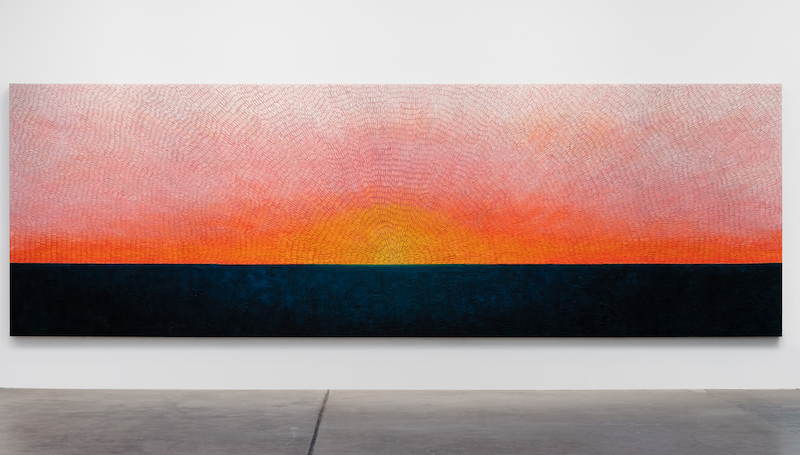 Michael Barron: I thought we'd begin with this painting, which depicts a sunset that almost looks like it was painted on a spiderweb or a wood stump.
Jessi Jezewska Steven: It has a meditative aspect to it. I think I read that the artist is based in LA. I'm wound pretty tight—as an anxious person I've always felt I wouldn't really belong on the West Coast. I do like this painting, but it lacks a certain anxiety for me. I don't really have a way in.
MB: So you don't "begin to see yourself" as you look into it.
JJS: Ha, I think I don't!
MB: That title though, I couldn't help but immediately think of Percy, the protagonist, going to this exhibition of her ex-fiancé's photography and thinking that she sees herself in one of them. What inspired you to center this story around an art exhibition?
Article continues after advertisement
JJS: I was thinking about this from a plot perspective. I had this character who's so in denial about the personal transformations in her life—motherhood, marriage—and I was thinking about what kind of event would be disruptive enough to force her to reckon with all she's been avoiding. I think the idea of an exhibition was my answer to that question. It framed some central thematic concerns, forcing Percy to consider "Who am I?" "Who else might I be?" And "Who have I been?"
MB: I want to investigate those questions, but perhaps we should first move on to another show.
II.
Daniel Lind-Ramos, Armario de la Memoria (Storage of Memory), Marlborough Gallery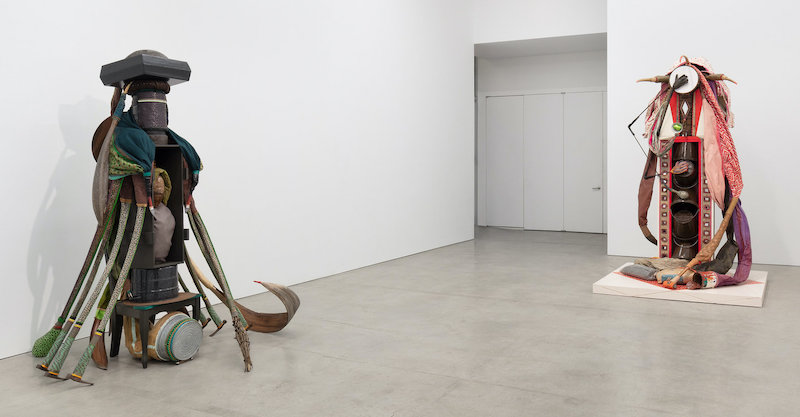 MB: These sculptures have such personality in being made out of found objects. Like they each have stories to tell. Do you see what I'm seeing?
JJS: I totally do, yeah. They're just anthropomorphic enough that we begin to see them as characters and assign them personalities. But in another way, they also feel very aloof. I think that cycle of encountering these sculptures, reading some personality into them, and then possibly having that projection rejected leads to a cycle that feels very much like a narrative act to me.
Lind-Ramos's show, we're told, is very engaged with memory and a sense of place. Percy seems to be the opposite of that in a way. She's a bit memoryless, which probably helps if you're reinventing yourself all the time. But I think that kind of amnesia also comes at a great cost too.
MB: It's like we're looking at a cast of characters or roles of the same one. Percy is kind of a storyteller herself and has many roles as well, wife, mother, unwitting model, but seems to push against them.
JJS:  I'm not sure her central question—Who am I?—has a stable answer. The idea of searching reverberates through the novel. Percy is searching the early Internet for information about waxing, pregnancy, even her own name. She conducts a hysterical literature review in a library. Her husband Misha is an avid metal detecting hobbyist who only ever finds trash. I wonder if one thread in the novel is whether we can be satisfied with the search itself.
MB: You're talking about questions about Who am I?, but the book also tugs at the question of Who are we?
JJS: An outsized ambition I had was to filter a national mood through a more individual story. Those questions about national character and identity felt very charged in 2016, when I started the book. It had also occurred to me that self-invention—or self-reinvention—is a very American state, a kind of right that Americans claim. I wonder if one of Percy's struggles here is that coming-of-age moment of recognizing that while constantly reinventing yourself is a kind of freedom, it's also a kind of loss.
III.
Rachel Harrison, Drawings, Greene Naftali Gallery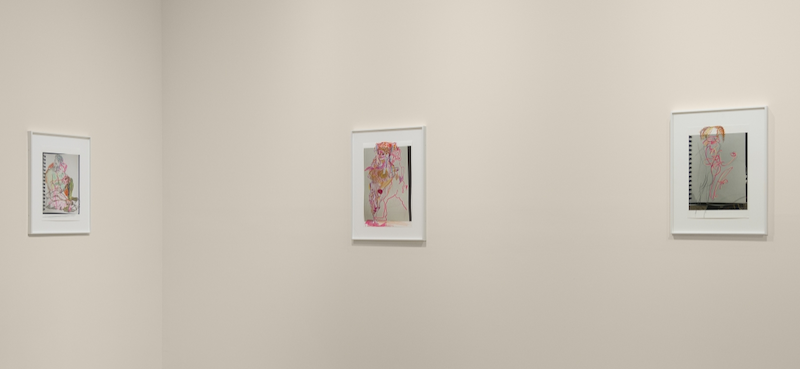 JJS: I really like these.
MB: What draws you to them?
JJS: A few things. I like that they're so playful and irreverent. It's also such a pleasure to read or encounter something like this where you can feel that the artist is doing exactly what she wants. I think about that with Percival Everett's books. There's almost a sense that they shouldn't work, but they absolutely do. There's an authority and confidence behind it, you can feel he's doing exactly what he wanted to do.
MB: I just finished Telephone and can see what you are saying. Are you similar with your confidence in that you push ahead with ideas even if they might not seem if they are going to work?
JJS: It doesn't always come from confidence. More like, This is what you've set up for yourself, and you should take responsibility for it. But I was definitely interested in the challenge of giving this book stylistic texture. There's a section that's told basically orally, and other sections that are told in the nervy style of Percy's interiority.
MB: You mentioned earlier how you were drawn to Harrison's playfulness and irreverence, and some of your styles reflect that, like the internet chat room where users talk about Brazilian wax jobs and wax poetic on other topics. This willingness to be playful and unexpected is something that really drew me into the book.
JJS: I do think that that playfulness is important. I am reminded now that writing the really extended chat room posts also felt like trying to throw my voice a little bit. For the longest post in the book—I just read a bunch of Hume and spent a few days channeling Hume's skepticism and empiricism and applying it to Brazilian waxing.
IV.
Donald Judd, Artwork 1980, Gagosian Gallery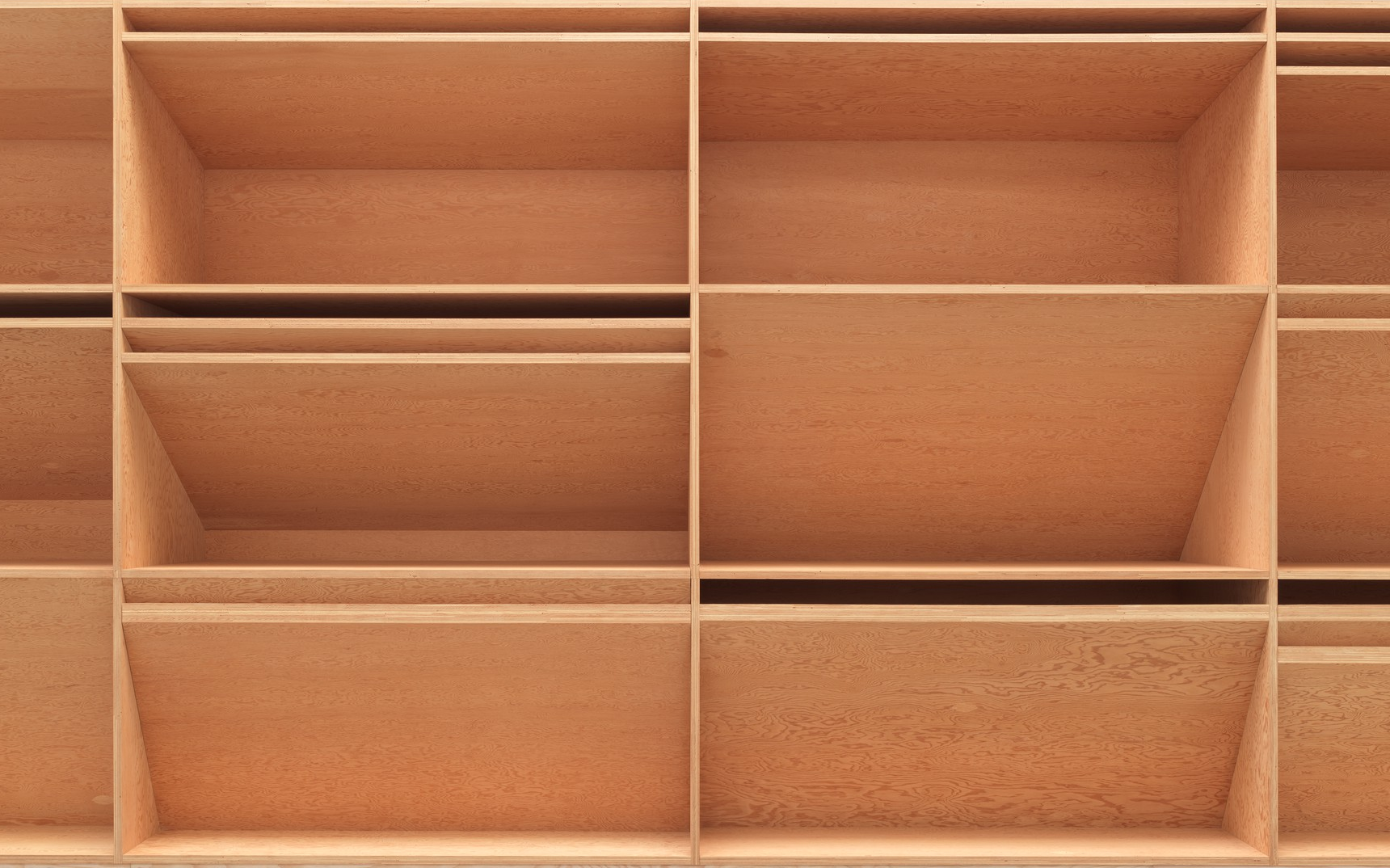 MB: We just have one piece to consider here.
JJS: I'm sure Judd would appreciate that. It's got such scale.
MB: It's a lot of perspectives of the same work, but it feels impossible to fully grasp at its wholeness without being there.
JJS: That idea of needing to be there in person feels really important for all of these works. I'd say it's appropriate for us to be looking at Donald Judd's work because the idea of scale is so important. When Percy first discovers the photographs, they're in a catalog that mysteriously arrives at her apartment, but when she eventually goes to the gallery, she's shocked at being confronted with the enormous scale of her body reproduced in these photographs, which in reality are super-sized.
MB: Why did you have them blown up so big?
JJS: When you're drafting, once you have the specifics down, I think it can be productive to ask what could possibly make everything worse than it already is. In this case, the answer was for the pictures to be enormous. Before our conversation, I was reading that Michael Fried essay "Art and Objecthood" on Judd's work and other artists like him, he says that Judd's sculptures are meant to be confrontational, "not just in the viewer's space, but in his way." That resonates with me when I look back at how Percy confronts that kind of scale.
MB: I feel like we're missing that by looking at images of the Judd. We aren't confronted by the scale. It reduces the feeling of this piece to knowing we're unable to experience what we're meant to experience by not being there, yet that we can see that there is something we're meant to experience.
JJS: Right. Which I think would also be intended, even if we were there. But still. I think it is really important to see these things in public. And I guess right now, because we aren't supposed to go out, and everyone is online, and we're doing this virtual gallery tour and talking about the importance of recognizing scale, I'm reminded of the way the internet is so public, yet it doesn't feel the same as being in public. There's more anonymity to being on the street.
MB: Your book is like the last public echo of culture before it got locked down. What's that been like?
JJS: "The last echo of culture" felt like an ominous phrase before this situation, too! I mostly feel overwhelmed by the incredible uncertainty and financial insecurity. The rise in hate crimes. There are so many people trying to figure out how to pay rent. I feel very preoccupied with that, primarily. I know that's not necessarily about having just published a book in a very strange and pretty inopportune moment, but on the other hand, seeing people reaching out to each other, finding ways to still have these conversations—I think that that's been heartening.
---