Jenny Offill: Everyone's Always Hoping for Some Kind of Plot
This Week on So Many Damn Books
We've certainly had some ~weather~ recently, so it made sense to talk to Jenny Offill, author of Weather, now out in paperback! Christopher makes a second drink for the book (after he and his wife discussed it during one of the early pandemic eps), there's talk of How Things Have Changed and the writing process, and Jenny sends us to warmer climes with her book club pick: Jean Rhys's Wide Sargasso Sea!
From the episode:
Christopher Hermelin: Dept. of Speculation came out 14, 15 years after your first book, and then this one only took six. What was the factor for why this one came a little faster?
Jenny Offill: They gave me an advance. So instead of teaching at four different places and doing all these freelance gigs, I had more time to write. It didn't really make the writing go more easily, but it just meant that instead of having to wait until I had a summer vacation or I had a little downtime from teaching, I was able to be a little more steady about it, which felt like a real luxury. I write a little bit about the doomed adjunct in the beginning of Weather, and I have been very much that adjunct myself, who was always cobbling together lots of jobs and going from place to place. So it was very exciting to get an advance for a book that wasn't written entirely yet—although it was also very terrifying. I had basically just told people this idea, which, by the time I was writing, it was completely different.
Christopher Hermelin: Can you talk a little bit more about the morphing of that?
Jenny Offill: Well, in the beginning, when I was first interested in writing Weather, I had kind of gotten interested in this article I read that was in I think The New York Times Magazine, and it was called "It's the End of the World as We Know It . . . And He Feels Fine," because REM is always going to be quoted in those. And it was about this really well known environmentalist, Paul Kingsnorth, also a fiction writer. At a certain point, even though he'd been known as this very well known environmentalist in England, he said, I'm going to walk away from this. I feel like a priest who no longer believes in God. And what he was basically saying was, I don't think that we have any chance of stopping climate change from being a complete disaster, and I'm tired of pretending that we do.
I was just sort of fascinated by this. I was like, wow, that's kind of amazing to do. And I have a friend whose somewhat equivalent like that has been working in this area for years, and I asked him. I said, what did you think of that? And he said, well, I don't think you should walk away, but those of us who really do the work, we've all known for several years—I think it was since the Copenhagen Accord—he said we've all known that you can't tell people the truth.
And then I just started really digging and I started to find these things where scientists would be talking to each other and they would have these incredibly dark things they would say if they were under the so-called Chatham House Rule, which means that you can say your affiliation or something but you don't say your actual name to be attributed. And I couldn't believe how dark the vision was that I was coming across.
Originally I was thinking the book was going to be a lot more about how Lizzie, the librarian in the book, how she's trying to figure out why her mentor, who was this environmentalist, why did she walk away from everything? But then I just got more interested in other stuff, as sort of happens to me when I write a book. People that I told about the book would be like, okay, so it's kind of about someone who disappears? I'd be like, mmmm.
Christopher Hermelin: They want you to be writing Where'd You Go, Bernadette. 
Jenny Offill: Exactly, of course. Everyone's always hoping there might be some kind of plot.
*
What'd you buy?
Drew: Reel Bay by Jana Larson // Rabbit Island by Elvira Navarro, translated by Christina MacSweeney
Christopher: Ouran High School Host Club by Bisco Hatori // The Charmed Wife by Olgan Grushin
Jenny: The Collected Stories of Leonard Michaels // Friends and Dark Shapes by Kavita Bedford // WAVE PRESS subscription
Recommendations:
Drew: Your Duck Is My Duck by Deborah Eisenberg // How to Order the Universe by Maria José Ferrada, translated by Elizabeth Bryer
Christopher: quit books! // united sodas of america // Great British Baking Show soundtracks
Jenny: Borgen (Netflix show) // The Italian Job (the original film)
*
This week's themed cocktail: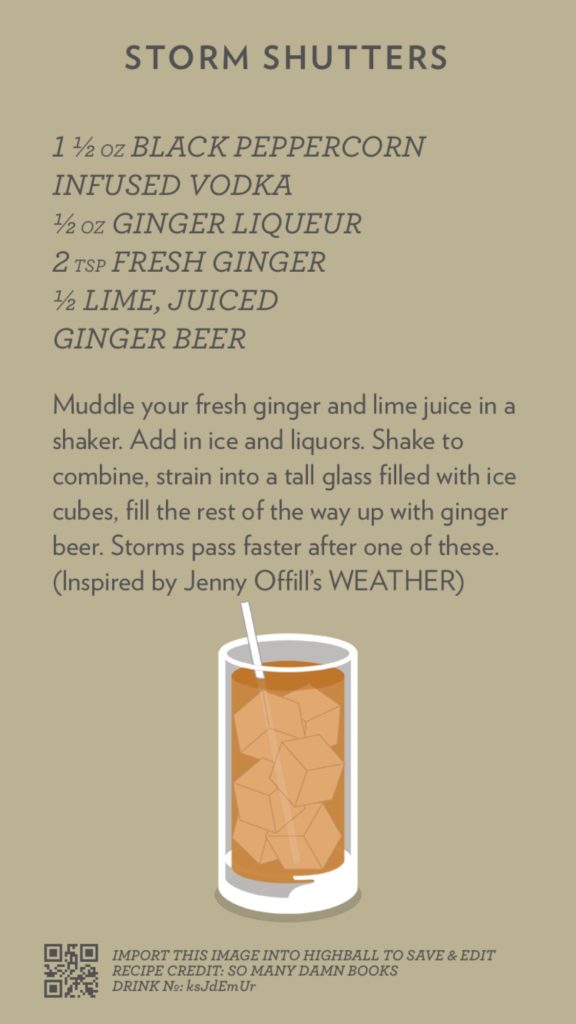 ---