Jennifer Weiner's Dream Reader is Any Woman
The Author of That Summer Takes the Lit Hub Questionnaire
Jennifer Weiner's new novel, That Summer, is out now, so we asked her who her ideal readers are, her writing heroes, and what could have been if she wasn't "Jennifer."
*
Who do you most wish would read your book?
Any woman who's experienced some kind of sexual harassment or assault. Any woman who's ever tried to make herself small to make someone else feel big. Any woman who's ever lost a friend, or had a friendship that saved her life. So. . . any woman. (But men are always welcome, too!)
How do you tackle writers' block?
Before I was a novelist, I spent almost ten years working as a newspaper reporter, which left me (knock on wood) immune to writers' block. You can't really tell your editor, "Sorry, I know the piece on the sewage board hearing is due at 3, but my Muse hasn't spoken to me yet." You just sit down and write, whether you're feeling inspired or not. I think it's as much physical training as anything else. Journalism taught me that when my butt hits the seat and my fingers hit the keyboard, it's time to write. . . and even if I end up deleting every single word the next day, I've never had a day where I couldn't write something.
What's the best writing advice you've ever received?
When I graduated from college, I knew that I wanted to write fiction, but nobody's hiring unpublished novelists and paying them a salary to write their debuts. I needed to find a way to get paid for writing, and my professor, John McPhee, told me to get a job at a small daily paper. He told me I'd be writing every day, that I'd learn to write on deadline and work with editors, and that I'd see a part of the world I'd never seen before and meet people I'd never otherwise meet. He was right on all counts, and I believe that journalism is the best training for novelists. I just wish there were more places for young people to do it!
What was the first book you fell in love with, and why?
I remember picking up my mother's battered paperback copy of Nora Ephron's Crazy Salad when I was ten or eleven, and reading Ephron's essay about her breasts, and being completely stunned. I didn't know people could write about breasts! I didn't know they could write like they were talking, in a way that made you feel like you were having coffee with your smartest, snarkiest, funniest, most bracingly honest friend. I didn't know there was a way to be an explicitly, unapologetically Jewish writer, the way Ephron was, and to talk about feminism and pornography and body parts and sex and vaginal deodorant in a way that felt both extremely personal and completely universal. Her work was a revelation, and I wanted to sound like her when I grew up.
Is there a book you wish you had written, and why?
There are many books I wish I'd written, but what I think about the most is what would have happened if I'd written the books that I've written as Jonathan and not Jennifer.
__________________________________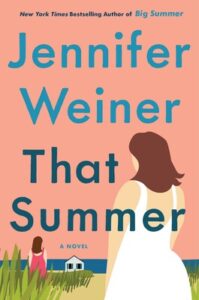 That Summer by Jennifer Weiner is available now from Atria Books. 
---