Jeff VanderMeer on Ursula K. Le Guin, Tove Jansson, and Ottessa Moshfegh
Rapid-fire Book Recs from the Author of Hummingbird Salamander

Welcome to the Book Marks Questionnaire, where we ask authors questions about the books that have shaped them.
This week, we spoke to the author of Hummingbird Salamander, Jeff VanderMeer.
*
Book Marks: First book you remember loving?
Jeff VanderMeer: William Blake's Songs of Experience, which my dad read to me when I was eight or nine. Some of it like the "Tyger" poem I could make sense of, but the mysteriousness of being in a sense told a story that's just beyond your grasp, and yet is so visual or striking, left a lasting impression. Some of the imagery just stuck with me so strongly and in a way if I'd encountered it later than I did would not have made as much of an impression.
BM: Favorite re-read?
JV: Ursula K. Le Guin's The Left Hand of Darkness. I must admit to having responded more to Le Guin's short fiction than her novels when I first read her in my twenties. But coming back to The Left Hand of Darkness in my fifties, I really could not believe the intricacies of societies in the novel and how they impact the plot on such a personal level. Rather than being backdrop, those intricacies are central to the tension. The long journey over icefields that ends of the novel remains one of the most iconic such journeys in fiction. Just so many elements that are sharp, focused, and yet also have emotional resonance.
BM: What book do you think your book is most in conversation with?
JV: To be honest, sometimes a book is "just" in conversation with the world, and that's definitely true for Hummingbird Salamander. Even with other books, like Dead Astronauts, with some clear literary influences, it's things like "this scene I stole the technique from Bolaño's 2666 and totally repurposed it" rather than a conversation. I'm more of a devious magpie thief than a conversationalist in that regard. But Hummingbird Salamander definitely benefited from my love of noir fiction in general and having a strong environmental library in the house, even if the point of accessing that library is to have a sedimentary layer in the back of my mind when I write, rather than something coming into sharp relief in the foreground, re influence.
BM: A book that blew your mind?
JV: Aase Berg's Dark Matter, translated by Johannes Göransson, was a life-altering experience. Dark Matter, through a series of poems and prose-poems attempts to push beyond the human and also into the realm of the nonhuman. It is so tactile and so original that it feels both about our Earth and wholly alien in a way that's beyond description. "But time runs on time…and the soul's dark night will slowly be lowered through me. That is why I now slowly fold myself like a muscle against the wet clay… I will sleep now in my bird body in the down, and a bitter star will eternally radiate above [me]."
BM: Last book you read?
JV: My latest read was The Order of Sounds: A Sonorous Archipelago by Francois J. Bonnet, translated by Robin Mackay. What a wonderful exploration of the idea not just of sound but of the idea of recording sound, of what the trace of sound means, of how absence of sound figures into the enjoyment of sound, among many other virtues. I love books like these as they show me different ways to perceive the world and thus to think about the scenes and characters in my novels. I especially love some of the discussion of uncanny sounds or perceived uncanny sounds. The book also dovetails in unexpected ways with my recent study of architecture, philosophy and execution, and especially books on use of shadow in architecture.
BM: What book from the past year would you like to give a shout-out to?
JV: Olga Ravn's The Employees, translated by Martin Aitkin, strikes me as doing further work in the surreal and defamiliarizing mode as Aase Berg's Dark Matter, but for the modern workplace. It's a supremely edgy and destabilizing look at sentience, late-stage capitalism, and personal interaction while having an emotional impact and going to very strange lands.
BM: Favorite book to give as a gift?
JV: Tove Jansson's The Summer Book, translated by Thomas Teal, makes a perfect gift every time. It contains so much that's entertaining, wise, and beautiful, and yet it has an edge to it at times. It's also a great entrypoint to Jansson's other adult novels, once you're Moomin'd-out… although how could that be?
BM: Classic book on your To Be Read pile?
JV: It feels like a classic to me: my first foray reading Jenny Erpenbeck, Visitation, translated by Susan Bernofsky. I'm a soft touch for a narrative bringing together the perspectives of several characters in one place (in this case a house in a forest), especially if it occurs over a fairly long span of time. I'm looking forward to interesting feats of compression given the novel is quite short.
BM: Favorite book no one has heard of?
JV: The Narrator by Michael Cisco is a simply harrowing account of one person's descent into a spectacularly uncanny war, with scenes of bizarre peculiarity and raw power that are a little like if there was an elixir your could drink that immediately plugged your brain directly into a mix of Lynch's Eraserhead and Jodorowsky and something Brothers Quay/Svankmajer, scored by late-era Scott Walker. (Cisco's Animal Money is that, too, only more so.)
BM: Books you're reading right now?
JV: I'm reading Ottessa Moshfegh's Lapvona, another departure for her and really enjoying it thus far. I'm also browsing through Architecture of Nature/Nature of Architecture by Diana Agrest, which in how it reveals structure and narrative by examining geological functions and formations (among other things), again provides me with a new perspective on my own fiction and on life on Earth. I find it both refreshing and comforting in this climate crisis era, and I couldn't tell you why exactly. Gaston Bachelard's The Poetics of Space, translated by Maria Jolas, is a fun if sometimes bombastic read—the bombast, however, makes it almost more a novel about an eccentric thinker than a work of nonfiction. And, finally, I'm working my way through Multispecies Storytelling in Intermedial Practices edited by Ida Bencke and Jorgen Bruhn. I'm rather thrilled that my sister, Elizabeth VanderMeer, has an essay in the anthology that's of use in writing my new novel: "Creating Distance or Proximity? How Wild Lives Are Told Through Remote Camera Viewing."
*
Jeff VanderMeer is the author of Hummingbird Salamander, Dead Astronauts, Borne, and The Southern Reach Trilogy, the first volume of which, Annihilation, won the Nebula Award and the Shirley Jackson Award and was adapted into a movie by Alex Garland starring Natalie Portman. VanderMeer speaks and writes frequently about issues relating to climate change. He grew up in the Fiji Islands and now lives in Tallahassee, Florida, with his wife, Ann VanderMeer, and their cats, plants, and bird feeders.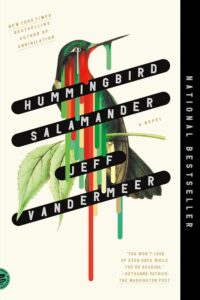 Jeff VanderMeer's Hummingbird Salamander is out now in paperback from Picador
*
---