Jason Mott on the Power of Routine, and Tackling Writer's Block by Writing Badly
The Author of Hell of a Book Takes the Lit Hub Questionnaire
Jason Mott has published four novels. His first novel, The Returned, was a New York Times bestseller and was turned into a TV series that ran for two seasons. He has a BFA in Fiction and an MFA in Poetry, both from the University of North Carolina at Wilmington. His poetry and fiction have appeared in various literary journals. His most recent novel, Hell of a Book, the winner of the National Book Award for Fiction in 2021, in now available in paperback.
*
Literary Hub: What time of day do you write?
Jason Mott: I write first thing in the morning. I get up at 5:30 am and head straight to the computer because I've found that the best time to write is when the rest of the world is sleeping. There are just fewer distractions and interruptions first thing in the morning.
LH: How do you tackle writer's block?
JM: I write. I have a theory that writers block isn't real. In my opinion, writers block is simply the fear of writing bad. So, on those tough days, I just go ahead and write badly. Eventually, my brain always figures out what it wants to say.
LH: Which book(s) do you return to again and again?
JM: There are two, actually: Lord of the Flies and Grendel.
When I was fourteen I came across John Gardner's Grendel and it captured my imagination. It's literally the book that made me want to be a writer. And then I found Lord of the Flies, and it was the book that showed me what truly, high-caliber writing could be. Each time I reread these books I see something new because I've changed as time has passed. I've grown as both as person and as a writer. Yet, somehow, these books still teach me something new about both of those. Painfully few works of art can do that.
LH: What's the best writing advice you've ever received?
JM: Write every day. It's the oldest and most common advice given to writers, and that's because it's still the best. A long time ago a mentor told me that I had good habits and a good writing routine. He told me to lean on that, and I did.
Another piece of advice that I've learned on my own over the years is that we must all be more kind to ourselves along our writing journey. Learning to write is a difficult thing, and learning to do it well takes far, far longer than people think. As, as you try to become a better writer, you'll be filled with self-doubt and criticism. So I tell people: be ask kind and forgiving to yourself as you would be to someone you loved who wanted to learn to write. Take all that support, encouragement, and grace that you would give to someone else and aim it at yourself. You deserve it. We all do.
LH: Name a classic you feel guilty about never having read?
JM: Ulysses. I've been intending to read it for my entire life, but never seem to make the time. One day…
_____________________________________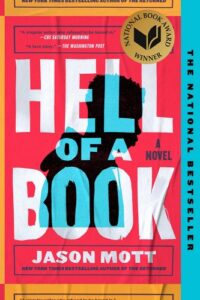 Hell of a Book by Jason Mott is available now via Dutton. 
---