J.M. Barrie's Handwritten Manuscript of Peter Pan
Another Trip Back to Neverland
"Second to the right and straight on till morning": can there be anyone unfamiliar with those famous directions to the enchanted and imaginary world of Neverland? The story of Peter Pan—"the boy who wouldn't grow up"—was only written just over 100 years ago and yet it somehow belongs among the timeless classics of children's literature which have delighted young and old alike for generations.
Peter's creator, James Barrie, one of ten children, was born and raised in Scotland. From early on he wanted to be a writer. At the age of six he was devastated when his elder brother, David, died in a skating accident and, young though he was, set about filling the 14-year-old's place in his mother's affections. After completing his studies at Edinburgh University and a brief period as a journalist, he moved to London where he started to have some modest success as a playwright.
In 1897, while walking his St Bernard dog (later to become Nana in the story) in Kensington Gardens he made the acquaintance of the Llewelyn Davies family, Arthur, Sylvia and their three boys. For Barrie, who had no children, it was a providential meeting which would develop into a deep friendship and would inspire the characters in his best known work, especially the young boy with magical powers who first appeared in his 1902 novel The Little White Bird.
It was the start of a succession of fantasy works in which the young boy becomes the lead character in Peter Pan or the Boy Who Wouldn't Grow Up, a play staged two years later in 1904 at the Duke of York's Theatre in London. The huge success of the play encouraged Barrie to create two children's stories based on it: Peter Pan in Kensington Gardens (1906) and Peter and Wendy (1911).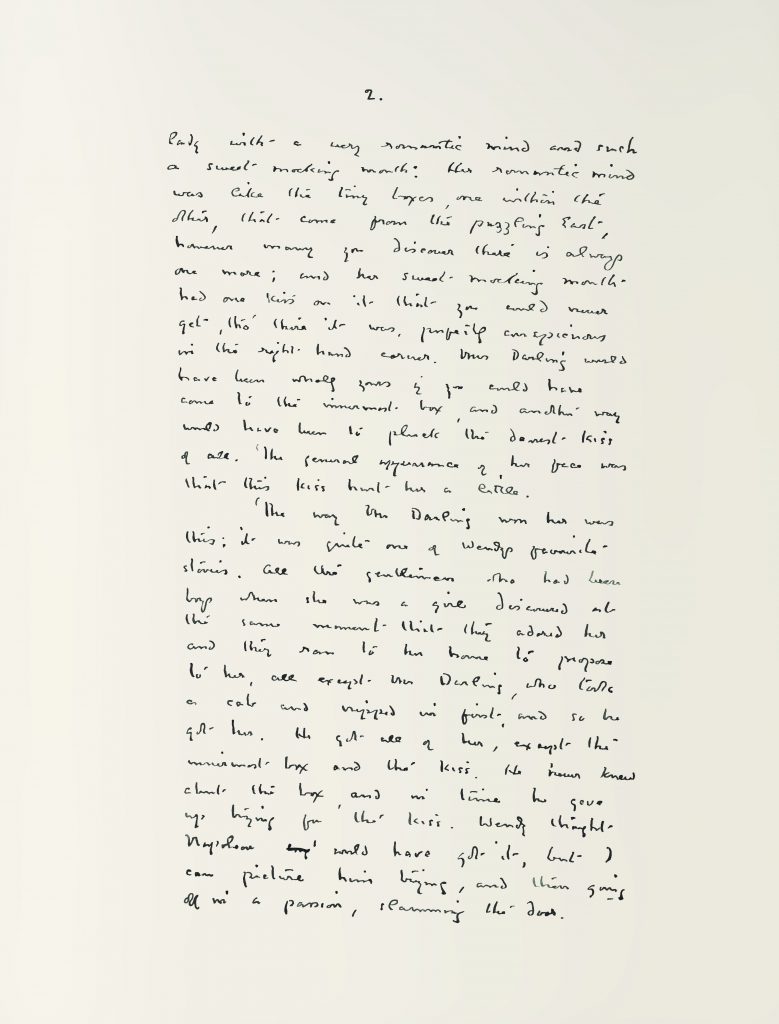 It is the manuscript of the latter, one of the jewels of the Berg Collection in the New York Public Library, which is reproduced here for the first time. Peter's adventures in Neverland, described in Barrie's small neat handwriting, are brought to life by the evocative color plates with which the artist Gwynedd Hudson decorated one of the last editions to be published in Barrie's lifetime.
Bursting into the lives of millions of young readers in a whirlwind of fairy-dust, James Barrie's legacy to children was more than just a literary one; it also turned out to be profoundly humanitarian. Despite being unable to fly like Peter, he first spread his wings metaphorically as a guardian angel to the Llewelyn children, orphaned by the untimely death of Arthur in 1907 and Sylvia in 1910, and provided for them financially.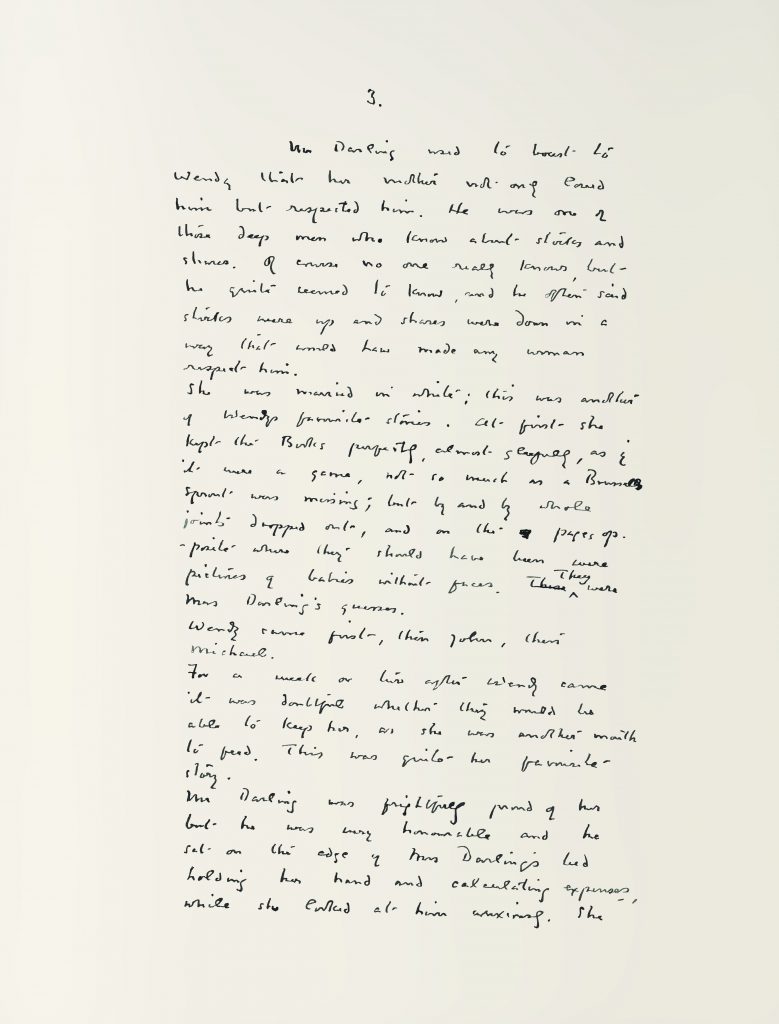 Then in 1929 he made over the copyrights and royalties in Peter Panin all its forms to the Great Ormond Street Hospital for Sick Children. When the copyrights expired in 1987, the British Parliament passed exceptional legislation to enable the Hospital to exercise the British rights in perpetuity.
Lovers of J. M. Barrie's magical world will find themselves all the more enchanted by his creation through being able to read about it in his own handwriting and as they do, let them remember: "Dreams do come true, if only we wish hard enough."
__________________________________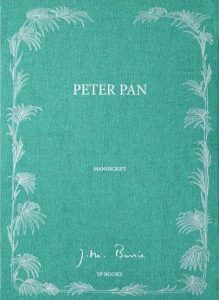 From Peter Pan. Used with the permission of the publisher, SP Books. Editor's note copyright © 2019 by SP Books Editors.
---