Interview with a Bookstore: BookCourt
A Brooklyn Bookstore for writers and readers
Mary Gannett and Henry Zook opened BookCourt in 1981 (and, given the photo below, inspired the next 30 years of Brooklyn hipster fashion). Originally the home of life-and-death necessities (a funeral parlor and before that a barber shop), BookCourt was a small one-room bookstore with a nook in the back holding a modest selection of children's books. Over the next 33 years BookCourt has expanded both in size and reputation. Today it is one of Brooklyn's most iconic independent bookstores. In 1996, Mary and Henry purchased the storefront next door and added an impressive third room in 2008, called the greenhouse. These expansions have allowed BookCourt to develop one of the largest selections of children's books in Brooklyn, curate an impressive selection of literary fiction and nonfiction, and boast one one of the most active events series in the city (hosting writers such as Junot Diaz, Don DeLillo, Roxane Gay, and even Lou Reed). Still family-owned and still growing, BookCourt remains committed to providing Cobble Hill and Brooklyn with the kind of personal touch that makes independent bookstores so great. We spoke to Andrew Unger who runs their Events and Publicity about the store.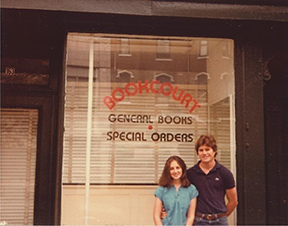 What's your favorite section in the store?
I love how our store is organized. We have a huge selection of paperback fiction titles, one of the largest children's sections in Brooklyn, a sophisticated poetry and drama section (something that's hard for a lot of indie's to do), and a great variety of non-fiction. My favorite sections, though, are the Philosophy and Religion books. Names like Wittgenstein, de Beauvoir, and Aurelius always bring out that warm, undergraduate desire in you to change the world with your yet unrecognized genius.
If you had infinite space what would you add?
Many of our customers are very successful writers. We took advantage of this in November during Small Business Saturday and asked some of the local writers to pitch-in and work a shift as a bookseller. It was awesome! Phil Klay, Kimberly McCreight, Diane Dillon, Brian Floca—who wouldn't want to work with that group? If we had infinite space in the store, I'd really want us to have a writer-in-residence who could work shifts on the floor. Writers really love talking about books, they make great booksellers.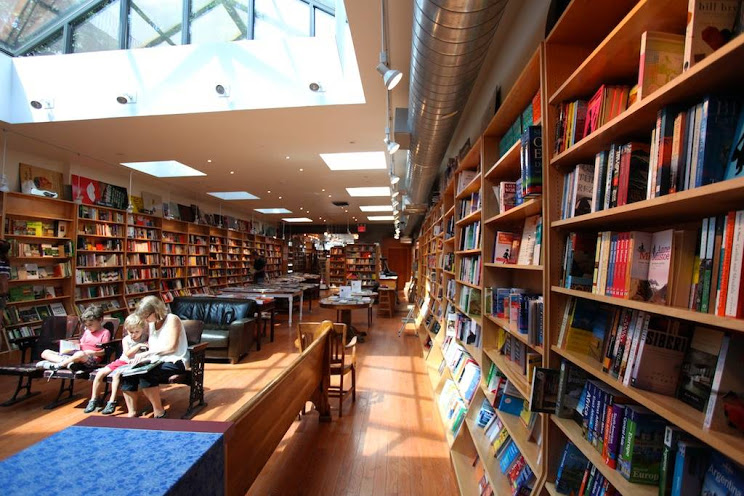 What do you do better than any other bookstore?
BookCourt's staff is quirky, smart, and diverse. We give great recommendations! It seems like every time someone is need of a good read, someone on staff always has the perfect book for them.
Who's your weirdest regular?
Bookstores, like public libraries, are hotspots for eccentric geniuses and other odd characters. I'd hate to offend some of our odder customers. (Looking at you Ethan Hawke.) [Ed.'s note: this is the best answer we've to receive for this question. Looking at you other bookstores.]
What's the craziest situation you've ever had to deal with in the store?
When Junot Diaz spoke at the store we had a packed house of almost 400 people. It was electric. Just as he started talking, there was a bit of a commotion in the crowd. It turned out someone had fainted! We carried him outside and he ended up being just fine; he was bummed out that he had to miss Junot's 45-minute Q&A.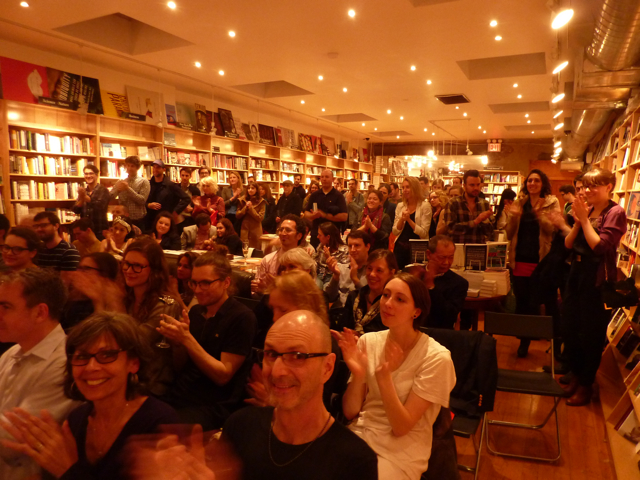 What's your earliest/best memory about visiting a bookstore as a child?
I grew up in Indiana, which is a bookstore desert. In my sophomore year of college, though, I took a trip with a group of friends down to Oxford, Mississippi. I visited Rowan Oak, met Barry Hannah, and went to Square Books. Phillip Roth was live-streaming a reading of Indignation that night, so I topped off my trip with my first signed first-edition. There aren't many places in the country that have stores as supportive as Square Books. I'm so lucky that I get to work in one of those communities.
If you weren't running/working at a bookstore what would you be doing?
My first job out of college was working at Houghton Mifflin Harcourt's warehouses (publisher's warehouses are a book-lover's dream—especially when you get to drive a forklift!). I can't imagine having a job where I'm not surrounded by books all day.
SLIDESHOW: BookCourt Books Staff Recommendations
BookCourt is located at 163 Court St, Brooklyn, NY 11201.
---