Inside the Spare and Extravagant Homes of Six Iconic Writers
The Architectural Tastes of Melville, Wharton and More
The following selections are from Life Meets Art: Inside The Homes of the World's Most Creative People.
*
Herman Melville
Herman Melville's Arrowhead
Pittsfield, Massachusetts, USA
Drawing on his private affliction, frustration, and inspiration, not to mention his unique experience as a seaman, Herman Melville (1819–1891) wrote what was to become one of the most revered novels in American history: Moby-Dick; or, The Whale. He penned several other novels, short stories, and poems, but had a relatively unappreciated career, ending up as a full-time Customs House inspector in New York.
From 1850 to 1863, Melville and his family lived at Arrowhead—their home and farmin Pittsfield, Massachusetts, in the Berkshires—which he named after Mohican relics he found while plowing its fields. The yellow clapboard farmhouse was home to Melville, his wife, Elizabeth, their four children, and other family members. Melville's escape from the tumult was his second-floor study, with its dark wood desk and views of the Berkshires.
Here he wrote Moby-Dick, its whale inspired by the snow-covered curves of Mount Greylock, as well as The Confidence-Man: His Masquerade, Israel Potter: His Fifty Years in Exile, and several short stories. He used the spare, simple house, with its wood-paneled walls and sense of New England asceticism interrupted only by lovely dressers, clocks, beds, and china, as a subject of many of his works.
He described its "grand central chimney" in the story "I and My Chimney," and its beautiful surroundings in Israel Potter: "In fine clear June days, the bloom of these mountains is beyond expression delightful," he wrote.
*
John Keats
Keats House
London, England, UK
A master of heartfelt emotion and the sensual description of nature, John Keats (1795–1821) was one of the most affecting poets of the English Romantic movement. He died of tuberculosis at just 25, having published for only four years. Yet his work has inspired countless scribes, from Oscar Wilde to Jorge Luis Borges, who called his first encounter with Keats's work the most significant literary experience of his life.
Keats House, originally known as Wentworth Place, and now owned by the City of London Corporation, is where Keats lived for just 21 months prior to traveling to Italy, where he died. While here he composed canonical pieces like "Ode to a Nightingale" and "The Eve of St. Agnes," and met and became engaged to his neighbor Fanny Brawne. (The garnet engagement ring Keats gave Brawn is on display in the house.) The gracious, rather unornamented home is perched behind thick foliage on the edge of Hampstead Heath in London.
Inside its parlor, expansive windows admit light and provide views of greenery, while furnishings and sculpture speak to an age reveling in the splendor and order of ancient Greece and Rome. Upstairs is the modest bedroom where Keats first coughed blood, a traumatic indicator of his dire illness. A copy of a portrait by Joseph Severn depicts a pensive Keats writing here—one of several period paintings enlivening the spaces.
*
George, Lord Byron
Newstead Abbey
Ravenshead, Nottinghamshire,
England, UK
Romantic poet and playwright George Gordon Byron (1788– 1824), a.k.a. Lord Byron, was one of the more enigmatic figures in British history. Simultaneously cynical and idealistic, hilarious and melancholy, stubborn and pliant, he was famously described by one critic as "mad, bad and dangerous to know."
His chameleonlike character was in many ways echoed by Newstead Abbey, an inherited home within the fabled Sherwood Forest and surrounded by immaculate gardens, where he lived from 1808 to 1814. Established by King Henry II as a 12th-century Augustinian monastery, Newstead steadily accrued and lost components over the centuries. Byron's ancestor John Byron converted it into a 16th-century country house, reusing stone from the monastery to merge Gothic and Tudor.
In 1808, when Byron moved in, the poet, barely 21, did little to restore a place that had long been suffering from decay. He used the baronial great hall for fencing and pistol shooting, decorated his study with skulls found on the estate's grounds, and restored the former prior's lodging as his bedchamber.
The sumptuous room, its canopy bed adorned with floral textiles and wrought brass, hints at the home's extensive restoration at the hands of its next owner, Byron's childhood friend Thomas Wildman. Later additions and renovations encompass Renaissance Revival, Victorian, and neo-Gothic. In the garden, a monument to Byron's dog Boatswain, inscribed with the poet's amous "Epitaph to a Dog," is larger than Byron's own.
*
Elizabeth Gaskell
Elizabeth Gaskell's House
Manchester, Greater Manchester,
England, UK
English writer Elizabeth Gaskell (1810–1865) created astute, socially responsive novels and short stories that charted the uneasy transformations of Victorian society and the brutal world wrought by the Industrial Revolution. From 1850 until her death in 1865, Gaskell and her husband, William, a Unitarian minister, and their four daughters lived at 84 Plymouth Grove, a Regency-style villa on the new outskirts of Manchester, which was then a fast-growing manufacturing city.
While the residence is austere, even vault-like outside, the interior showcases Victorian exuberance, cheered by floral patterns adorning its floors, walls, curtains, and furniture. Rooms are filled with realist landscape paintings and portraits, while leather-bound books, letters, fine china, silver, and miniatures ennoble period tables, shelves, and mantles. This is where Gaskell wrote Cranford, North and South, and Wives and Daughters, as well as a biography of her friend Charlotte Brontë.
"It certainly is a beauty," Gaskell once wrote of the stone-faced residence. "I must try and make the house give as much pleasure to others as I can." And so she did, frequently welcoming Charles Dickens, who happened to be her publisher, as well as Brontë, John Ruskin, and Harriet Beecher Stowe, among others. Brontë described it as "a large, cheerful, airy house, quite out of the Manchester smoke." The home reopened to the public in 2014 after a £2.5 million restoration.
*
Edith Wharton
The Mount
Lenox, Massachusetts, USA
One of America's greatest writers, Edith Wharton (1862–1937) broke through the sexist, hierarchical limitations of Gilded Age society to create seminal novels like The Age of Innocence, Ethan Frome, and The House of Mirth. She also created authoritative works on architecture, gardens, interior design, and travel, including The Decoration of Houses, which she coauthored in 1897 with architect Ogden Codman Jr. In 1901 she and Codman designed her hilltop house, the Mount, on 113 acres (46 hectares) in Lenox, Massachusetts.
She penned much of her best work here, while her marriage disintegrated. The Whartons sold the Mount in 1911 and divorced in 1913; Edith moved permanently to France. But the home stands as a testament to her talent and clear-eyed fortitude. Informed by French, Italian, and English designs (particularly Belton House, a 17th-century English estate), Wharton, determined to break from the excess and frilly ornament of her upbringing, focused on classical moderation, order, scale, and harmony.
The white stucco home, set off by dark green shutters, is punctuated by vertical clusters of gables and chimneys. Classically decorated main-floor rooms, judiciously spaced with tasteful furniture, open onto a long, vaulted gallery. Books on the shelves of Wharton's library include works from every period of her life. The author, who in 1904 wrote Italian Villas and Their Gardens, also partnered with Beatrix Farrand on her home's serene, layered landscape.
*
Alexander Pushkin
Pushkin Memorial Apartment
St. Petersburg, Russia
Generally considered the greatest of all Russian poets and the founder of modern Russian literature, Alexander Pushkin (1799–1837), in hindsight, made a poor choice when it came to marriage. His exceptionally beautiful spouse, Natalya, who he married in 1831, loved attention, eventually setting the stage for a duel between Pushkin and one of her would-be suitors. Needless to say, the great poet lost, dying on February 10th, 1837, aged 37.
Pushkin and his family inhabited the apartment where he died in St. Petersburg, now the Pushkin Memorial Apartment, for the last four months of his life. Located on the Moika River, near Palace Square, the yellow neoclassical building—former home of the Volkonsky princes—is typical of the severe yet ornate structures that dominate this elaborate 18th-century city.
Showcasing Pushkin's wealth, which stemmed from his noble upbringing and profound success, his ground-floor apartment contains 11 lavish, pale-hued rooms, enhanced by elegant classical-style wood moldings and furniture. Pushkin's study is dominated by his embossed leather desk, topped by letters and manuscripts, and his red leather armchair. Dark wood shelves are densely filled with the poet's exceptional collection of books. The apartment also contains a lock of the poet's hair, a death mask, Natalya's jewelry, portraits of their children, and the sofa on which Pushkin died.
__________________________________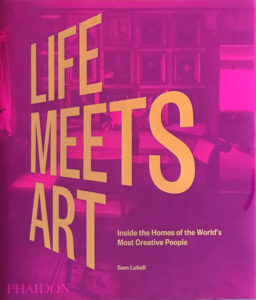 From Life Meets Art. Used with the permission of the publisher, Phaidon. Copyright © 2020 by Sam Lubell.
---