Inside the Glamorous, Precarious World of Downtown NYC Dining
Kim Reed on Working Babbo's Reservation Line
I worked the day phone shift on Saturdays in addition to picking up hostess and evening reservation work, and there were worse places to be on a Saturday morning than Babbo. Though considered small by restaurant standards, when you were in Babbo's open, three-story space, you got a sense of what a grand old home it had probably once been. There was a six-foot-wide steep center staircase anchoring the room and separating the kitchen in the back from the first-floor dining room and the pickle—the entryway. The second-floor dining room had a massive skylight, so in the morning we kept the lights off and let the sunlight pour down the staircase as though it were a big tree trunk. Mario and Joe wanted to keep the lights off to save on electricity, but I'd have kept them off regardless. The rays picked up all the tiny dust particles in the air, adding to the twinkling effect of the space.
On Saturdays, I came in around 9 am, an hour before we opened the phone lines, to grab a grapefruit from the walk-in, put on a pot of coffee, spray down the phones with Lysol, and get a plate of whatever the overnight porters prepared for their version of family meal. Family meal was when the entire staff sat down and ate together before the start of service, and it usually flowed into the pre-service meeting where George gave everyone the scoop on who was coming in that night. The overnight porters broke for a meal in the early morning, right around the time I arrived.
Most importantly, I locked the front door. Prospective guests showed up before 10 am, and I wasn't so sure some of them wouldn't stab me if I couldn't give them a reservation. Some drove in from the suburbs of New Jersey or Connecticut, hoping to make a reservation for whatever date we were releasing that morning. What kind of person would drive all the way into Manhattan on a weekend just to make a dinner reservation? A smart one. That was what you had to do to get a table. Some of the more zealous resorted to banging on the windows. Everyone assumed that our lack of open tables was a publicity stunt and that we were intent on shutting out the average person, which was ridiculous—the more bodies we pumped in and out every night, the more money the front of the house made.
It took less than sixty seconds to book a single reservation. If I skipped the pleasantries and got right down to business, I was done in thirty-five. That meant I could fill an entire night—down to every last 11:15 pm for two—in under forty minutes. By 10:40 am, less than an hour after letting them fly, all reservations for the corresponding night exactly one month out were gone. And for the next seven hours and twenty minutes of my shift, I went back to doing social work—more specifically, crisis intervention. Once, I got a call from a woman named Deborah, area code 201, who, when I told her we were already full that Christmas Eve, lost her shit completely and belted out, "Well, fuck you—FUCK OFF!"
I slammed down the phone fast on that one. Not out of anger, but because I didn't want our pastry chef, Gina, to see how badly my hands were shaking. Gina had been sitting across from me on table twenty, quietly stewing while she pretended to tally up the receipts from her morning purchases at the Green Market.
A kind word from the likes of Diane Keaton, Jake Gyllenhaal or Elton John made even the most disinterested heart thump wildly.
"Fuck Mario and Joe," she said, pouring me a glass of blood orange juice, which was off-limits to the staff. "Do they know the shit you put up with all day?"
She turned and headed into the kitchen before I could answer. Getting into a Mario-and-Joe-bashing session with Gina took a certain amount of skill and effort if I wanted to come out alive. Tip the scales too far inalignment with her and I might ignite that dormant loyalty she still had for Mario, but scratch the surface too lightly with my grievances and I ran the risk of being branded a traitor to my fellow line workers. She told me once that she'd thought about going to law school before becoming a chef, and she would have made a great litigator.
I heard the swing of the kitchen door and Gina returned, carrying a plate piled high with scrambled eggs, buttered toast, half a roasted tomato, fried potatoes with green peppers and onions, sausage, and one of the flourless chocolate hazelnut cakes she was famous for, still nice and cold from the walk-in. On days when I'd been thoroughly raked over, Gina made me breakfast. She was the de facto mother of Babbo, and even looked the part of a caretaker—plump, with doe eyes that gave the false impression of being mild-mannered. Like any good Italian mother, she had a talent for sleuthing out everyone's business. Gina was piped in to Babbo's subterranean layer of gossip, half-truths, and surreptitious happenings. She always knew who was sleeping with whom, who was about to get fired, which server was skimming from the pooled cash tips, who was about to leave to work for rival restaurateur Danny Meyer, and she was absolutely convinced that one of our chefs sold drugs out of the second floor apartment that Mario and Joe kept for out-of-town friends and employees who came over from the winery in Italy.
The very thing that created unease was also what made being at Babbo so much fun.
Back when I first started working at Babbo, Gina loathed my wide-eyed, optimistic view—of the restaurant, the city itself, the big show we all put on when celebrities came in. She'd been the pastry chef since the place had opened and was now disillusioned with the mystique of Babbo as a hangout for rock stars and Mario's famous friends. We all saw through it to some degree, yet it didn't stop us from falling for it every night. In what other scenario would you remember with laser-like accuracy the five or six arbitrary words that some stranger threw out to you as a formality—"Ooohh my God, everything was amazing! Loved, loved, loved it—we'll be back! You guys are the best!" A kind word from the likes of Diane Keaton, Jake Gyllenhaal or Elton John made even the most disinterested heart thump wildly. Their presence alone was disarming, but their individual attention, however fleeting, became crystallized in my brain. Even Gina had her favorites. She stuck around all night when the Black Crowes came in, just to visit with them after bringing out their dessert, whether they ordered any or not.
When it was over, the whole charade left me feeling a bit uneasy, similar to when I did something wrong as a kid but never got caught. Because the very thing that created unease was also what made being at Babbo so much fun. It was a lot easier to surrender to the excitement and accept the part I got to play, especially after a day spent helping clients like Mr. Stein. Being a part of this place—an insider—was what really kept me working there. I could have gotten a part-time job anywhere, and truth be told, I was not a good hostess. I was afraid of carrying trays. I didn't even know the positions on the tables—"table fifty-one, position two," one of my coworkers would say as they shoved a tray with a Negroni into my hand. I had no clue which guest was sitting in position two; I hovered the tray over their table and watched for someone's eyes to pop.
I was allowed to work hostess shifts for two reasons: I was reliable, always willing to cover a shift when someone called out sick because I always needed the money; and I was decorative. Restaurants hired pretty hostesses. We had to look neat, put together, but we were never to overdress the guests—fat chance of that. When hostessing, I had to appear sweet and pleasing, even when an asshole well into his sixties grabbed my arm, hard, and pulled me in close as he spat out, "They don't make you wait fifteen minutes for your table at the French Laundry, my dear." I always felt like a bit of a dolly, prancing guests through the floor to their table, looking back midway to ask, "Is this your first time here with us?" with a vacant smile, trying not to grunt as I pushed in the chairs of fully grown adults as far as they'd go, which was essential in keeping the pathway from the dining room to the kitchen and the bathrooms clear.
But even on a rough night where nothing went according to plan and my feet were pounding, my T-zone looked like I swiped it with cooking oil, I always left with an overwhelming sense of feeling good. The only evidence of how I felt when I came through the door at 5:31 pm was when I got home after midnight and took off my clothes, pried my cream-colored shoes from my feet, and noticed all the blood on the inside of my right heel.
__________________________________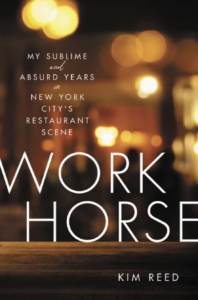 Excerpt adapted from Workhorse: My Sublime and Absurd Years in New York City's Restaurant Scene by Kim Reed. © 2021. Available from Hachette Books, an imprint of Hachette Book Group, Inc.
---