Inside the Billion-Dollar Business of Detaining Immigrants
Eileen Truax Visits the Eloy Detention Center
The Eloy Detention Center is surrounded by three rows of electrified fence with barbed wire at the top. A dirt road leads to a parking lot some distance from the entrance. When I get out of the car, I walk over the lot covered in pebbles, feeling oddly vulnerable without the objects I usually carry with me. No one can enter the Detention Center with a handbag, cell phone, keys, cash, or dark sunglasses, nor a belt, any jewelry, an overcoat, or a low-cut top. I cannot refer to the Detention Center as a jail, prison, correctional facility, or penal institution: the people held there have not been put on trial or sentenced, so, according to the law, they cannot be detained under prison-like conditions.
The waiting room is an irregular polygon devoid of chairs, tables, any adornment, or comfort of any sort. The space can hold up to 30 people. A man hands out numbers to each visitor. Visiting hours begin at 8:00 in the morning. It's 8:40, and I am number 52.
The number of children in the room surprises me. They are dressed up as if they're going to a party—checkered shirts and dress pants, flouncy dresses, hair carefully styled in neat braids and curls. The children try to have fun, in a space where there is no room for games. They talk to each other in English, but the adults who accompany them speak in Spanish.
A man comes over to me and asks for my help filling in the form. In the space marked "Name of detainee," he writes his brother's name. Where it says "Name of visitor," he writes his own. In the space marked "Name of Minor Visitor," he writes the same name as the detainee.
"He's my nephew, my brother's son. He's four years old. He came to visit his dad. They have the same name."
The minutes tick by, and no new numbers are called. Since we're all stuck there waiting in the same room, we begin to talk to each other to pass the time. Janet, who's number 59, just got in a few hours ago from Dallas, along with her 13-year-old daughter. Just the day before, they had received a phone call. Janet's mother, who had crossed the border undocumented from Tijuana, was taken into custody and transferred to Eloy. Janet does not speak English. By law she is supposed to be assigned an interpreter, but she doesn't dare ask for one. She brought her daughter with her to translate and use a computer. Because soon, she was told she would need to find a lawyer. Juan Carlos, who left San Diego at three in the morning to get to Eloy by eight, he has come to see his niece.
"We brought her so she could see her mother," he says, glancing downward. I look down and see a little girl with jet-black hair wearing a white and blue dress, smiling up at me. She is seven years old. "She's my niece's daughter."
He tells me his niece has been in detention for five months. Every year the Corrections Corporation of America (CCA) receives 1.7 billion dollars in contracts for operating prisons and detention centers. Still, in Eloy, they charge you for everything. You are not allowed to enter the visiting area with any cash, but there are vending machines. At the entrance, a visitor can purchase a card that costs five dollars. That is just for the card, there is no credit on it. In order to use it for purchases, you have to pay even more. Juan Carlos asks me to help him get one. The day before, his niece had called him and asked him to bring money so he could buy her a "burrito" from one of the vending machines.
"Can you imagine what they must be eating in here, that would make you want one of those disgusting burritos?" he asks rhetorically.
Three hours later, after passing through a metal detector, the visitors are shown into another waiting room. There, an employee shouts out the names of the detainees, and then, through two more doors (six since the entrance to the building), you get to the visiting room.
"[The] routine only changes if you get punished. In that case, a detainee is taken to 'the hole,' a solitary confinement cell, with no windows, where they are only taken out in handcuffs for a half hour per day."
Looking around the shoebox-shaped room, I spot Yamil sitting toward the back. His khaki uniform makes him look even thinner; his hair cut short in a buzz close to his scalp brings out his shining eyes, like two black cherries. We have never met, but when I catch his eye we recognize each other. In this room, with children wrapped around their fathers' necks, a young woman holding her boyfriend close, and the three young men who take turns kissing their little cousin on the cheek, people who greet each other only with their eyes are the exception. Yamil stands up and smiles at me, and we sit down and get ready to talk. A woman in a uniform delivers a stern ultimatum: 50 minutes.
Yamil invites me to sit down at one of the tables. He warns me that we cannot sit on the same side of the table, we have to sit across from each other. Only minors under the age of 18 are allowed to sit close to the detained. We have barely sat down when, in a rapid-fire move like something out of a movie, Yamil pulls out a small object and puts it on the table. The look in his eyes urges me to take it, fast. So I grab it just as quickly as he had put it down, and look down at it in my hand. It's a red-and-white ring fashioned out of pieces of cookie wrappers and empty bags of chips from the vending machines. It has been sculpted into a pattern forming connecting letters that spell my name. He explains that this is the sort of thing one learns to do in a place like Eloy.
Yamil tells me bits and pieces about his life, and at times he seems relaxed, but at some moments he seems to be trying to look strong. He has lost weight since he's been here, but he says he is in excellent physical condition. He tells me what a normal day there is like: he gets up, plays soccer—his great passion—takes a shower, plays some chess or dominoes, sometimes he helps out in the library, sometimes he helps in the kitchen. That routine only changes if you get punished. In that case, a detainee is taken to "the hole," a solitary confinement cell, with no windows, where they are only taken out in handcuffs for a half hour per day. Once, he tells me, another detainee tried to start a fight with him, and Yamil got blamed for it. He was in "the hole" for 15 days.
"But it wasn't so bad. It's dark and it gets really cold, but you don't have to see anybody there."
I am the first visitor Yamil has had in 16 months, since shortly after he arrived at the Immigration Detention Center in Eloy. His wife and son came to visit him a week after he was first detained here, but because they live so far away in Kansas and don't have much money, they haven't been able to come back. So there are no kids clinging to his neck, no hugs, no kisses on the cheek, no impatiently looking forward to Visiting Day on Saturday for Yamil. In spite of it all, this 44-year-old man originally from Durango, Mexico, is locked up here of his own free will.
What would make somebody choose to spend over a year in a shared prison cell in the United States, rather than live in freedom in Mexico?
"Hope," he answers quickly. "So I can give a better life to my family, to my son. Or just a life. Back there, something could happen at any moment."
On January 26, 2012, Yamil was kidnapped by municipal police officers in Torreón, the city where he lived. He paid a ransom, lost his business, and later survived an attack from an armed assailant. His son was beaten up. A year later, Yamil and his wife Claudia came to a decision: they had to leave their country. They left behind the little they still had. Claudia went first, and a few weeks later Yamil followed, crossing the border separating Mexico and the United States and turning himself in to immigration authorities at the gate in Nogales, where he presented an application for asylum. That was in 2013.
Five sets of locked doors and a tall fence separate Yamil from life on the outside. There are four locked doors between the visiting room and his cellblock. Even so, he says he is prepared to stay there for as long as it takes.
"For the past 30 years, the CCA—which changed its name to CoreCivic in October 2016—has made millions in profits by holding immigrants in detention while they wait for their cases to be decided by a judge."
"You get used to everything once you're in here," he says. "You learn to see things in a different way, to be more tolerant with people, to be patient." He flashes a smile. His face changes totally when he smiles. His eyes shine even brighter; the lines that form around his eyes give him a warm, serene expression. Yamil has the peaceful look of someone who knows the wait will be worth it.
*
Eloy is in the middle of nowhere. Between Phoenix and Tucson, the two biggest cities in Arizona, are 116 miles of pure desert and sky. Eloy is right in the middle. Every once in a while you pass a small mountain dappled with cacti that makes it seem as if you are actually getting somewhere as you drive along the seemingly endless Highway 10, the road that runs from the Pacific coast in California all the way to the Atlantic in Florida. The most visible landmarks along the way are signs for McDonald's, Burger King, and Love gas stations, which appear every 6 to 12 miles.
It is the third Saturday in February, and tumbleweeds are buffeted aimlessly in the wind. That same desert wind makes the trailers on the 18-wheelers shimmy while their drivers listen to country music on the radio as they race down the road, or tune into La Campesina, the station that plays corridos and ballads known as "regional Mexican" music here.
After taking the "Casa Grande" exit, a left turn puts me on a road that is barely paved and covered in a fine sandy dust that blankets this rugged landscape where the Akimel and Pee Posh tribes once lived. Now the Indians live on the Rio Gila reservation, and the only people out on these dusty roads fall into two categories: locals who live on the isolated ranches, and people on their way to the complex of cement buildings in the heart of the desert. The buildings are three correctional facilities and an immigration detention center known as Eloy. In the middle of nowhere, these four buildings contain 5,000 lives, walled in by barbed wire and electrified fences.
Eloy is one of the six detention centers in Arizona operated by the Corrections Corporation of America (CCA), the private company that manages most of the prisons under subcontract in the United States. Eloy has 1,596 beds, and is filled with men and women accused of being on this side of the border without a piece of paper. For the past 30 years, the CCA—which changed its name to CoreCivic in October 2016—has made millions in profits by holding immigrants in detention while they wait for their cases to be decided by a judge. Yamil is one of these immigrants.
When Yamil first got to Eloy, he knew what he was in for: six weeks earlier, his wife, Claudia, had been in the same place. I hear two versions of the story: one from Claudia in Kansas, where she returned after a judge released her while her asylum case was being decided, and Yamil's version in the visiting room in Eloy. Each one shares details of their lives together with me, precious memories they cherish during these long months of separation.
Claudia's family moved to Durango from Tijuana when she was ten years old. They lived there for three years until her father was murdered, forcing the family to flee Mexico. Claudia, her three sisters, and her mother started their lives over in Wichita, Kansas. By a coincidence that some people might call destiny, Yamil, also from Durango, moved there too when he was 19 after deciding to migrate north.
<!–nextpage–>
Yamil and Claudia met at a dance in Wichita in September 1998. They got married four months later, and their son was born in 2000. Claudia started baking and selling cakes and volunteering in his son's school, while Yamil worked as a painter and played soccer in a semi-professional league.
The life they built together came crashing down in 2005. One day, as he was driving home, Yamil was pulled over for a minor traffic violation. When the police officer asked to see his identification, the authorities discovered that the document Yamil presented was false. Even though his son is a US citizen, neither he nor Claudia had been able to legalize their status, and Yamil was deported. Then Claudia had to make a hard choice: stay in Wichita, in her home with her son, or go to Mexico so the three of them could be together. In 2006, she and Yamil Jr. went to join her husband in Torreón, Mexico, where his family was then living.
"We have been talking for a half hour, and this is the only point in the conversation where a shadow passes over his face. He doesn't seem bitter, but this is clearly something he can't forget."
The culture shock they had both experienced as arrivals to the United States took hold once again. Claudia and her husband tried to adapt to a way of life that was no longer theirs, while their son found himself in a completely unknown world. The boy started having problems in school, and was bullied for being an American. Claudia and Yamil could not find work, and the violence that roiled the country during Felipe Calderón's six-year presidential term started flaring up in the area. Gun battles and killings became a part of everyday life: one day Claudia and Yamil Jr. saw two bodies hanging from a bridge. Then extortion became commonplace. And one day, it was their turn.
"I will never forget it, it was January 26, 2012, my son's birthday," Claudia recalls angrily. She tells me the whole story over the phone. "We were in a very difficult financial situation. I was teaching classes at night at the university and Yamil ran a little hamburger place." The family had recently purchased a used truck. That day two men approached the couple and insisted the truck had been reported stolen, and that they needed to confiscate it and take Yamil with them. A few hours later the family got a phone call demanding ransom for Yamil's release. A cousin lent them the money, and he was set free. But a few weeks later, two other men pulled him over while he was driving and demanded money before they would let him go; then one day, armed gunmen took the truck.
"After that, for three days, they would come by and check out my business," Yamil tells me, his arms resting on the table in the visiting room at Eloy. We have been talking for a half hour, and this is the only point in the conversation where a shadow passes over his face. He doesn't seem bitter, but this is clearly something he can't forget. "I had to shut it down."
A few months later, the couple went to the municipal offices to file a complaint: in an extreme act of bullying, their son had been beaten up by six other boys, who called him "gringo" and "pocho." As Yamil gave his testimony, he recognized one of the police officers. It was one of the men who had stolen his truck.
In July 2013, Claudia and her son joined a group of young adults who had also grown up in the United States, returned to Mexico for one reason or another, and now wanted to go back to the country they considered theirs. They passed through the turnstile at the border crossing into the United States, and requested political asylum. A few weeks later, Yamil made the same trip with another group. Given that it is up to a judge's discretion whether to release the asylum petitioner on their own recognizance or hold them in detention, that decision varies case by case. Claudia and their son were released, but Yamil was not. And even though he could voluntarily return to Mexico at any time, he chooses to stay in prison.
Yamil worries about his case. Other detainees have been released on their own recognizance, but the lawyer handling his case is not optimistic, he tells me. Still, he tries not to despair. March 30th will be the first in a series of appearances before a judge. Claudia and his son will come to accompany him, he tells me with the same unguarded emotion he reveals whenever he talks about his family: the time when he and Claudia were dating and got caught in the rain; the time when the family traveled throughout the United States for Yamil's soccer games. It's only when he tells me about his last Christmas that a lump rises in his throat, and he can't continue. Two seemingly endless minutes tick by.
"When I talk with them, I know we're doing the right thing," he says. "My son says he misses me, and I tell him to stay strong. Now he's playing soccer at school. They're going to have a tournament, and he's the captain of the team." He glows with pride. "And I feel fine about Claudia. I sent her a picture of myself a little while ago, so she could see that I'm okay, I'm in good shape. So she'll see I'm worth the wait," he says with a playful laugh.
When evening comes in this part of the Arizona desert, twilight paints the sky in brilliant oranges, magentas, and violets, warming the clouds. The light kisses the golden, arid land, in a gorgeous, wide-open panorama of light and freedom. But from the concrete buildings in Eloy, the detainees can only catch a glimpse of this spectacular sunset through the narrow windows facing west. In Eloy, the boundless freedom of the American Dream barely filters through the bars.
__________________________________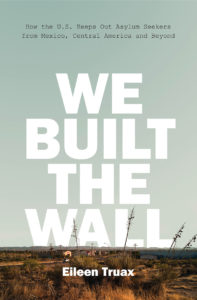 From We Built the Wall. Used with permission of Verso. Copyright © 2018 by Eileen Truax.
---