Inclusivity, Sustainability, and… Disaster? Your Climate Readings for September
Climate Activist and Reporter Amy Brady Recommends Five New Books
I meant to file this column a week earlier, when California was—and still is, as of this writing—on fire. More than one million acres have been blackened by the flames. But then Louisiana was hit by Hurricane Laura, one of the strongest storms in recorded history to make landfall in the Gulf Coast, and I knew I needed to update this opening. Most scientists agree that wildfires and hurricanes are being strengthened by climate change. But it doesn't take a scientist to tell us that climate-related disasters are happening in increasingly rapid succession. And yet, only a few media outlets have drawn explicit connections between the disasters and global warming. That's why the books on this list—and others like them—are so important. We need narratives about climate change more than ever before, narratives of all genres and writing styles that drive home just how serious of a state our planet is in.
Written by poets and scientists, novelists as well as policy makers, these are five of my favorite books about climate to hit shelves in September. Some of them explain how weather and natural disasters are connected to climate change, while others help make the climate crisis more personal or show that climate action can and should be more inclusive. Above all, these books remind us that, no matter how bad climate change gets, Earth is still worth fighting for.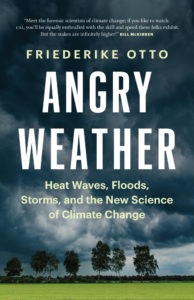 Friederike Otto, trans. by Sarah Pybus, Angry Weather: Heat Waves, Floods, Storms, and the New Science of Climate Change
(Greystone Books)
Scientists have long suspected that climate change causes extreme weather events like wildfires and hurricanes, but now they have proof. In this thrilling work of nonfiction, Friederike Otto, a climate scientist at the University of Oxford, explains (via Sarah Pybus's adept translation) the revolutionary methods scientists are using to make startling connections between climate and weather. To illustrate her points, she focuses on the day-by-day activity of Hurricane Harvey, which devastated parts of Texas and Louisiana in 2017. If readers were holding any doubt about climate's effects on weather before picking up this book, that doubt will be eviscerated before the last gripping page.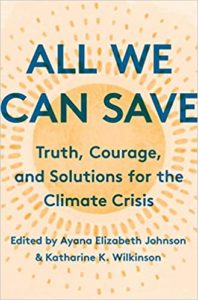 Ed. by Ayana Elizabeth Johnson and Katharine K. Wilkinson, All We Can Save: Truth, Courage, and Solutions for the Climate Crisis
(One World)
Women of all backgrounds—artists, writers, scientists, policy makers, and others—are at the forefront of climate action, and with this exquisite anthology, marine biologist Dr. Ayana Elizabeth Johnson and editor-in-chief of Project Drawdown, Dr. Katharine Wilkinson, bring their voices together. Combining essays, poetry, reportage, and short stories, the collection offers a range of writing styles and ideas on how to bring about a more inclusive and sustainable society. At the heart of the book is this imperative: we need everyone if we're going to save anything.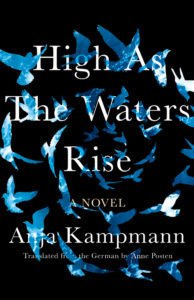 Anja Kampmann, trans. by Anne Posten, High As the Waters Rise
(Catapult)
German poet Anja Kampmann sheds light on the personal impacts of climate change in her award-winning novel, High As the Waters Rise. The book introduces us to Waclaw, an oil rig worker whose bunkmate goes missing. Upon learning that his companion has fallen into the sea, the grief-stricken protagonist embarks on a journey from Morocco to Hungary, and finally to the German mining town of his youth. On the way he meets others who have lost friends and family—and their faith in the future—to a globalized economy built on the overuse of natural resources. This is climate fiction—a genre that explores climate change in fictional narratives—at its best.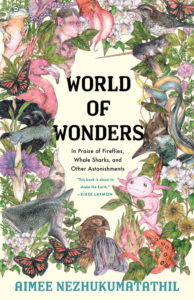 Aimee Nezhukumatathil, illustrated by Fumi Nakamura, World of Wonders: In Praise of Fireflies, Whale Sharks, and Other Astonishments
(Milkweed Editions)
After four award-winning works of poetry, Nezhukumatathil brings us her nonfiction debut, an essay collection that celebrates the many wonders of the natural world. In the opener, we learn how the author, as a young girl of color, turned to nature for guidance on how to navigate an uneasy childhood in Kansas. In other stand-out pieces she writes about hiking through Arizona and New York, where she encountered animals, plants, and insects living in hostile environments. From them, she writes, she learned how to navigate the hostilities she faces herself. Beautifully written with gorgeous illustrations by Fumi Nakamura, World of Wonders reminds us why our wondrous planet is worth saving.
Miek Zwamborn, trans. by Michele Hutchison, Seaweed: An Enchanting Miscellany
(Greystone Books)
In this beautifully illustrated book, artist and poet Miek Zwamborn shares a cultural history of seaweed: how we discovered and cultivated it, how it's become a vital food source, and how it's being used to combat climate change. The book's vivid prose ("dark leaves and stems contrasted strongly with the pale sand") and full-color illustrations encourage readers to see why "truffles of the seas" have captured the imaginations of artists and scientists for centuries.
---