In Search of My Family's Faroese Stories
Siri Ranva Hjelm Jacobsen on Grief and Finding One's Culture
On the evening of Marjun's death, I am in Chiasso on the Swiss-Italian border for a literature festival. My Romanian-Danish partner is there, passing through from Valencia in Spain. This is the world: a network of networks. Marjun dies in Tórshavn, capital of the Faroe Islands. Her son who lives in Denmark catches a flight and makes it to the hospital in time. Her daughter who lives two streets up the hill is already there.
In Chiasso, late at night, I am aware of Marjun dying. I drink cold white wine and smoke too many cigarettes. My partner's skin is warm in the muggy heat on the hotel patio and cool in the airconditioned room. He senses that my grief is private. We speak about other things. We stay awake through the night.
Marjun dies on September 5, 2021. Surrounded by family. Surrounded by hospital staff and sterile rooms and strangers. Surrounded by the homes and sparse, heroic gardens of her city, the islands of her archipelago nation halfway between Norway and Iceland. An autonomous territory of the Kingdom of Denmark, a crypto-colony. A windy, wet and cloudy place, and very green. She dies surrounded by the North Atlantic, by sea cucumbers, purple sun stars, horse mussels. In death, she fulfils her covenant with the sea, as in death we all run dry and fulfil our covenants with the sea.
She dies at the centre of a universe and when I wake up at noon, that universe is gone. My partner has gone on to Romania. I take as medicine: When that which drew from out the boundless deep / turns again home.
Marjun is dead. She had heavy legs and quick eyes. She whitened with age like my mother. I take after my father. I will never whiten like the women in my Faroese family. I think of it as: a milk washing over them. A milk of years. They are basalt rock and fog and foam. I am fat soil and foliage.
When one grows up estranged from one's old culture, the bodies of old-home become vessels of a kind of deep history.
I was born in Copenhagen at the centre of what translates to "The Kingdom of Denmark," comprising the nations of Denmark, the Faroes and Greenland. Here, the official term is Rigsfællesskabet. "The Fellowship of the Realm." It is a Tolkienesque-sounding lie, or it is a truth with heavy modifications as our fellowship is tentative, unequal. The centre needs its periphery, but it needs it to be peripheral. For most people in Denmark, the Faroes exist outside everyday life. For most people in the Faroes, Denmark is an inescapable, mundane reality. I grew up at the centre, removed from the periphery that is centre to most of my family. They knew me better than I knew them. I was estranged from my language, my culture. I did not know how to cook or joke in Faroese. Growing up, I did not know that I shared this lack in me with other Danish-Faroese kids.
On the first day after Marjun's death, I share a ride to Milan with the Icelandic author Andri Snær Magnason. Like Greenland and the Faroes, Iceland was once a Danish colony. Unyoking a culture from imperial rule is a work of many generations. I know that he was required to learn Danish fluently in school and he knows that I know. We do not mention it. From the first hello, English is the language of our fellowship.
Andri Snær is generous and unafraid of death, he asks: What kind of person was your Marjun? I tell him that she liked to dance. I look out of the car window, a brief glimpse of Lake Como, then we turn on to the highway. She had a great sense of humor, she liked to dance.
I don't say:
She gave me a way home.
Her body was a cornerstone.
I don't say:
I'm afraid because I've already forgotten so much of what she told me.
When I was a child, I knew my family history, the where-we-come-from and the who-we-were, as told to me by men. My grandfather was a born storyteller and besides, I hadn't yet learned how to listen to women. They spoke in a kind of code, a slow, singsongy morse system of unfinished sentences and meaningful silences, like:
1: The husband, he worked on a cruise ship, you know.
2: Months away.
1: Months away.
3: He met that young woman …
1: A Senegalese, she too worked on the cruise. No one can blame her.
3: Months away at sea.
[silence]
2: He brought her home, I heard.
1: The cancer, yes. When he found out, he wanted the young woman settled. She had a child by him. He had the two already, of course, with the wife in Porkeri.
2: It isn't easy.
3: It isn't easy.
[silence]
1: The divorce was [silence] … well.
3: It isn't easy.
2: It isn't easy.
1: He passed away and those two women and the children, all in the same village.
2: People will take sides.
1: It isn't easy. Of course, this was years ago.
3: The young woman stayed. I saw her on the ferry. Was it Wednesday?
1: A hard life, so far from home. And the wife [silence] … well.
2: Hard to recover.
3: Hard to recover.
1: But she was unfair to that young woman. To be a young mother and far away from [silence]… well.
2: It isn't easy.
3: It isn't easy.
They sat around the kitchen table or they sat knitting or they prepared food while speaking in their code. Their voices were quiet. I was a sexist little shit, I thought: small voices, petty stories.
Marjun lived in Tórshavn. She was my mother's cousin and they were close. In the summer, when we travelled up from Denmark, we would visit her. Her house smelled like rye bread and paper. She was a bread baker, a knitter, but also a librarian and ardent amateur genealogist. By her computer: stacks of printed names, birthdates, firm and tentative connections. She buried herself in research, looping threads together, knitting our history.
I come to the women in my Faroese family. I start listening for their coded stories. I watch their hands as they speak.
The first Faroese novel I read is Barbara by Jørgen Frantz-Jacobsen. It's set in the 1700s, colonial times. In it, a young Danish pastor falls in love with Barbara, the widow of two former Danish pastors. She is a force of nature, lavish and guilelessly lethal, she leads him to the brink of the abyss. I am a teenage girl. I fall in love with Barbara. She is magnetic, shameless, unbreakable.
Years later in her kitchen, Marjun tells me that Barbara, the character, was based on a real person. Illa Beinta, Wicked Beinta, born in Tórshavn in 1667, blamed for the death of her first two husbands and the insanity of the third. A witch, it was said. An epic tragedy. Vanity, conflict and loss. It thrills me. This is the kind of grand story I have learned how to listen to. Wanting more, I ask: And was she wicked? Marjun looks down at her knitting briefly. Women are not always treated fairly. I am 24, a feminist activist, a rape survivor. I know. But the child in me still wants the grand story, the one where the witch is wicked and order is restored by fire.
Marjun doesn't judge, or maybe she does, but then, without missing a beat on the needles, she quietly alters the course of my life. Perhaps it would interest me to know that I am related to this Beinta? She's dug it out from her lists of names and birthdates. Not a lot is known about this distant foremother of ours, really; it's mostly legend, but her little house still exists and would I like to know where?
Marjun connects me to Beinta, she puts me in the story. Later, it turns out that she's made a false loop, she unravels a piece of our history, begins again. Beinta the foremother becomes Beinta of no relation. It doesn't matter. I've been connected to Marjun the knitter, Marjun the bread baker, Marjun the storyteller.
I don't know it at the time, but I begin writing my first novel in her kitchen.
I come to the women in my Faroese family. I start listening for their coded stories. I watch their hands as they speak. In the silences, their hands are sorrowful, nervous, proud, laughing.
I listen for their silences, and they let me in.
What has died?
A mother, a sister, a grandmother.
What has died?
My great aunt who taught me to listen for the small stories, to belong.
I don't make it home from Italy in time for the funeral.
Or: I don't make it to the Faroes in time for the funeral. Instead, while waiting to board my flight to Copenhagen, I write to my great cousin from a smoking room in Malpensa Airport.
To me, Marjun was the heart of Tórshavn. When one grows up estranged from one's old culture, the bodies of old-home become vessels of a kind of deep history. They carry the nuances, the how-it's-supposed-to-taste, the songs. They carry the silences.
This is the small story I want to tell. It will go unrecorded in the grand history, so I will record it: There's a piece of yarn missing in the knitwork. Marjun has died.
__________________________________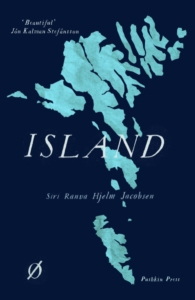 Island by Siri Ranva Hjelm Jacobsen is available via Pushkin Press.
---