In Praise of Racist Books: Notes of an Immigrant Reader
Louis Chude-Sokei on the Books that Shaped His Literary Curiosity
I.
Years ago, I began opening my literature classes by declaring that some of my favorite books were racist. It played to the "cool Black professor" pose but was less transgressive than it seemed because the intellectual climate on college campuses was actually shifting in my favor. After all, mine was a generation emerging to challenge the "dead white men" of Western Culture. We believed that racist books deserved to be called out, and their racisms—evident or opaque—had to be recognized as being important to their narratives as well as to the world that produced them. But I genuinely appreciated those books and had learned much from them. The idea that they shouldn't be taught at all was an endgame I naively hadn't expected.
But this was the 90s. It was an era of naivete for those insisting that race, gender, and sexuality were central to knowledge of the world. Naïve because we thought that being on the right side of those issues guaranteed us victory during "the culture wars." It's now clear that those were just skirmishes, mere rehearsals for battles with still uncertain outcomes.
In those days debates about race were increasingly informed by interpretive modes first dismissed as "identity politics" and now reductively defined and often deliberately misinterpreted as "critical race theory." "Cool Black professors" were who students flocked to for these perspectives, much to the chagrin of our living white male colleagues. It was an exciting time to teach. So many students were genuinely disturbed and excited by having to think about how race, sex, class, and gender shaped their experiences and their reading. It's now my turn for chagrin because it's difficult for them to imagine anything else. You see, I'd learned much more from racist books than simply their racism.
But Black scholars weren't just exotic presences on white campuses. We were avatars of transformation. Our confidence was due to a smugness endemic to our unique position in American higher education—privileged because of our rarity and empowered by our ability to affirm powerlessness.
I started noticing a shift in what "Black professor" began to mean. Between dissertation and tenure, the Black professor was no longer transgressive despite our radical theories and postures. We'd become so comfortable in thinking of ourselves as intellectual outsiders that we'd missed our migration to the center. Students were no longer shocked by us or our ideas but came instead to learn how to avoid transgression. So, when one declared, "I'm just here to make sure I'm on the right side," I was devastated. I've never been good at being on the right side. I've lived by Joan Didion's evergreen dictum, "Writers are always selling someone out." But that vision of writing came not from Didion, or other literary snitches and sellouts. They came from racist books and the reader they made me.
II.
My affection for racist books was more practical than literary. Having been born in Nigeria and spending much of my childhood in Jamaica during the early 1970s, reading was defined by scarcity. We didn't have the luxury to discriminate between types of books and authors, certainly between white ones and black ones. The very idea that a book should relate to me was an unimaginable privilege. To be offended by it could only be a luxury. Whether Rudyard Kipling, Daniel Defoe, or Mark Twain; or colonial pulp icons H. Rider Haggard and James Hadley Chase, a book was a book was a book, the raw fact of which vindicated its content.
I'd already learned something that would serve me well in academia: one can love a work of literature while vehemently disagreeing with it.
Of course, I didn't know these books were racist, or would one day be so branded. And I was never judged by the types of books they were (my obsession with "girl's books" like the Nancy Drew series or Judy Blume drew no questions of my incipient masculinity). Yet I wasn't blind to how Haggard depicted Africans, or "Wild West" author Zane Grey described "natives" or how Edgar Rice Burroughs crafted his aliens. The imperative of racially identifying with authors or characters just hadn't entered my critical repertoire. That was something to discover in America where even in the harshest environments I was overwhelmed with books. It was also where I would discover that despite their wide availability, books now came with limits as to how they should be read.
Because we'd fled two countries before I was old enough to read, my reality had always been comprised of aliens and strangers. Reading was a practice of engaging different worlds and peoples, many wondrous, many hostile. Yet even when characters who looked like me were treated reprehensibly if acknowledged at all, reading made evident the unpredictable ways that differences could connect, sometimes against the author's will. For example, not seeing myself in any of the characters enabled me to identify with all of them, so innocence was impossible. And suspecting that the author might have been hostile to someone like me only made the dance of interpretation more exciting. This all taught me to find freedom even in narratives hell-bent on my erasure. I was then armed with an arrogance that would serve me well in classrooms where I was the only Black student, or with white professors who refused me access to their offices or police officers who dared assume me inarticulate. These books taught me how to navigate and survive inhospitable spaces. And though I didn't know this, as I migrated from a majority black country to one where I would be for the first time a racial minority, those books had prepared me for America.
III.
It was in fact racist books that led me to graduate study. Books that were purportedly anti-racist or focused on racial pride or social justice were too single-minded in their commitment to vindication or affirmation. I found them tedious, preachy. They merely assumed my interest so did not court it. The authors and characters may have looked like me, but I didn't recognize myself in them because the self I had discovered in literature was never reducible to skin. This means that before deciding to study English—thereby destroying my immigrant family's hopes and dreams—I'd already learned something that would serve me well in academia: one can love a work of literature while vehemently disagreeing with it. This seems so obvious it's hard to believe it must now be defended. To teach students the opposite is to hobble them with a need for innocence.
Given the current stress on purifying canons and erasing signs of historical inequity or racial pathology, I'm aware of what it means to be in the curious position of celebrating racist books (don't even get me started on music). To cleanse the past, though, is not only to rob ourselves of the prickly pleasures and unique challenges of such works. More importantly, it can aid in the removal of evidence from the scene of crime. I'm also aware that in a time of absolutes, a preference for ambiguity may reek of compromise, particularly for those seeking absolution from cool, Black professors. But despite that fear of being on the wrong side that is characteristic of our current moment and which cripples so many students, I've opted to make things more difficult. I teach them nuance and to be suspicious of those too confident of being on the right side.
It would be easy to argue that the hybrid, creole cultures of the Caribbean are what made me wary of today's commitments to purity; or being an immigrant liberated me from the need for cultural wholeness. It was instead those damned racist books. They taught me to enjoy the frisson of contradiction, the jarring disparities between what people say of themselves and what they actually do. These contradictory affiliations are in fact what immigrant and minority writers and scholars have long mapped and may be our greatest contribution to the nation. If anything, critical race theories, with their focus on how seemingly neutral dictates can mask historical violence and ongoing social contradictions, only made me appreciate these books more. But the books also taught me that we are all shaped and rendered impure by racism, colonialism, and various forms of inequality, all the time and in all texts. Who or what we would be without those forces is unanswerable. Those who do try to answer those questions often attempt to excise these forces from history. They are not after the past. It's our future they want.
I'll conclude by quoting one of my favorite racists, also shaped by migration and the Caribbean, Jean Rhys. It's a surprisingly sentimental insight from a writer legendary for tragic battles against purity and belonging: "Reading makes immigrants of us all. It takes us away from home, but more important, it finds homes for us everywhere." To make sanctuary in hostile or indifferent territory is a necessary skill. It is, I think, essential to survival in a nation stratified by race, flush with strangers and resting imperfectly on histories we may not enjoy but dare not forget.
__________________________________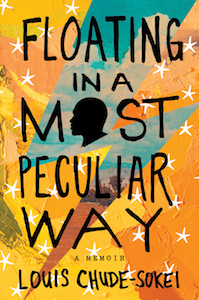 Floating in a Most Peculiar Way: A Memoir is available from Houghton Mifflin Harcourt. Copyright © 2021 by Louis Chude-Sokei.
---