In Madrid, Covid-19 Forced My Family to Reimagine the Meaning of Love
Gabriela Wiener Writes from a Global Hotspot of the Pandemic
Ever since this all began, I imagine, we have all had some dystopian, apocalyptic fiction in our heads that we turn to, allowing us to draw absurd parallels, to laugh to ourselves or disconnect from what we are experiencing in real life. The one that sticks with me is Ben-Hur. So many times I've wanted to ignore the possibility of contagion and enter those pestilent caves, lift my husband and hije in my arms, and take them out of there, like Judah does with his mother and sister, restoring their humanity, driving away marginalization and stigma.
But I don't do it. The "impure ones." That's what we call Jaime and Coco as a little joke. Half of our house is the Valley of the Lepers. The other half is still the "country of the well," as Christopher Hitchens called that place from which he departed, plunging definitively into the "land of malady."
We're hot-blooded, boisterous people, kissy, tickly people who like to roll our tangled, massed bodies all over the place. And now we communicate with one another through a barred window. Three times a day, we healthy ones leave trays of food on the floor for the COVIDs. How did this become our lives? The pandemic curve evolves in different ways behind our doors. The logarithmic scale does not measure small, daily tragedies.
Luckily, we have the perfect house for the coronavirus. This is one of the hundreds of new thoughts I now have per day, thoughts that, for the past two weeks, have reshaped what we understood the world to be: a house with two very distinct atmospheres, separated by a small patio, the borderland.
The day the lockdown began and the kids stopped going to school, filling the house with noise, Jaime got sick. We didn't even have time to get our hopes up for a family Sunday that would stretch out indefinitely. He had the already-dreaded fever that hovers around 101.3. The scratchy throat. The muscle aches. On the third day, Coco, 13, developed a fever and cough.
By that point, we'd already assumed that our theater production about polyamory, "What Madness to Fall in Love with You," had been cancelled, that we'd have to refund the money for at least four sold-out shows and reimagine the next few months in a very different way. A friend proposed renaming the play: "What Madness to Be Infected by You."
Life in the apartheid of your own family begins with resistance. Roci and I took it for granted that we'd been infected and that the symptoms would soon appear; when that didn't happen, we started to think we were asymptomatic. One day, we decided we were healthy and that we, along with Amaru, 4, the three unvanquished ones, should entrench ourselves at a distance, just in case.
One of the most terrible things about a contagious illness is the impotence of the caretaker.
We called and called the community health services until finally a facility answered and marked our door with the blood of the lamb. They counted us, we were a statistic, but they warned us that we would have to suffer through it at home, without tests, medical care, or a hospital. That's why we waited, maybe for too long.
Jaime had had the same fever, the same pain for a full week when it occurred to me that not only had he been lying in bed that whole time, but that he had been sleeping too many hours during the day and that, when he was awake, he couldn't stop coughing. I think that's what triggered me, that he seemed unrecognizable, reminding me of my father sleeping all day in the weeks before his death, the projection of an absence in his presence. My husband couldn't finish a sentence without starting to cough. When you know they are caused by the virus, the violent breaths of the people you love most in your life rattle inside your own chest.
I stopped sleeping. The news about entire families admitted to the hospital or children ending up with social services because their parents had been hospitalized gnawed away at us. The stories of people who couldn't be with their seriously-ill loved ones, the stories about people enduring their illnesses all alone, deaths without goodbyes, the closing of a Madrid funeral home, terrified and fortified us.
Roci and I became revolutionaries fighting on the liberation front against COVID, with masks instead of balaclavas and blazing eyes. We used all the tools of our militant feminism to organize our resistance. Every day, we talked to an antiracism comrade's parents—his father, a virologist and his mother, a nurse—to Roci's extremely gifted aunt, a cardiologist, also a victim of coronavirus; we listened to our pediatrician sister-in-law Gloria's recommendations about Coco; we cried with Lola, an aunt who's a nurse in the Canary Islands.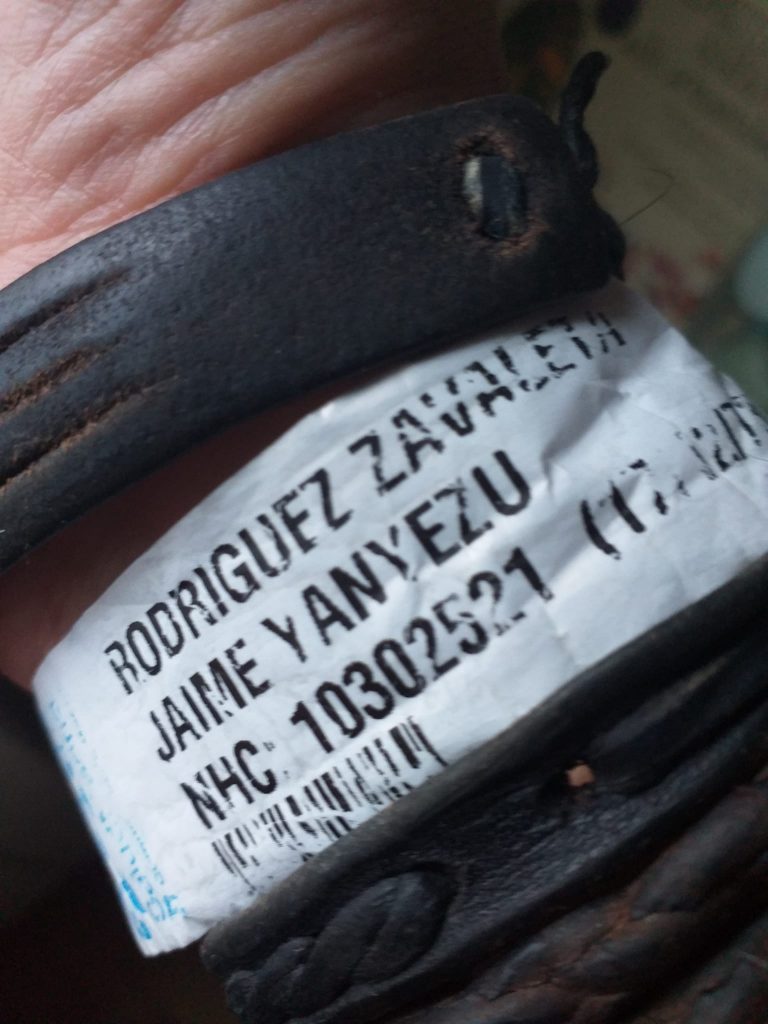 We got ahold of a pulse oximeter through our network of dyke friends. We learned to measure oxygen saturation. We learned that ninety-five and above is good and below ninety is bad, and that at sixty, you die. And one morning, the pulse oximeter said eighty-seven and we called an ambulance.
I had never been so close to the vortex of a personal tragedy, not to mention a national tragedy, much less a global one. Madrid had become Spain's Valley of the Lepers. A morgue for five hundred people per day. Health workers were receiving applause every night, but we were also beginning to learn about what they were not receiving, about what they lacked, their exposure, their frustration.
The same day that Jaime started having trouble breathing due to the infection, we read that every hospital in the city was on the verge of collapse. It took the ambulance five hours to arrive. But still we couldn't imagine all that lay ahead of us. Men dressed as astronauts who looked like they'd come to pick up ET took my husband away.
They took him to the nearest hospital, the Hospital Universitario 12 de Octubre. They wouldn't let Roci in. They took him to the emergency room, where they are isolating coronavirus patients. I know that hospital well. It's where I had gone every other day for my shoulder rehab. It's an enormous hospital, almost unfathomably so. The newspapers said it was one of the few hospitals that still had beds available, but they informed us that he'd have to wait twenty-four hours to get one. And that day of hours became an eternity with the arrival of dozens of infected people, some of them elderly and asphyxiating, falling out of their chairs; people crying in uncertainty and helplessness.
Jaime sent us this message from the 12 de Octubre: "A doctor just broke down sobbing and told everyone in the waiting room that it's excruciating for them to leave us out here like this, that it's horrible for them too, and then she couldn't go on talking. And the waiting room applauded her for like five minutes." I posted it on Twitter. At home, we searched desperately for friends of friends of friends of friends of doctors who worked at the 12 de Octubre. But no one could do anything.
They took X-rays and he sent us the message we'd so feared: "don't be scared, I have pneumonia in both lungs." Jaime, forty-five years old, healthy, with no underlying medical conditions. Hundreds of coronavirus patients die every day from pneumonia, many of them young people, though older people make up the larger percentage and their deaths are more publicized.
I cried in the shower, in the kitchen, on Twitter, while I splashed bleach around and wiped everything down and took the garbage out; I told Coco that daddy was going to be okay without really knowing if it was true; I hugged Roci, we caressed one another with our gloves on and she told me that she'd take care of everything, that I should go to bed. I would go lie down and write to Jaime to ask him about his saturation levels—he wasn't going to die, he couldn't die—and to the religious wing of my family's WhatsApp groups, asking them to pray, and to the doctors I knew, begging for information and miracles.
Now love is disinfection. Love is that plate that you don't hand to him. Love extends in strange ways across the border between the healthy and the sick.
I didn't want to talk to my mom yet because, in that moment, I couldn't allow myself to revert to being ten years old, and I couldn't press myself against her breasts because she lives thousands of miles away and she's also in quarantine. Amaru stared at me and I gave him cookies. I sobbed silently, murmuring the same thing over and over: "my poor sweet love, my poor sweet love, my poor sweet love." And more than anything, I was scared to death.
Jaime sat in a chair for 32 hours waiting to be seen. Not even on a stretcher, after a full week of fever, his body wracked with pain.  And finally, at 1:30 in the morning, they called us from the hospital, or maybe it was God, to tell us that they'd admitted him, and Roci and I clung to one another through our insomnia, and to our remnants of hope. At least he wasn't in the ICU, at least he was breathing on his own, at least his saturation levels were good, at least his fever wasn't too high, at least they're finally treating him.
At least Coco's better, two days without symptoms and now playing the flute as if there were no tomorrow, having learned dozens of new songs while in seclusion, hammering our brains with them as evidence of intact lungs. Feeling better, trying to break the rules of social distancing: "Mama, Mama, it's been forever since I hugged anyone, please, please." And face to face, standing three feet apart, we embraced one another's ghosts.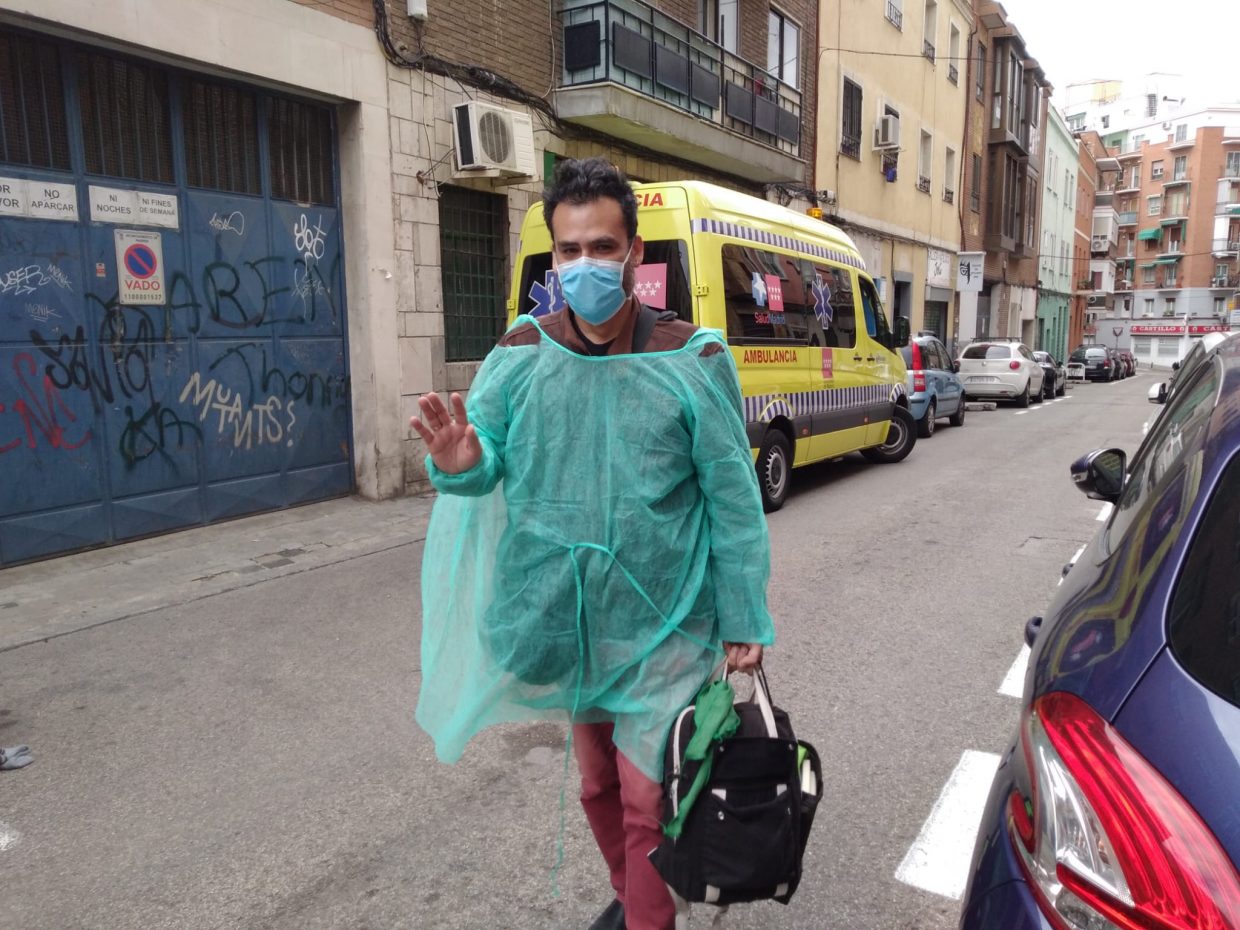 They tested Jaime again and this time there it was, la corona-virus, as Amaru calls it, the unmistakable pointed crown. And so we began to hear about hydroxychloroquine, the malaria drug that helps but doesn't cure, about "false negatives" like Jaime, whose tests come back negative despite the presence of all the symptoms. About his hospital roommate, another false negative who was coughing his lungs out, who was much worse off than Jaime, and whom Jaime was caring for the best he could in his own fragile state.
And also, as the days passed, we started hearing his voice, sounding more and more clear, more like Jaime, more animated, more determined to get out of there. At home, we'd run out of games to make up to play with Amaru, who was now wearing a cape around the clock and answering to the name Bat Boy of the Coronavirus. At his tender age, he already knows perfectly well which areas of the house he's allowed and not allowed to fly through in order to stay safe.
One of the most terrible things about a contagious illness is the impotence of the caretaker: we learn to offer comfort without touching, without talking up close, almost just through our gazes, with subtle, invisible gestures that, at first, might seem cold and rejecting, but which are exactly the opposite.
Yesterday, the doctors at the 12 de Octubre discharged him, five days after that first hellish night. The same astronauts who came to take him away in an ambulance now brought him back, but this time, arriving home, ET had gotten his color back. He's here with us, with his children, but he still has two more weeks of medicines and quarantine, confinement within confinement.
How do you greet someone you love so much and whom you feared you might lose without taking him in your arms, without melting into him, without talking for hours together in bed? I don't know. I don't know how we did it. These are things that only happen in the valley of illness, the new rules of the game that you grudgingly learn to play.
Before he arrived, we'd already divided the house in two, organized systematically, with turns and strict rules for the few common areas. As if welcoming him with flowers and balloons, we gave him instead plastic bags, soap, and disinfectant. We do not take off our balaclavas. We've learned to be cold in order to triumph. I sent him a message: "For these two weeks I'm going to love you like this, I want you to feel this part of my love, we're going to take care of each other ferociously."
Now love is disinfection. Love is that plate that you don't hand to him. Love extends in strange ways across the border between the healthy and the sick. Last night Amaru cried before bed without really knowing why. He said to me: "You know what's wrong, Gabi? I just remembered Christmas Eve." It's what we're waiting for, that blessed night when we'll again break down the walls that separate us.
–Translated from the Spanish by Jessica Powell. This piece originally appeared in El Diario.
---