Impossible Decisions at a Hurricane-Ravaged Hospital in New Orleans
Read a Scene from Five Days at Memorial, Newly Adapted by Apple TV+
The following is excerpted from Sheri Fink's 2016 book, Five Days at Memorial: Life and Death in a Storm Ravaged Hospital. Adapted into a limited series for Apple TV+, Five Days at Memorial follows the doctors and nurses at a New Orleans hospital after Hurricane Katrina when the facility lost power for five days. The following scene takes place on day five—September 1, 2005—at a turning point for the medical team and Dr. Anna Pou (played by Vera Farmiga). 
*
Susan Mulderick's idea to medicate the patients found a champion in Dr. Anna Pou.
The two had met for the first time only the previous day when Pou informed Mulderick that the chapel had been converted into a morgue for the LifeCare ventilator-dependent patients who died after staff put an end to the Coast Guard evacuation. Like Mulderick, Pou had also been pressed for advice by a distraught animal owner deciding whether or not to put down his pet. Mulderick had seen Pou directing patient care on the second floor.
Mulderick shared her feelings with Pou now and repeated her statement. They were talking about euthanizing the animals, but not about what they could do to help the patients. She would later remember Pou saying the men and women lying before her were much like many of her cancer patients—at some point there was nothing else to do for them but try to make them comfortable. Pou said she would use pain medications to do that, though she wasn't sure what to give the patients.
What to give them? Dr. Ewing Cook would know. Mulderick had worked with Cook for two decades, going back to her time as head nurse in the ICU. She knew he didn't shy away from ordering drugs to relieve suffering. For years as a pulmonologist he had helped patients who were taken off life support die without pain and anxiety. Cook believed in making dying patients comfortable.
Mulderick said she would ask Dr. Cook to speak with Pou about what to give the patients. Mulderick found Cook readying his gun. He was preparing to leave the hospital by boat to rescue his son, the doctor who had gone home after the storm and been trapped since Tuesday's flooding. She asked Cook to talk to Pou before he left.
They were talking about euthanizing the animals, but not about what they could do to help the patients.
Cook spoke with Pou on the second floor. He had interacted with her during the year she worked at Memorial and thought highly of her. The weary doctors discussed the category 3 patients. These included some of the patients from Memorial and LifeCare who remained in the staging areas, and nine patients who had never been brought down from LifeCare. To Cook, Pou seemed worried that they wouldn't be able to get them out.
Cook hadn't been to LifeCare since Katrina struck, and that was on purpose. He had not been asked to go there, had no patients there, and knew that any doctor brave enough to venture upstairs would face difficult, gut-wrenching decisions. He considered LifeCare patients to be "chronically deathbound" at the best of times and knew they would have been horribly affected by the heat. Plenty of staff and volunteers remained at Memorial, but they were exhausted, and Cook couldn't imagine how they would carry nine patients down five flights of stairs before the end of the day. Nobody from outside had arrived to help with that task. If there were other ways to evacuate these patients, other ways to care for them, Cook wasn't seeing them.
Cook told Pou how to administer a combination of morphine and a benzodiazepine sedative. He later said he believed that Pou understood that he was telling her how to help the patients "go to sleep and die." That was different from what she and her colleagues on the second floor already knew how to do and were doing: treat patients for comfort. Over the previous hours, nurses had alerted Pou, Dr. Fournier, or Dr. King when a patient in the staging area appeared to be in pain or anxious, and the doctors prescribed doses of medicine. Pharmacists had dispensed Ambien, Ativan, diphenhydramine, Geodon, and Restoril to help patients relax and sleep; and morphine, OxyContin, and Vicodin for pain.
What Cook was describing to Pou was something else entirely. The drug combination "cuts down your respiration so you gradually stop breathing and go out," he would say. He viewed it as a way to ease the patients out of a terrible situation.
Pou wrote out large prescriptions for morphine for three of the patients lying in the second-floor lobby. She ordered nine vials each of a concentrated form of IV morphine, totaling 90 mg for each patient. The highest dose Pou had prescribed for pain in the last two days for her colleague's patient, the one with cancer who was already on morphine and tolerant to its effects, had been 10 mg of morphine—nine times less than what she was prescribing for each patient now. In terms of how the drug would be given, Pou wrote only: "as directed." At the bottom of the prescriptions, she filled in her Drug Enforcement Agency number, as required, which authorized her to prescribe legally controlled substances.
One of Pou's prescriptions was for LifeCare patient Wilmer Cooley, an 82-year-old former truck driver with heart problems and a serious infection who required dialysis and had a Do Not Resuscitate order. Another was for Carrie Hall—"Ma'Dear"—the LifeCare patient with a tracheostomy who had so impressed a nurse the previous night with her will to survive. The third was for Memorial patient Donna Cotham, the 41-year-old mother of four with liver disease. The day after the hurricane, her condition had worsened, and doctors planned to transfer her to the intensive care unit. But the unit had been evacuating, and she hadn't gone. She wasn't expected to survive. She had looked particularly bad overnight to the nurses fanning her on the second-floor lobby.
Two female doctors approached the pharmacist on duty across the hall. He took the three pieces of paper and filled Pou's prescriptions.
___________________________________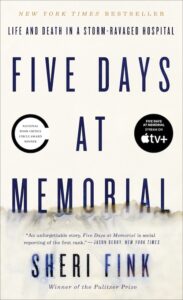 Form the book FIVE DAYS AT MEMORIAL: Life and Death in a Storm-Ravaged Hospital by Sheri Fink. Copyright © 2013 by Sheri Fink. Published by Crown, an imprint of Random House, a division of Penguin Random House LLC. All rights reserved.
---