Imagining the Many Futures—and Complex Humanity—of the Archetypal Missing Girl
Erin Kate Ryan on the Real Person Behind the Missingness
A girl steps onto a page. A spotlight drops on her. She is small: somewhere between 13 and 28. She is pretty in that way that someone would inevitably call "girl next door." She appears to be normatively abled, sane, middle-class, maybe rich. Gender-conforming, thin, straight, white. Inoffensive accent, genteel. You know the type.
In the spotlight, her shadow stretches. She's there just long enough for us to get the idea.
And suddenly: she's gone. Blinked out.
We almost didn't notice her until she disappeared. And it's only then that her story got interesting: the search, the heartbreak, the alcoholic detectives three days from retirement. Although, by then, the story stopped belonging to her at all.
*
In 1946, Paula Jean Welden was a sophomore at Bennington College, a young and pricey New England women's school known for refusing to teach home-ec. The Sunday after Thanksgiving, Paula—18, white, pretty in that way someone would inevitably call "girl next door"—put on a red coat and disappeared. Blink. There and then gone. And that was when the story got interesting—when it stopped being about her at all. Within ten days, thousands of news articles had covered the disappearance of this "blonde college girl" and the dramatics that followed: the town excavating a two-ton gravel pit to check for her body, journalists borrowing crop dusters to circle the mountains; the roommate's breakdown, the pushy father, the famous writer offering her personal clairvoyant's services. The out-of-state lady detective chasing down fashion models and former soldiers and the Black Dahlia killer. Avalanche. Bigfoot. A kaleidoscope of flashpoints to sell the story.
*
And what is the archetypal Missing Girl story but a redirection of our attention? Girl goes from inconspicuously present to conspicuously missing. Someone left behind—parent, lover, detective, obsessive—loses themselves in the search, chasing down a flash of red dress, red jacket, red backpack, red hair. Like Orpheus following Eurydice into the underworld, our searcher tunnels into a foreign territory—a new class of people, a new way of making life. It's the searcher's disorientation that becomes our focus, then, as the Girl slowly stops mattering. The searcher grapples with the boundaries of their reality, a process charged by the mystery but no longer centering it. By the time our attention—our only currency—has shifted from Missing Girl to searcher, it's barely of consequence whether the Missing Girl is alive or dead. She had one job, and that job is done.
*
Because men may leave, but women disappear. Boys have adventures but girls go missing, and in their missingness the story is built, a story of binary opposition. The Missing Girl's vulnerable whiteness requires someone else's encroaching non-whiteness; her smallness and innocence only exist if looming depravity does. She is pretty because the world out there is so ugly; she is feminine because brutality had calloused palms. Everything that she was before flattens into this moment of disappearing; she's newspaper now, she's built of missing posters and grainy security camera footage. The Missing Girl requires the reader (the novel reader, the news reader, the Reddit detective, the gossip) to allow whispers of her opposite to creep in at the edges: sex and Blackness and corruption and Indigeneity and insanity and criminality and agency and disobedience and orgasms and liberation. The reader must not consider that, in life, Black and brown girls go missing at a higher rate than white girls. The reader must not consider that men and women, girls and boys, go missing about equally. The reader must not consider that trans women and nonbinary people and sex workers and queer people have been made far more vulnerable than the Missing Girl. The reader must not look directly at what is off the page, what is lurking outside the frame.
*
Seventy-five years later, it's hard to convey just exactly how much fervor accompanied Paula Jean Welden's disappearance. All over the country and beyond, people were detaining blonde girls who just might be her. In New England, newsmen were chasing down leads to prove that, of course, it was not Paula seen in a maroon sedan with a man, parked overnight at a motel. Of course it was not Paula, mingling with returned soldiers, stubbing her mouth against the lip of a beer bottle.
What is the archetypal Missing Girl story but a redirection of our attention? Girl goes from inconspicuously present to conspicuously missing.
For years, papers would revive the mystery with some barely believable clue—a forged signature, a prisoner's coerced confession—or with some romantic commemoration of Paula Jean's missingness. Remember our favorite mystery, the tone always implied. Remember the allure of her absence. A 1952 police procedural based on her disappearance whetted American hunger for twenty-five years of Law & Order: SVU, pressed into motion hundreds more stories of Missing Girls, hero cops. And not ten years ago, a new novel braided Paula Jean into the story—already missing, already dead. Online, Paula is missing still, trapped in her red jacket and blue jeans, her 1940s hairdo and youthfully dimpled chin.
*
But what if the Missing Girl is what lurks outside the frame? Refusing to be consigned to theoretical object, she reads Pinocchio, she reads The Velveteen Rabbit, but can't locate instructions on how she becomes Real.
*
I wrote a novel with Paula Jean Welden as the point-of-view character to yank her from the edges, to reframe the story as hers. And I decided to give her many futures, to spin out contrary possibilities for lives of fullness, growth, loss. I had to reckon with her body: its weaknesses, its aging, its race, its context in time and space. I had to reckon with her desires, shortcomings, prejudices. Her refusal to change. To build her into someone Real, not made of newspaper at all. She disappointed me over and over again; she was hard-shelled when angry, withholding when frightened. No longer just a victim, she was the villain sometimes, petty and small. She grew old and spiteful. She grew old and beautiful. The more she annoyed and bewildered me, the more inconvenient she became, the further she felt from that ancient missing poster, the prosaic descriptors and benignly mysterious smile.
*
The Missing Girl, edging in from outside the page, inconveniently insists on her own specificities. Maybe she's a villain, maybe she's driven by desire. She's radical, or queer, or unashamed of her body, or unwilling to compromise, or not a girl at all. She needs an abortion; she loves smoky bars. She spits when she's mad; she's a heretic, a con artist, a bomb.
*
And after I built a Real Paula Jean, one I could be disappointed in, betrayed by—I became an object to her. She was no longer just a projector screen for my fears or conjecture or spooky titillation. She could judge me; she could find me wanting. That girl on the missing poster had no opinion of me, and now here I am made vulnerable, made uneasy by the Missing Girl's gaze.
*
Don't let her in. It's easier if she's missing. If she were here, if she were Real, she'd break the myth—not just of vulnerable white womanhood, but of womanhood. Family. Home. The missing poster might be fiction but's a soothing one. Look at her static beauty; look how non-confrontational and conveniently bland. We, the audience, know where we stand with that Missing Girl. We know just where she fits.
_______________________________________________________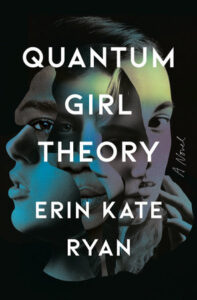 Erin Kate Ryan's Quantum Girl Theory is available now via Random House.
---