If You Think There's a Lot of Trash on Earth, Just Go to Outer Space
We've Managed to Float 6,000 Tons of Junk Into the Sky!
The dawn of the Space Age was also the dawn of space rubbish in a rapidly expanding frontier of junk. Within six years of the launch of Sputnik 1 in 1957, humans had moved from Low Earth Orbit to the lofty heights of geosynchronous orbit: a few hundred kilometers to 35,786 kilometers above Earth. At this height around the equator, satellites orbit at the same rate that Earth turns: hence they always appear to be at the same location above the surface.
Just three of them, poised equidistantly, can theoretically provide telecommunications coverage for the entire planet. To put this distance into perspective, the circumference of Earth at the equator is 40,000 kilometers. It's a long, long way; and it took Jules Verne's fictional traveler Phileas Fogg 80 days to go around the world in the late 1800s.
The first satellite to travel this far from Earth was the US Syncom 2 in 1963; but it fell a bit short of geostationary. This was quite an achievement as people were skeptical about a satellite reaching such a high altitude to begin with. At the Paris airshow in 1961, a prototype of Syncom was taken to the top of the Eiffel Tower. Someone quipped that this was as high as it was ever likely to get. The following year, Syncom 3 was the first to attain true geostationary orbit.
The satellite was used to broadcast the 1964 Tokyo Olympic Games to the US. This was a new era of Olympic Games coverage, which stimulated the growth of the television manufacturing industry to take advantage of satellite broadcasting capability. But it wasn't all benign. The Vietnam War—called the American War in Vietnam—was the first one ever televised, thanks to Syncom 2 and 3, and a new type of warfare where satellite imagery helped shape public opinion was initiated.
The Vietnam War is sometimes called the television war. Some of the scenes I saw on the news every night as a child were likely transmitted via the Syncoms. This was ironic, given that US president Lyndon B. Johnson's recorded message, sent through Syncom 3 for the Olympic Games, spoke of how telecommunications satellites could help achieve "lasting peace among the peoples of the world."
There was a lot riding on this cylindrical satellite, which looked a bit like a lampshade with four short legs. Syncom 3 worked for just six years; it was turned off in 1969. By this time, it had been joined by other geostationary satellites like the Intelsat series—the corporation launched their first satellite, Early Bird, in 1965. Now there are over 500 working satellites in geostationary orbit and over a thousand dead ones.
Here's what's in orbit around Earth right now: satellites that work, satellites that don't work, the rocket stages that delivered them, bolts, canisters, fairings, exploded fragments, flecks of paint, shrapnel, tools, fuel, and, possibly, a remnant of organic waste from human spaceflight missions (yes, I mean space poo). To be classed as space debris, an object must have no purpose or function now, and none in the foreseeable future.
Space junk ranges from whole spacecraft that weigh thousands of kilograms, to microscopic particles from eroded spacecraft surfaces. One calculation is that the entire bulk of this material weighs approximately 6,000 tons, or by my reckoning, the equivalent of 1,000 African male adult elephants. There are over 23,000 bits greater than 10 centimeters in diameter, and millions of bits smaller than that.
Orbital objects are traveling at an average speed of 27,000 kilometers per hour. If you collide with one at those speeds, there's going to be some damage. The bigger the object, the more catastrophic the effect. Each collision produces more and more bits of junk. To keep track of the growing number of bits up there, many antennas, cameras, radars and lasers on the surface of Earth are pointed up at the sky. The information about their orbits goes into vast databases.
Taking into account features of the space environment such as atmospheric density and geomagnetism, the orbital data are then used to perform conjunction analyses which calculate the likelihood of collisions every day.
At lower altitudes, there is a natural cleansing method for space junk. The atmosphere, as it expands and shrinks in different space weather conditions, creates drag on objects and gradually pulls them lower. Eventually they enter the upper layers of the atmosphere at high speed and incinerate, or mostly do. Every day pieces of space junk re-enter the atmosphere and most of the time they go unnoticed.
Generally, these events only receive media attention if people see it, or it's some interesting spacecraft, such as the Tiangong 1 Chinese experimental space station which fell into the ocean in 2018. The risk of being hit by falling space junk makes a good media story even though it's highly unlikely to happen. Everything in Low Earth Orbit will get dragged out of the sky eventually, but the process could take hundreds of years.
At the height of geostationary orbit, nothing is going to get pulled back to Earth. Instead, old satellites get pushed higher up and out of the way to the "graveyard orbit" a few hundred kilometers above the geostationary ring. There's a lot of stuff up there, and we keep launching new spacecraft.
When satellites were first launched in the 1950s, people were afraid that they would drop weapons on Earth. Later the satellites themselves became the danger. As atmospheric re-entry became more common, the concern was what would happen if space junk fell out of the sky, squashing houses and people. It wasn't a completely misplaced concern. In 1978, a nuclear-powered Russian Kosmos spy satellite re-entered over northern Canada, scattering radioactive fragments and fuel across the lands of Inuit and Dene people.
While collisions have damaged satellites and there have been occasional catastrophic break-ups, there have been no fatalities or injuries due to space junk.
Operation Morning Light was mobilized to collect the toxic waste. Moon-suited workers combed the snow to find the often microscopic particles silently emitting deadly products from the radioactive decay of uranium-235. This was not a smoking chunk of space metal but an invisible contaminant at the limits of detection.
Now, the fear has taken up residence in orbit itself. The collisions we dread are no longer with Earth, but with other satellites. The danger of space junk colliding with functioning satellites and human missions is a serious problem, not just for the safe operation of the missions, but because it creates even more space junk. If we want to keep on using the telecommunication, Earth observation and navigation services we can scarcely do without these days, we need to solve this problem. There have been many proposals to clean up the mess, including space-janitor satellites, giant lasers, harpoons and nets. To date, few of the technologies tested have been successful.
The International Space Station, orbiting at about 400 kilometers above Earth, is the only permanently occupied outpost of humans in space. Inside its interconnecting tubes, a crew of three to six astronauts work. They're living the dream, but in a very smelly, noisy and dangerous environment (one astronaut said it smelt like jail). Roughly once a year, the station has to be maneuvered to avoid space junk drifting close to it. As well as damaging the station, a collision could pierce the hull, cause depressurization, and risk killing the astronauts.
Sometimes satellites are moved out of the way of space junk too. Billions of dollars and human lives are at stake. So far, while collisions have damaged satellites and there have been occasional catastrophic break-ups, there have been no fatalities or injuries due to space junk. The day that happens will be a wake-up call for the whole industry.
There are questions of legal liability too, as you might expect. Under the terms of the Outer Space Treaty, all objects in space remain the property of the launching state. This means that states are liable for any damage their space objects cause, in space or on Earth—if you can prove it was their junk.
My career as a heritage consultant working with engineers on mining, urban development and construction projects was a huge influence on how I started to think about the heritage values of space junk. It was no good being too theoretical and rarified: my approach had to be practical.
Doing the research to work out if space junk might be culturally significant was almost the easy part. There's no doubt that many, many satellites, like Vanguard 1, Australis Oscar 5 and Syncom 3, are bursting with significance, and this is without considering the fragments and broken bits. In the field on Earth, there were many situations where I had to persuade an engineer (who was just trying to do their job) that the route of a power line or some other infrastructure might have to change to avoid a place of significance to the Aboriginal or European community. I had heritage legislation to back me up. There's no similar system for space.
It was very common for developers to leave the heritage survey until the last minute, because they assumed it was less important than project design. But by the time a road alignment, for example, had been chosen, there was often very little room to maneuver if it turned out that significant heritage was lying in its path. Changing the road would be very expensive at late stages in the design.
I've had countless conversations in my career with developers grumbling at the expense of heritage assessments, as if it were the fault of the heritage. "If you'd started this process early," I'd say, "it wouldn't be the big cost it is now." Planning was the key to spending as little money as possible—which was very persuasive to developers and engineers.
The other key factor was persuading people that culturally significant space junk should not be removed from its natural setting in orbit—which would be very expensive, if necessary at all. I considered the risk of collision to see just how dangerous some of these significant old satellites might be to functioning spacecraft. Spacecraft with fuel and power can move out of the way of a piece of rogue space junk.
There are also hit lists of the most dangerous junk, usually old rocket bodies abandoned in orbit which are likely to explode. It would be very useful to have a heritage list of significant satellites in orbit. If a heritage satellite appears in a conjunction analysis or space junk hit list, then we can think about how to manage it. For the moment, there's nothing we can do.
Applying these heritage principles to space junk was straightforward enough. While exploring the rich treasures of the orbital record, however, I found that I had to think more creatively about what debris, or junk, or litter was; and I also had to ask questions about how we theorized the space environment.
__________________________________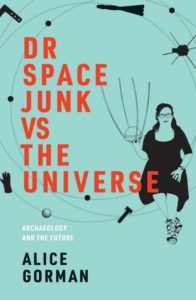 Excerpted from Dr. Space Junk vs the Universe: Archaeology and the Future by Dr. Alice Gorman, The MIT Press, 2019.
---