"I hunt and fish because it helps my writing." Some Very Specific Writing Advice from Jim Harrison
From the The Search for the Genuine: Selected Nonfiction, 1970-2015
Image courtesy of the Harrison family.
To answer this question has put me into a sump, a well-pit, a quandary I haven't visited in years. Here are a number of answers. My love of life is tentative so I write to ensure my survival. I try to write well so I won't be caught shitting out of my mouth like a politician. To the old banality "Eat or die," I add "Eat and write or die." After writing I often read Brillat-Savarin, also cookbooks, on the toilet. Then I try to cook as well as I hope I write. After a nap, I write again, in the manner of an earthdiver swimming in the soil to understand the roots and tendrils of trees. I anchor myself to these circular life processes so as not to piss away my life on nonsense. I hunt and fish because it helps my writing. Novels and poems are the creeks and rivers coming out of my brain. I continue writing in bleak times to support my wife and daughters, my dogs and cats, to buy wine, whiskey, food. I write as an act of worship to creatures, landscapes, ideas that I admire, to commemorate the dead, to create new women to love. Just now while listening to the blizzard outside I poured a huge glass of Bordeaux. This is what I call fun! Rimbaud said, "Everything we are taught is false." I believed him when I was eighteen and still do. Writers are mere goats who must see the world we live in but have never discovered. I write to continue becoming an unmapped river. It suits me like my skin.
_______________________________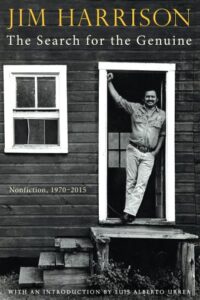 "Why I Write" is excerpted from The Search for the Genuine: Nonfiction 1970 – 2015 © 2022 by Jim Harrison. Reprinted with the permission of the publisher, Grove Press, an imprint of Grove Atlantic, Inc. All rights reserved.
---