"I do not like people whose principal aim is pleasure." When James Baldwin Went to Fire Island
Jack Parlett on Where the Iconic Writer Wrote Another Country
In early May 1959, the Cherry Grove Beach Hotel received an illustrious guest. Filling the gap left by Duffy's only in the sense that it still provided accommodation, this iteration of the hotel was, by most accounts, unappealing. James Baldwin wrote to his brother of his "grim, inland room with a gas heater" in this "enormous, hideous hotel," where he was staying some weeks before the Fire Island season began. It was an inauspi­cious venue for his labors.
He had gone there to work on a draft of Another Country, his novelistic ode to bisexual and interracial love, which he compared during his stay at the hotel as a baby "pushing itself out." Baldwin, who often left the city in search of places to write, was seeking from the island the peace and quiet he needed to finish the novel. May would be one of the only habitable times of the year when such serenity would be possible.
Although there were multiple options in the New York area where he could go to write, the remoteness of the Grove and its lack of a social life during the week, characterized by the cultural and carnal pleasures that made it unique, seemed to appeal. He wrote to playwright Lorraine Hansberry that he didn't, thankfully, know the people who came out on the week­ends. His particular therapy was a combination of writing and walks along the ocean.
This was the man, after all, who wrote in one of his earliest essays that "I do not like bohemia, or bo­hemians, I do not like people whose principal aim is pleasure." It's safe to presume that Baldwin wasn't spending all his writing breaks in the Meat Rack.
Baldwin's aversion to pleasure wasn't born of stridency so much as seriousness, a mark of his political commitment to art and ethics. Casual sex, with women or with men, seemed to him a distraction from the cause of truth, meaningless without the hard-won spiritual alibi of love. There "are few things on earth more futile or more deadening," he wrote, "than a meaningless round of conquests."
It's little wonder that Baldwin remained suspicious of the white gay world, which often either excluded Black men or fetishized and objectified them. To be a Black man in America, he argued, "is also to be a kind of walking phallic symbol," envied and desired by white men both straight and gay. Born and raised in Harlem, he trained as a preacher in the Episcopal church as a teenager but moved downtown in his twenties to Greenwich Village to join its circles of artists and writers.
His entrance into the Village in the 1940s was also, he recalls, his entrance into the "gay world." It was not an alto­gether happy one, characterized by gay men acting as "imitation white women," and engaging "speculations concerning the size of his organ: speculations sometimes accompanied by an attempt at the laying on of hands."
White gay men who held progressive beliefs about racial equality still engaged in primitivist fantasies and offensive talk about the sexual prowess of Black men. Frank O'Hara had nu­merous sexual liaisons with Black subway clerks and hustlers, and frequently referred to the desirability of the Black men he encountered in letters to his friends.
Another poem he wrote "near the sea" at Fondren's Fire Island house during the sum­mer of 1958 obliquely referenced these desires. An expression of solidarity with the "French Negro Poets" during the time of the Algerian War, O'Hara's speaker in this poem envisaged a kind of interracial, intercultural domination, calling to the "spirits of other lands" to not "spare your wrath upon our shores."
There had not, historically speaking, been many Black visitors to the island's shores. Like a lot of the city's queer spots south of Harlem, Cherry Grove was majority white, much more so even than those found in Manhattan's downtown neighborhoods, which were naturally more integrated because of the urban traf­fic of overlapping communities. The Grove, on the other hand, was not a place easily found. You needed time, money and inclination.
Nonetheless, with its growing reputation and com­mercial expansion in the late 1950s, the increasing appearance of nonwhite day-trippers revealed the racist prejudices of some of the older gay and lesbian residents, who were now faced with a choice, much like the one that faced the conservative straights they had once ousted, twenty years earlier, about whether to leave or stay. Many of them retreated further into their cliques and cottages, which were largely concentrated on the western side of the community.
But the Grove's "record of white ex­clusionism," Esther Newton writes, "has been no worse than in heterosexual resorts, and probably better than most." With the exception of a cluster of neighborhoods in Sag Harbor, a small bayside town in the middle of the Hamptons where Black New Yorkers bought up property in the 1940s, many of the vacation communities in the Long Island area were historically white-owned and racially exclusive.
While Black luminaries like Langston Hughes, Lena Horne and Duke Ellington visited Sag Harbor as esteemed guests in the company of their own community, "Grove African-Americans," Newton suggests, had historically "fit into one of three categories: hotel and res­taurant workers, entertainers, or friends/lovers of whites who were renters or property owners."
Baldwin went to Cherry Grove under his own steam, though it is likely he heard about the resort via the white gay literary cir­cles he moved in.
Baldwin went to Cherry Grove under his own steam, though it is likely he heard about the resort via the white gay literary cir­cles he moved in. His growing reputation as a writer and public intellectual indeed had much to do with his dexterity in differ­ent worlds and among different groups of people. He was both a New York native and a cosmopolitan citizen of Paris and Istan­bul, cities he decamped to regularly. He was a literary novelist who counted Henry James and Miles Davis among his influ­ences, and a journalist and orator who spoke out with eloquent rage about the realities of race and oppression in America.
You only have to watch a few minutes of him holding forth in tele­vised debates with racist politicians or pseudo-scientists to see that Baldwin's gift was not only his intellect, but his delivery, his emphatic charisma. He had flirted with the idea of becoming a playwright and an actor in his early twenties, after he moved to the Village, and once took a theater class in which he met and befriended Marlon Brando, just a few months before the latter's stint in Sayville, in fact. "Brando," writes Baldwin's former as­sistant and biographer David Leeming, was one of a number of men whom he "loved but did not approach as a lover," and the two remained friends "through the civil rights days and after."
During his Fire Island stay, Baldwin was working on a talk that reckoned with his ideas about creativity and popular cul­ture, which he delivered a few weeks later at the Tamiment In­stitution in Pennsylvania, in June 1959. He was passionate about theater and cinema throughout his career, and the author of sev­eral plays and adaptations of his novels.
Many of his friends and peers were in show business, and he knew that Broadway and Hollywood were two of the most effective structures that could be used to reach large audiences with the urgent messages that animated his writing. But he was suspicious of mass culture in general, believing it a distraction from unbearable realities that must, nonetheless, be faced. In the talk, he conceded that life is perhaps "not the black, unutterably beautiful, mysterious, and lonely thing the creative artist tends to think of it as being; but it is certainly not the sunlit playpen in which so many Americans lose first their identities and then their minds."
Of course, he is railing here against the nefarious opiate of the masses—cheap Hollywood fantasy and trash television—but there is something telling about this image of the "sunlit playpen": a confined space of oblivion, warm and light and naive, where players renounce seriousness but in turn loosen their grip on life itself.
Was Fire Island to Baldwin not, in both literal and figurative ways, a sort of "sunlit playpen," one in which he carved out a space for his own "lonely" and "creative" retreat? It takes little imagination to wonder how such an analogy might have come to him, looking out of the window of his pokey hotel room onto the curious scene of this makeshift beach town, a pleasure island warming up for its season in the sun. It was and is, after all, a place where people lose their "identities" and "their minds."
To leave behind the baggage of a deviant identity, to lose your mind to intoxication; these were both important elements in the Grove's modus operandi. But if the white members of the island's queer community could shed the pejorative associations of their being and simply be queer, untrammeled by the pry­ing and judgmental eyes of conventionality, most Black people had no such luxury. They could not, as Baldwin well knew, so easily fit into a mostly white, middle-class queer world. This was to him an unforgettable and cautionary fact, another reason not to be beguiled by the excess charms of the "sunlit playpen."
Was Fire Island to Baldwin not, in both literal and figurative ways, a sort of "sunlit playpen," one in which he carved out a space for his own "lonely" and "creative" retreat?
In the autumn of 1963, Baldwin returned to Fire Island, stay­ing this time at Lee Strasberg's Ocean Beach house, to work on his play Blues for Mister Charlie, which was mooted for a Broad­way run in association with Strasberg's organization, the Actors Studio. On this visit, Baldwin's troubles were both personal and political, inseparable from what had proved to be a tumultuous year for the civil rights movement, and he was plagued by the question of his own role to play in the struggle.
That year, he had traveled nationwide for speaking engagements, been the subject of documentaries, and met with members of the government in the hope that they would do something about the civil unrest in the South. As Black political thinking became increasingly polarized, between the nonviolence of Martin Luther King Jr. and the separatism of Malcolm X, Baldwin remained torn.
He was given an ambivalent reception as a public figure too, as if his literariness carried a whiff of impotence, and exposed homo­phobic presumptions about the countenance of the movement's figureheads. "He is not, by any stretch of the imagination, a Negro leader," reported TIME magazine in May 1963. In search of any number of euphemisms for gay, the journalist wrote that he "is a nervous, slight, almost fragile figure, filled with frets and fears. He is effeminate in manner, drinks considerably, smokes cigarettes in chains, and he often loses his audiences with over­blown arguments […] Nevertheless," it was conceded, "in the U.S. today there is not another writer—white or black—who expresses with such poignancy and abrasiveness the dark reali­ties of the racial ferment in North and South."
At the end of August, some weeks before he went to Fire Is­land, Baldwin participated in the historic March on Washing­ton, the peaceful mass demonstration in the capital where King gave his "I Have a Dream" speech. Baldwin marched with other celebrities like Harry Belafonte and Charlton Heston, and there is a striking photo of him and Brando at the march, smiling and youthful. But the hope of that afternoon quickly faded in mid-September, after a horrific bomb attack on a church in Birming­ham, Alabama.
Four Black schoolgirls were killed. Baldwin's play, a composite story of racism in the South that was loosely modeled upon a series of false accusations, murders and lynchings that had occurred in the preceding years, had gained even greater urgency. Although he retreated to the very edge of his vexed country, on the brink of the Atlantic, in order to write, Baldwin was never very far away from the events in Washington, DC, or Birming­ham, Alabama, during those solitary and feverish nights.
___________________________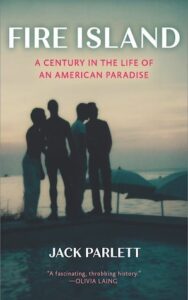 Excerpted from Fire Island: A Century in the Life of an American Paradise (on sale: June 14; Hanover Square Press) by Jack Parlett © 2022 by Jack Parlett, used with permission from Hanover Square Press/HarperCollins.
---