Hunter S. Thompson, James Salter, and a Drunken Trip to Kentucky
Early Adventures in Gonzo Journalism and Mint Juleps
During the final week of April 1970—in the midst of a storm that pressed Aspen with a surprising, late-season snow—Hunter and Sandy Thompson drove to dinner at the house of the writer James Salter and his wife, Ann. An elegant meal, continental in style: they sat together for hours. Salter had been coming to Aspen since 1959; like the Thompsons, he knew the town before its recent transition into a resort. His two-bedroom house was located on the west end, near the Meadows.
Salter preferred to spend time with Thompson in these sorts of settings, private and contained . . . uncrowded. Somewhere they could talk without distraction. A couples dinner was ideal; in the cozy dining room, these two very different men were able to enjoy one another's company. They'd become friends the previous fall, working together on a local political campaign for Joe Edwards, who'd run for mayor.
After the meal was done they sat together in front of the living room fire. They talked about writing. Eventually Thompson went into his struggles. His current book project, tentatively titled The Death of the American Dream, was long overdue, but he had to finish it; there was no way he could ever pay back the advance. His experience running the recent Aspen mayoral campaign had offered a possible fix: by telling the story of his efforts in small-town participatory democracy, he might be able to provide a through-line on the disparate set pieces documenting the national disasters of 1968. But for that to work, he told Salter, he'd need to see the process through—in the upcoming November elections he'd decided to run for sheriff of Pitkin County—which would only delay the book further. In the meantime he was desperate for well-paying journalistic assignments. He had a new magazine in mind: Scanlan's Monthly, which was run by his friend Warren Hinckle. The problem was finding the ideal topic to write about next.
James Salter listened attentively. He was 44, hale and unassuming and without haste. Across from Thompson he held himself with the posture of an elite athlete—that of a rock climber, or a swimmer—his carriage a carryover from his previous career in the Air Force, during the course of which he'd flown more than 100 combat missions. In Korea he'd been a member of the 335th Squadron, damaging one enemy jet and shooting down another. While still on active duty he'd published a novel about the war, The Hunters, that became such a critical and financial success that he gave up his commission to write full time. Over the course of his literary career he'd enjoyed a series of successes and also stinging failures, and he understood the despair and frustration and desire for recognition—for greatness—that his younger friend was talking about: the idea that your work, in a certain sense, was you.
On the whole, James Salter enjoyed Thompson's writing. At the end of the night he had a suggestion: "What about going back to Louisville and doing something on the Kentucky Derby?"
The notion hadn't occurred to Hunter Thompson. But it made sense—he'd been born in Louisville, in 1937, and had spent his childhood there. Later, back at his house, he called up Hinckle in San Francisco, who quickly got on board. And just like that it was happening: Scanlan's could pay $1,500, plus $500 for expenses, including plane tickets that Hinckle FedExed the next day to Woody Creek. The deadline to meet the June issue was fast approaching; everything would have to be finished the week after the race. Hinckle also agreed to send out an illustrator to provide artwork for the feature, a political sketch artist for the London-based magazine Private Eye: Ralph Steadman.
"The story, as I see it," Thompson said after the dinner at Salter's, "is mainly in the vicious-drunk Southern bourbon horseshit mentality that surrounds the Derby [rather] than in the Derby itself."
He arrived in Louisville on Thursday around midnight, April 30th. A few hours earlier, Richard Nixon had gone on national television to explain a startling escalation in the Vietnam War: the U.S.-backed offensive into Cambodia. "I have concluded that the time has come for action," Nixon said. "My fellow Americans, we live in an age of anarchy, both abroad and at home." Nobody had expected it—only ten days earlier the president had announced a drawdown of 150,000 troops—and a wave of protests broke out at colleges across the country.
Everywhere he looked, Thompson saw "the mask of the whiskey gentry . . . a pretentious mix of booze, failed dreams and a terminal identity crisis."
Finding himself in his hometown of Louisville again under such circumstances—a weekend featuring both the Derby and mass turmoil over the continuing war in Southeast Asia—Thompson was appalled. Everywhere he looked—at the airport, at his hotel, at Churchill Downs and its riotous Paddock Bar—he saw people who physically embodied the nation's Nixon/Agnew mentality: the sort of Americans who couldn't understand why certain groups in our society felt so disadvantaged; who, in their incuriousness and acquiescence, gave voice to the percentage of the population willing to, without any sense of hypocrisy, support felony charges for something like marijuana possession as they proceeded to drink and gamble themselves into a lifelong stupor of mainstream vices; and who, when it came to the national unrest over the war, didn't hesitate to blame the violence on the victims of the attacks. In short: for Thompson it was the latest expression of the injustice he'd grown up with here during the 1940s and 50s, in Jim Crow–era Louisville—what he called "the mask of the whiskey gentry . . . a pretentious mix of booze, failed dreams and a terminal identity crisis."
As a senior in high school 15 years earlier, he'd barely escaped this city, enlisting in the Air Force as a way out. And this was only after he'd spent 30 days in the county lockup: he and two other friends had been accused of robbing four teenagers—this was during a confrontation at one of the bluffs overlooking the river—but his friends, the sons of wealthy attorneys, had connections to the judge. In the end Thompson was the only one who actually went to jail. "Returning to the scenes of my youth," he'd write to Hinckle after the race, "was not, all in all, an exceptionally wise idea."
The next day—Friday, May 1st, still 24 hours from the start of the race—he headed to the track so he could meet his fellow Scanlan's correspondent, Ralph Steadman. They finally found each other in the Derby's press box. "This is a weird place," Thompson said to him. "Why don't we grab a few beers and maybe talk things over."
Steadman was a talented 33-year-old Welsh illustrator whose general aesthetic was one of comic exaggeration. With his tweed jacket and thick beard, he'd been struggling ever since he landed in Kentucky to acclimate himself. Which fit well with Thompson's own rage-tinged discombobulation at returning home. And for the next three days, as America undid itself with a final paroxysm of Vietnam War protests and dissent and lethal violence, these two interlopers—in tandem with thousands of Southern celebrants—got uproariously drunk.
They spent Saturday at Churchill Downs. They toured the infield and its madness. They drank for free in the press section. At race time they took up their allotted positions just beneath the governor's box—Barry Goldwater and other prominent politicians were there, along with local dignitaries like Colonel Sanders—and during the race itself, which only lasted two minutes, they watched everyone in the grandstand watching the horses. "We'd come there to watch the real beasts perform," Thompson would write.
Later that night, they hit up the Pendennis Club, an old Southern venue, but almost immediately they were kicked out. Sunday it was the same: a human sea of mud and alcohol and revulsion and anger as they hopped from bar to bar. At one point a can of Mace may have been used.
By Monday, as the university protests continued to escalate, Ralph Steadman finally left Louisville. Thompson stayed another night; while still back in his hometown he heard, disbelievingly, about the massacre that had occurred that afternoon on the campus of Kent State University: four students had been murdered by National Guardsmen, who'd fired repeatedly into the unarmed crowd of five hundred antiwar protestors.
Afterward he flew up to New York, where, at the Royalton Hotel—located near Times Square, a block from Scanlan's East Coast office—he hunkered down in his dilapidated suite and began the process of transforming his notes into the article. He stayed in the city until Sunday: his deadline.
That week, Richard Nixon said, "When dissent turns to violence it invites tragedy." Spiro Agnew, the administration's attack dog for all matters concerning civil liberties, anti-war demonstrations, and press freedom, referred to the protestors as "exhibitionists who provoke more derision than fear" and suggested that they'd incited the tragedy, which he called "predictable and avoidable." A day later both the president and vice president were reprimanded by their own secretary of the interior in an astonishing open letter that concluded, "Youth in its protest must be heard." Hundreds of campuses were closed. In Iowa City, students broke into the Old Capitol building and set fires. In Madison, Wisconsin, homemade bombs were thrown into empty classrooms. The National Guard used tear gas at Southern Illinois and Kentucky and West Virginia. In all, four million students went on strike to protest the war. On Friday, at Broad and Wall Street—about six miles from Hunter Thompson's Manhattan suite—hundreds of construction workers, chanting "All the way, USA!," attacked a crowd of anti-war demonstrators; afterward they marched to city hall where they forcibly raised the American flag, which had been lowered to half-staff in honor of the Kent State victims. On May 14th, at Jackson State in Mississippi, guardsmen would open fire again, killing two more students.
He retreated to the Royalton's bathtub, where, with a quart of scotch and his usual supply of Dexedrine, he resorted to finishing the article by hand.
Working in his suite, Thompson was initially able to construct set pieces from his collected notes. But by the end of the week—as New York City was hit by a startling heat wave, and as the country deteriorated into all-out conflict over the war—he retreated to the Royalton's bathtub, where, with a quart of scotch and his usual supply of Dexedrine, he resorted to finishing the article by hand. In the end the timing got so tight that he found himself inserting his original notes directly into the draft. On Sunday night he and managing editor Don Goddard were able to compile a chronological draft and then cut four thousand additional words—digressions on the deeply Nixon/Agnew-esque character of Louisville society and on his own experience growing up there—and then they sent their draft of the feature to Hinckle in San Francisco, who delivered it with Ralph Steadman's artwork to the printer—just hours before the deadline.
"The Kentucky Derby Is Decadent and Depraved" came out in June. For Hunter Thompson, the whole thing felt like a compromise, an unfinished draft—a failure. "I wish there'd been time to do it better," he wrote to Hinckle when he saw the galleys. "With another week I might have honed it down to a finer, meatier edge." To Steadman: "The article is useless, except for the flashes of style & tone it captures—but I suspect you & I are the only ones who can really appreciate it." To Bill Cardoso: "It's a shitty article, a classic of irresponsible journalism . . . Horrible way to write anything." But as soon as the issue came out Thompson started getting phone calls and letters from friends and colleagues. Tom Wolfe said that it was the funniest thing he'd ever read. William Kennedy told him it was a formal breakthrough—part reportage, part memoir, part exaggeration/fiction. And Cardoso sent a note of encouragement: "Hunter, I don't know what the fuck you're doing, but you've changed everything. It's totally gonzo."
In the end, the article itself, composed in a New York bathtub as America descended into a horrific replay of the last decade's conflict, worked like a grotesque mirror on a country willing to beat and shoot and send off to war—to sacrifice—its own children: "a symbol," as Thompson wrote, "of the whole doomed atavistic culture."
The original June 1970 issue of Scanlan's ended on a short author's note: "Hunter Thompson has gone back home to rest in Aspen, Colorado, where he edits the Aspen Wallposter and is threatening to become a candidate for sheriff of that community."
A few months later, Hunter Thompson and James Salter sat down together again; Thompson was putting together a group of talented local citizens to help with his campaign for Pitkin County sheriff, and Salter agreed to write and produce the main radio advertisement, which he set against the jazz flute overture of Herbie Mann's "The Battle Hymn of the Republic":
Salter narrated this advertisement himself:
Hunter Thompson is a moralist posing as an immoralist. Nixon is an immoralist disguised as a moralist. This is James Salter. There'll be thieves and auto wrecks in Aspen whoever gets elected. But Hunter represents something wholly alien to the other candidates for sheriff: ideas. And sympathy towards the young, generous, grass-oriented society which is making the only serious effort to face the technological nightmare we have created. The only thing against him is that he is a visionary. He wants too pure a world.
__________________________________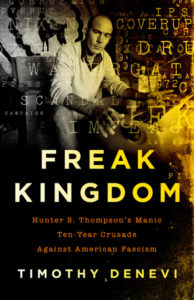 From Freak Kingdom: Hunter S. Thompson's Manic Ten-Year Crusade Against American Fascism. Used with the permission of PublicAffairs. Copyright © 2018 by Timothy Denevi.
---