How to Write Deep in the Woods with a Dog By Your Side
Lee Clay Johnson Finds a Post-MFA Writer's Paradise
I was living near the county line in somebody's garage. There was a bar within crawling distance, and I considered this a plus. The truck I was driving was about the size of my living space, and every time I handed over the rent I wondered why I didn't just get a camper top, throw all my junk in the bed and save some money. I'd recently graduated from the MFA program at UVA and was working odd jobs—hauling trash, playing bass for bands, gardening, teaching community college—while trying to write.
There was a broken AC-unit in the one window above my desk that I taped notes onto. Midday, the sun baking the cinderblock walls, the unit stared me down while I sweated onto my keyboard, and it was usually enough to run me right out of that garage and across the street, clutching my notepad, into the cool darkness of the barroom. I did a lot of writing in there. Most of it was bad. Some of it, I hoped, would find a home.
One day when it got too hot to write, my dog L'il Sid and I jumped in the truck and drove around with the vent windows popped. L'il Sid leaned out and his ears stood up in the breeze. We hit a nice tree-lined street going into town and I saw Sydney Blair, the director of the program, out mowing her lawn. She took her hands off the mower and waved us over.
L'il Sid licked her hand when she came up to the window. "It just seems a natural fit," she said, stepping back and taking in the whole situation. "Are you still in that garage?"
"Yeah," I said. "It's a month-to-month thing."
"I have a place east of town," she said. "It needs the right person. It takes a lot of upkeep. But its history of writers is special. And it's very isolated."
"Who all lived there?"
"Ann Beattie and David Gates, when they were your age. Donald Barthelme got drunk out there more than once. Walker Percy's nephew. The stories go on."
"I've got a chainsaw," I said. "And this truck gets some good work done."
"Would you be free tomorrow? We'll hike the land and look things over."
L'il Sid wagged his tail and whined.
"All right. We'll be there."
* * * *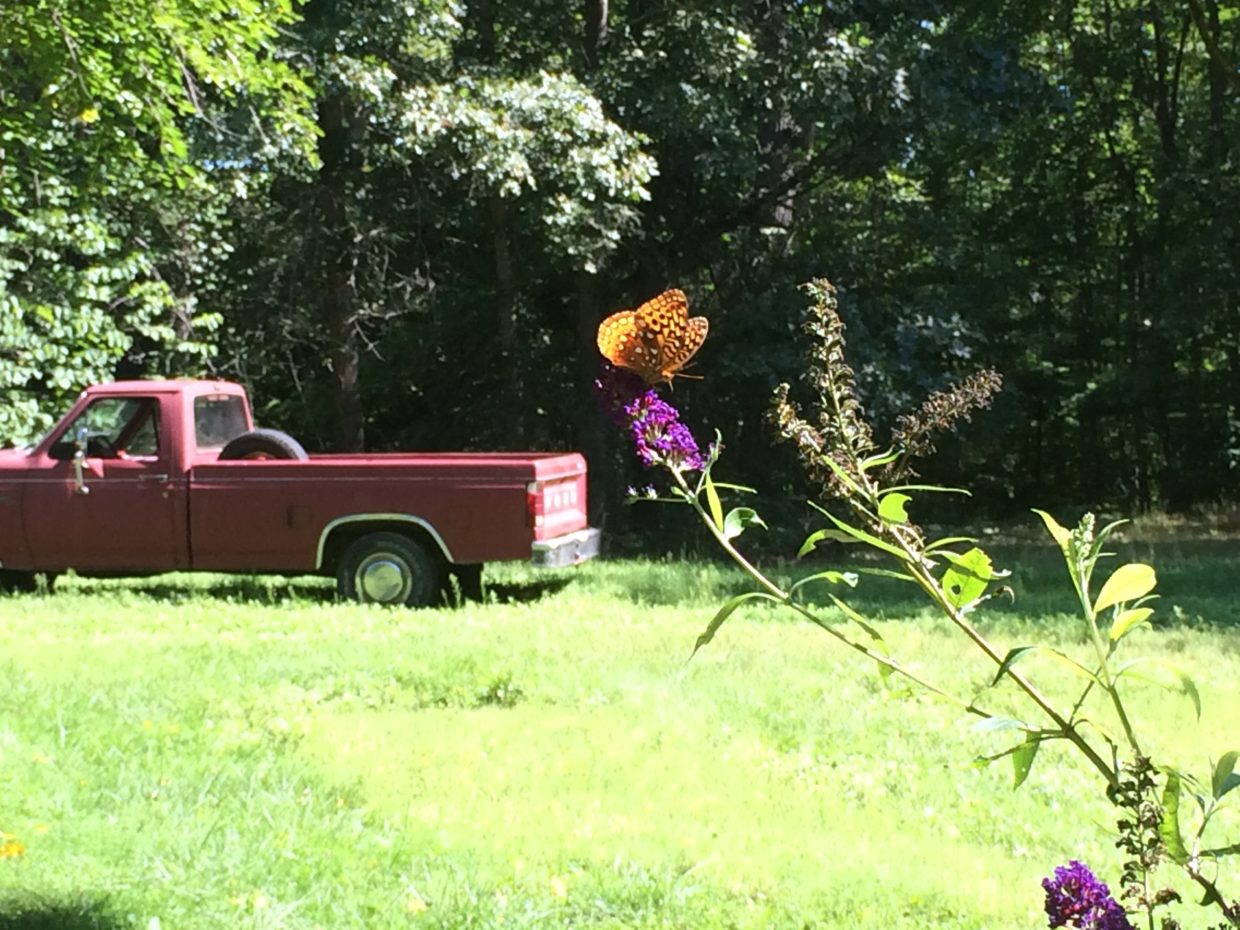 The house was between Charlottesville and Gordonsville on over a hundred acres of high and low forest. There was a pond for fishing and swimming, and below that a spring flowed out of bedrock. A thick beech tree had twisted its roots around the stones of the water source, and someone had hammered a nail into the trunk so long ago that the bark had puckered and kissed most of it away.
A ladle hung from the remaining piece of nail, and even on a ninety-five degree day the big metal spoon was cool to the touch, as if it had been dipped into the spring so many times it had permanently taken on the temperature of artesian water. Generations had carved initials and hearts around the ladle—declarations of love, promises of forever—but there was one message without a name attached to it, older and angrier, covered in moss and chiseled above the rest: I HATES TROY WHEELER. All caps, no punctuation, no signature—just a free-floating, Tourette's-like blurt of hate, made personal with that gratuitous S.
Sydney and I stood there admiring the anonymous missive. She said that this land had originally belonged to a poor family, before being bought by a man named Troy Wheeler and then sold to a family who built a mansion and hired the poor family's son to carry buckets of water up from the spring. This water-boy spent a lot of time down there, waiting for the bell to ring, and while he waited, Sydney said, he'd carved this message into the tree. The mansion later burned to the ground.
"Where's that boy now?" I said.
"He'd be old. Let's see…" She counted in her head. "Yeah, like, really old."
We walked along the driveway in front of the house. There was a field where, I would learn, wild turkeys gathered in the mornings and a buck and his harem grazed during dusk. Out back a chicken coop made of cedar awaited a new flock.
What I liked the most was the smaller stuff: a rusting ashtray on the back porch, the pencil marks of children's heights on a bedroom doorframe, an old bottle of whiskey hidden in a hole in the trunk of an oak. All the unnamed evidence of past lives, all the quiet space that seemed to stop time, the trails through the woods, flowers outlining forgotten driveways, the feeling that there were stories waiting to be unlocked. The ever-present sense of backstory.
While I stood in the driveway with Sydney, discussing the possibility of moving into the place, I admitted, "This is a house for a writer. A novelist. I'm not that."
"Whatever you want to do," she said. "But I think somebody's already made up his mind."
L'il Sid came trotting toward us with mud up to his chest and a stick in his mouth.
"What you think, Sid?" I said.
He dropped the stick at my feet.
"One thing you should know," Sydney said. "Your closest neighbor, Farmer Shifflett, he has shooting matches on Fridays. He's gotten in trouble for cruelty toward his cows. He's not supposed to be on our property. But don't worry, he usually stays on his."
"Shooting matches?"
"Be careful of the shot spray on Fridays, if you're near the property line."
I was downright fascinated. I wanted to meet the guy. "I think he and I might get along just fine."
I moved in at the beginning of the month, and by the end of it I'd furnished only half the living room and a corner of my bedroom. This was a family compound for old Virginia gentry, not a bachelor pad for a broke writer, but I did my best and slowly made it semi-comfortable.
A windstorm blew in one night and knocked out the power for a few days. The house's well was pumped electrically, so I hiked down to the spring every morning, showered myself with the ladle and filled up a few gallon jugs for drinking and cooking.
One morning I ran into Farmer Shifflett down there. He was on all fours with his beard in the water, gulping.
"You drinkin' all my water?"
He wiped his hand across his beard and stood up. I'd meant to be funny but could see that wasn't how I'd come across.
"It ain't clear to you what I'm doing?" he said.
"Sorry," I said. "I'm your neighbor. My name's Lee. You're welcome here."
"Welcome?" He considered the word like he'd never heard it.
"Yeah. I don't mind you being on the property."
There was a bucket full of spring water behind him. He grabbed it by the handle and started climbing the hill back toward his place. He took a break at the top, turned around and said, "Good to finally meet you."
* * * *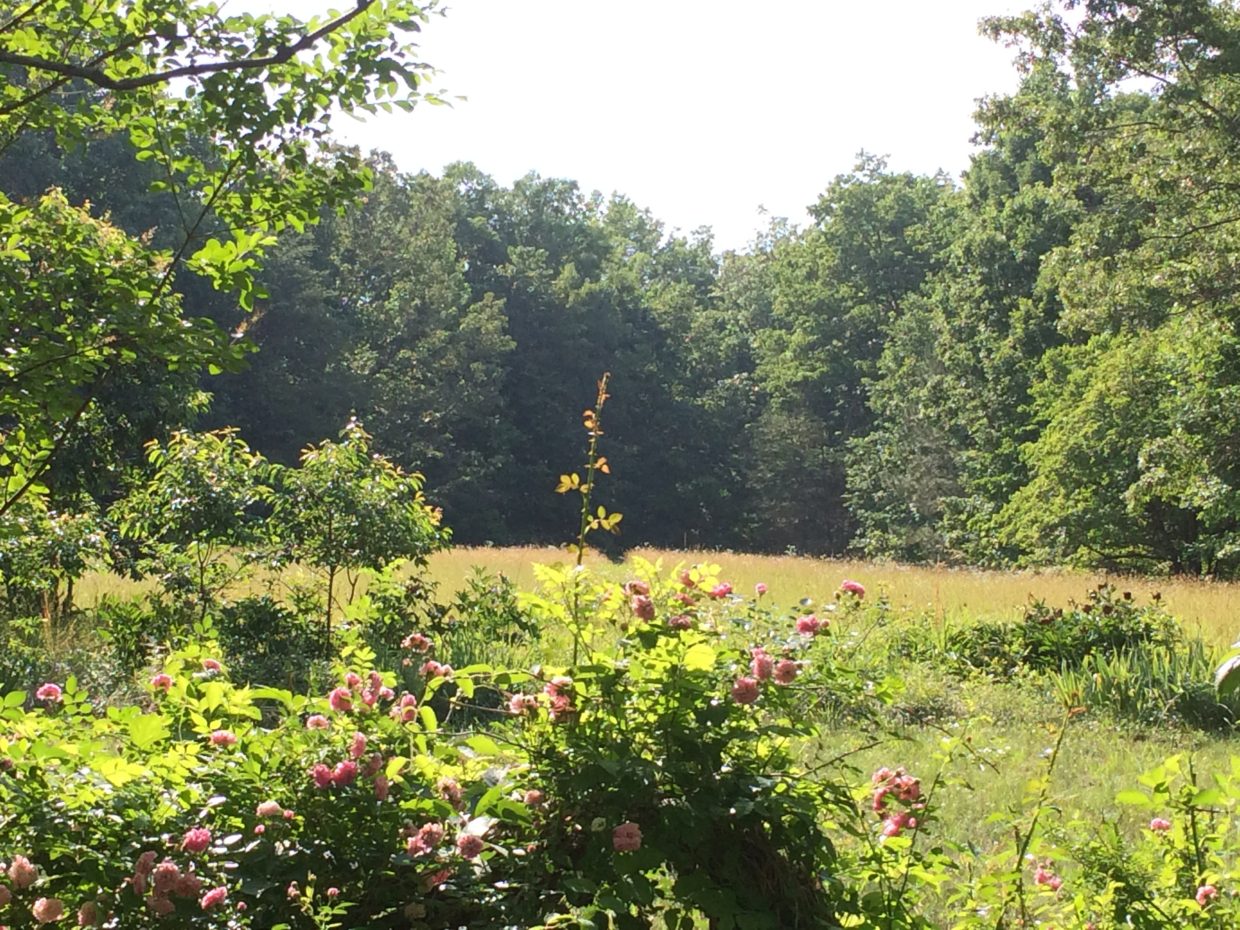 Fridays came, and Sydney was right. In Farmer Shifflett's front yard, the spray-painted mattress ratchet-strapped around a tree near the road read, Shoot N Match.
One Saturday when I was taking compost out to the pile, my dog darted into the woods after something large. Whatever it was, it sounded slow. I ran after him into a little hollow and found a scene I never could've imagined. He and a fawn were bowing toward each other in the woods, as if in play. I stepped toward them, and he lunged and bit the fawn's eye.
I kicked him off and grabbed the little deer up. Two nubs between the ears looked like magnolia buds. Mold had spread across the body in a dark pollen. It was spring and somehow this poor buddy was already going back to the earth. He'd been out here hurting for a while. Low clouds were steaming the land, but the deer was shaking with a deep cold. Both its front legs were broken backwards and the bones were sticking out.
I set him in the leaves, took Sid by the collar and walked him back to the house. I lost track returning and ended up in the deeper neck of the woods. While I knew the area pretty well by then, the hills and old logging trails were confusing and led me into the pine forest. Tall dark trees creaking in the fragrant wind. A vulture circling beyond a hill to my right. When I turned it was still to my right. But no, now there were two. The first was probably where I'd left the fawn. Then came the sound of boots on pine needles. A ghostly vision of Farmer Shifflett trudging down the path, lugging his bucket. This time instead of water it was full of feed. His beard was the color of icicles and he was breathing hard. I wondered if he hadn't been wandering around like this since I'd last seen him.
"I'm being on your property again," he said.
"That's all right."
"You seen my bull?"
"I've seen some tracks of it. And I didn't know where those patties were coming from."
The bucket must have weighed fifty pounds or more, and though it looked like he'd been hiking through miles of forest, he didn't put it down. Maybe he knew if he did he wouldn't have been able to get it back up.
"Say here." He pinched something from behind his ear, inspected it, then ate it. "Fiddle-back tick," he said. "That your truck out there on the edge near Louisa? I could fix it. Get it running."
"It runs," I said.
"I tried it earlier. I think it's tired."
"But you don't have a key."
"Aw, I just popped the top, did some tinkering. Solenoid relay-switch stuff."
"It's never going to start now."
"Not if I don't fix it it won't. I run a reasonable rate."
"Look. I found a hit deer. Or my dog did. It's still alive. I left it back that way."
"Puny guy with some fading spotters?"
"Little young buck."
"I be goddamned." He looked at the two fingers he'd pinched the tick off with and started sucking on them. "I hit something almost a week ago out off your place. Thumped the front of it."
"And you didn't stop?"
He took his fingers out of his mouth in contemplation. "You know how many deer I hit on a daily basis?"
"I gotta deal with this animal," I said.
"Tell you what. I go find mine," he waggled his arm and shook the feed, "and you go find yours."
We passed each other and the wind off him smelled like dogs. He kept an orchestra of mud-soaked beagles in a kennel on the side of his house with a length of dented culvert for shelter.
I found the fawn dappled in white oak sunlight, bleating a song, To you, you, you. To you, you, you. You were singing a death song, condemned creature, and when you saw me you tried to run but ended up doing front flips through the woods.
I caught your last flip, the broken bones clattering. I didn't have a gun because back then I thought one day I might want it when I didn't need it. So I held you and considered my options.
I carried you to the pond. The mold on your ears smelled like bugs. And I walked you into the water, almost as if in baptism. You would never be the buck that made you.
But when your back hoof touched, life pulsed, and you bucked me in the chin.
"Fucker," I said, and pushed you under. I didn't mean to curse you, but we were in the dance.
With all my weight I pressed you into the muck and collapsed your chest. Your last breath exploded the top of the water. Rinsing my chin.
A shadow raced across the pond, and up above me was a vulture on tilt. "It was me or the air patrol," I said. "We could've let them finish you alive." I don't know why I'd become defensive. I was still in the water holding you against the muddy bottom. "Mercy," I said, like I was trying to convince myself of something.
I could feel your wet fur between my fingers, the muscles under the skin relaxing. The heart quit. A bright electrical jolt. And that was it. No more you. Just a body.
I don't know how that little deer wanted his run to end, doubted he was even thinking that far ahead. Just going minute by minute, trying to make it last. Then bam! The truck. The dog. Me. My ideas of what I should do. What I'd want to be done to me. I don't believe he would have been more welcoming to the vultures.
I tried writing about him in my journal that night, but I couldn't. Maybe there was a moral in the story, and I was simply at the wrong end of it. The last line I wrote that night was, Mercy at times like this is a human excuse.
I woke up in the night to my dog growling at the foot of the bed. "What's wrong, Sid?" I said. And then I heard it too. A tapping at the window. My mind went Edgar Allan Poe on me. I imagined the fawn back from where I'd put him in the woods, clicking the storm window with one of its jutting bones. Or what if it was Farmer Shifflett out there, munching on ticks and watching me sleep? I flipped the light switch but the power was out again. Not a big deal. It happened a lot. I lit a candle and went to the window. The sound continued. I put the candle close and saw a brass ring looping through a bull's nose. He was eating flowers off the azalea bush. Each time he leaned in for a bite, the ring tapped the glass.
I knocked on the pane and watched his head pull away and vanish as the bush shook and closed in after him.
* * * *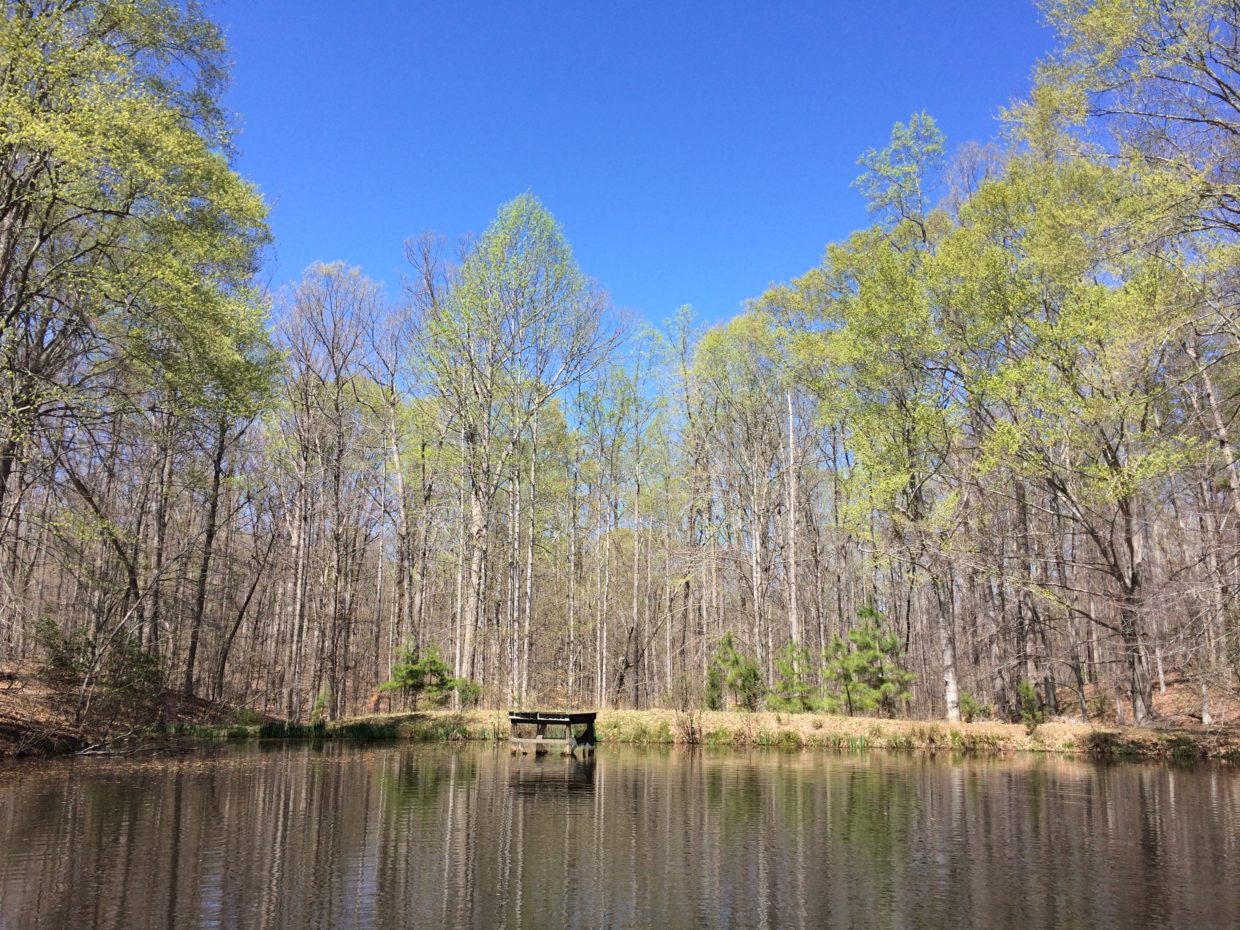 The next morning I wondered if it had been a dream, but when I checked the window there were still smudges from the wet nose. And missing flowers.
It was Sunday, I didn't have to go to work, and all the post offices were closed, so no bills or student loans could worry me. My truck, sure enough, was not running, so I had to wait until tomorrow to have it towed to a garage. Nothing could interrupt me and I couldn't leave. The restrictions were a blessing. I brought a pot of coffee to my writing room and put Sid's bed beside my chair. The desk faced the pond, and down through the trees I could see the sun making diamonds off a little piece of water. I wrote more than I ever had in one day. Not about Farmer Shifflett or the fawn or the bull. Not about anything, really, just characters and objects and situations that I felt contained the mystery that had been imparted to me the day and night before. Everything around me, including myself and what I was writing, was living and dying. I wanted that to be at the heart of whatever I put down on the page. And that morning I felt like it was.
That was the beginning of Nitro Mountain, though as the book came together over the next several months it was not an entirely linear process. Scenes I'd been writing, songs I'd been singing, places I'd been thinking about all started coming together and I realized I wasn't working on a song, or a short story, or a novella, but on a novel. The beginning became the middle of the first section. The second section was a puzzle of voices and narratives, often happening simultaneously, that I wrestled with and wrote in a hurry. Arnett's booze-hound, crank-jacked rampage burned a trail of chaos across the county and put a fire under everybody's ass, including mine. A sketch of a battered woman I'd written a while back at the bar turned into the last section, told from Jennifer's perspective. It was a paradoxical process: while writing, I needed to believe everything was in order, but then going back, I had to be open to change.
I stopped going to the bar after work, quit playing music with friends, went straight home and wrote. It was a simple ritual. If my job kept me for eight hours in one day, I'd get back and write until the birds started screaming in the trees. But before writing I would always put my dog's bed beside my chair, because I needed him right there to talk to. He was a good listener.
As Nitro Mountain came together, Arnett Atkins nearly jumped off the page and grabbed me by the throat, demanding that shit got done. The writing sped up and after finishing the first draft I printed it out on my desk and looked at the pages, knowing there was still work to do, but believing the heart of it was in there and beating.
I sent it to a long-distance lady I was in love with. She got back in touch with me about a few things that needed fixing. I'm lucky she even still talks to me.
The book was Jennifer's, the songs were Leon's and Jones's, but the menace belonged to Arnett, whom I'd never thought of as anything within scientific category. But recently, with the book coming out this month, I was asked to "write about writing a psychopath."
A psychopath? Did they mean Arnett? I guess so. But I'd never thought of him as one. And if I had, I never could've written him. I was never writing a diagnosis. I was just writing characters, people. I was just writing. And when it came to Arnett, I hardly was writing: I felt like I was watching him come into being. When he showed up with all his demons, he pulled things together. History was here, and it was dark. Ever-present backstory. And for as difficult as some of the writing of the book felt—the second section was a bear, concerning perspectives—Arnett was a blessing, a gift, flowing from the back of my head and out through the end of my pencil. He came so quickly, in a flash, that I remember sitting at my desk, around one or two in the morning, and watching the lead wear down beneath his weight.
The next morning I typed it up on my laptop, dreading the cleanup of a reckless run. But the recklessness was his, and the control was mine. I didn't have to edit much, and even in the year following as the book was put through the meat grinder by some of the sharpest eyes open, Arnett's sections, particularly him being chased by troopers, hitting a buck and wrecking his car, held their own and didn't change much.
Maybe I'll have better answers on how to write when I'm older. All I know is that old house on that old land gave me space to imagine. If there is any advice I could give, it's probably just what worked for me: Live in the woods, and write with a dog by your side.
Though I'm living in St. Louis right now, I'll be back in Virginia this summer with L'il Sid, living on that land again. The first thing I'll do? Go down to the spring and read the water-boy's message. Who the hell wrote it? Is he still around? The juxtaposition of the lovely hills and mountain laurel surrounding it—its mystery is an ideal I try and hold my sentences to.
And one more thing. I stop and touch my chin. I still have the scar from the bucking. I've never been able to write about it until now.
---