How to Write a Novel with Three of Your Friends
The Writers Behind S.E. Boyd on the High Stakes of Cooperative Fiction Writing
When we tell people we wrote a novel together—The Lemon, out November 8 on Viking—they all want to know two things: 1. What did you do with all the money? And 2. How on earth do three people write a novel together? The answer to the first question is easy: We bought-late model Mazda Miatas. The answer to the second question is more complicated. It involves a mix of structure and chaos, speed and deliberation, and competition and cooperation, plus an unfathomable number of texts and phone calls. Nail that mix, and voila: you have a novel! Botch it, and you'll probably lose your friends, your dream, and any chance you ever had of picking up a sweet Miata of your own.
*
Be There
Writing a novel together is a very intense form of conversation, and you can't have a very intense conversation in which one person says something and then has to wait a week for someone to say something back. This isn't a Béla Tarr movie. Even though you may all be in different cities and time zones, as we were, you have to be available, responsive, and quick. Otherwise you'll never develop the sort of momentum you need to make it work, the endeavor will dissolve very quickly, and you'll be forced to give up your dream and remain a highly paid banker, instead of becoming who you really are, which is Amor Towles.
Steal from TV
We wrote this book less like the stereotype of the tormented novelist toiling away in solitude, and more like a TV writers room. We started out with a basic premise for The Lemon–a food world celebrity famed for his authenticity dies under questionable circumstances, a cover-up is perpetrated, and a whole galaxy of handlers, wannabes, and opportunists try to seize control of the narrative to advance their own interests–and created a workflow that would allow us to pull it off. We'd meet on Fridays to discuss the next week's work, and assign chapters in the way showrunners assign episodes to individual writers.
Unlike writing solo, when things didn't go your way, you didn't have to hate yourself anymore. You could hate someone else.
We'd write all week, and at the end of every week, we'd go through everyone's work–editing, revising, asking questions, pitching ideas, going on endless absurd digressions, making lewd or disparaging remarks, and cutting Joe's Béla Tarr references, Alessandra's bluer material, and Kevin's persistent attempts to shoehorn actual Matthew McConaughey into the plot. Once the chapters were in good enough shape, we'd talk through what comes next in the story, and make the next round of assignments. Then we'd all go home/downstairs and drink while, honestly, still texting one another.
Always Be Riffing
Apart from the formal workflow of the project, we spend a truly ungodly amount of time just riffing–texting, talking, sharing jokes, pitching stray ideas, arguing in the Google Doc margins, and screenshot-ing articles, Tweets, and clips from the hit 90s show Caroline in the City. We did it all day long, every day. Aside from wasting time, this relentless back and forth sparked dozens of good ideas we wouldn't have come up with otherwise, and it helped us nail a tone and perspective that would remain consistent in the book.
Though none of us will admit to taking improv classes, having three game and like-minded people involved in the writing of the book gave the process a certain "Yes, and" quality. That sense of play was why the project worked–we ensured the plot would be surprising to readers by being open to surprising ourselves, much like how Caroline is surprised when Annie dates Steven, the convict, in Caroline in the City's ninth episode and he steals one of Richard's paintings from her apartment.
Externalize the Anguish
When writing solo, you engage in a running inner dialogue with yourself. You try out ideas on yourself, make choices by yourself, and wonder if any of it is any good by yourself. This always involves a fair amount of anguish, which is then vented in dozens of embarrassing tweets about how hard writing is, which are then ridiculed by people whose jobs are actually hard.
When you write with friends, however, all of those agonizing questions are externalized and thus diminished, and can usually be resolved with a text or a phone call. If one of us struggled with a choice, we asked the other two and together made a decision; if we wondered if something was good, we asked the other two and got a positive/scathing summary judgment; if a line wasn't landing but we couldn't think of a better one, we opened the floor to pitches and nearly every single time got a better line. The tormented inner dialogue—which has been known to cause everything from constipation, to marital rupture, to staggering down the middle of the street accusing dogs of stealing from you—was converted into lively banter with friends.
Best of all, unlike writing solo, when things didn't go your way, you didn't have to hate yourself anymore. You could hate someone else, like how Joe hates Kevin, or Alessandra hates that song "Dominick the Italian Christmas Donkey."
Bid farewell to Writers Block
Writing with partners is the best antidote to writer's block. When you have assignments, and deadlines, your normally formless writing days have structure. When you have talented collaborators, and they hand you a strong chapter, your competitive instinct will push you to write your ass off to top them, even when you don't feel like it. That's a huge motivator.
Plus you're all in this together and there are literally fives of thousands of dollars at stake. That means if you drop the ball, you're literally stealing money from your friends. That will end the friendship, and you'll be back to trying to write a novel by yourself—a task which literally no one has ever truly succeeded at.
Embrace plausible deniability
It's incredibly freeing to write with other people, especially when you do it under a pseudonym, because ownership is muddled. The reader doesn't know who did what. Consequently, not only are you less concerned with what people think, but you can also write something really foul and then blame it on your partners when your parents threaten to disown you for it. Embrace the freedom and the cover it provides you. Who wrote the gross orgy cheese plate scene in The Lemon? Could have been anybody!*
*We're kidding. That was AI.
Actually Legitimately Have Fun
We've all, by now, been led to believe that writing is lonely, writing is pain, writing is hard, and that good work can not be produced without great gobs of anguish. And that's by the people who actively chose the writing life! Perhaps because the physical labor of the act of putting words on a page is so easy there is some sort of subconscious belief that the only way to make it respected is to ramp up the mental anguish. No one, the thinking goes, would respect a process that's enjoyable. That's basically Catholic marketing 101.
But we're here to tell you that you can have an actually enjoyable creative collaboration on a novel that both produces something worthwhile, and doesn't destroy your capacity to know and love others. This enterprise doesn't need to be Fleetwood Mac, friends. There is a better way. Just don't do it with Joe.
______________________________________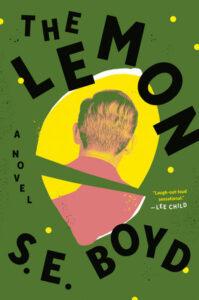 The Lemon by S.E. Boyd is available now via Viking. 
---