How to Spend a Literary Long Weekend in Hartford, Connecticut
Mark Twain, Harriet Beecher Stowe, Wallace Stevens, and More
To celebrate our partnership with Kimpton, enjoy 20% off their Best Available Rate. Cozy up in your hotel room with one of our seasonal book recommendations, or venture out on a book lovers' travel itinerary.
Once nicknamed the "Insurance Capital of the World" due to its legacy as a location for the headquarters of several insurance providers, Hartford's connection to the written word goes beyond policy. Connecticut's capital city has a long literary history, starting with newspaper printing during America's colonial era (the Hartford Courant, an offshoot of the Connecticut Courant, remains in circulation) to its status as a publishing hub in the 19th century. Twentieth-century American poet and Pulitzer Prize-winner Wallace Stevens once held a day job as an executive at the Hartford Accident and Indemnity Company, now known as The Hartford.
Other writers have lived certain chapters of their lives in Hartford. It's been the birthplace of many authors—including Jay McInerney, Dominic and John Gregory Dunne, and Suzanne Collins—while others have come to stay and create over time. These days, from maintaining historic homes to creating new gathering spots, storytelling in Hartford continues in many ways.
*
· FRIDAY ·
Story and Soil Coffee (387 Capitol Ave.)
8:30 am
This coffee shop in the Frog Hollow neighborhood is named after the title of a Bright Eyes album, The Story is in the Soil, Keep Your Ear to the Ground. Some of their coffees, teas and other products are directly sourced from Connecticut businesses. It also stocks up on reading material. Find copies of The Paris Review and other literary journals along with coffee industry magazines and books by Hartford poet Brett Maddux. The menu lists rotating in-house baked goods and breakfast choices such as the BEC, a bacon, egg and aged cheddar medley with a sriracha aioli on brioche. Try their Spanish Latte, with espresso, both milk and evaporated milk, vanilla, and cinnamon garnish.
*
The Mark Twain House & Museum (351 Farmington Ave.)
10 am
Hartford's Nook Farm is a historic section of the city that was originally farmland and evolved into an artistic community, enticing authors to build their family homes here. One of them was Samuel Clemens, better known as Mark Twain. This 25-room, three-floor house-turned-museum was where Twain, his wife, Olivia, and their three daughters Susy, Clara, and Jean lived from 1874 to 1891. Twain's time in Hartford was productive; while there, he penned A Connecticut Yankee in King Arthur's Court, The Prince and the Pauper, A Tramp Abroad, and The Adventures of Huckleberry Finn.
Sadly, personal tragedies would also impact his family's final years here. Bad investments wrecked Twain financially, so much so that the Clemenses left their home and moved to Europe in 1891. The ultimate blow would be the loss of his daughter Susy, who died of meningitis at their Hartford home in 1896. Her passing would make it tough for the family to live there; the house would be sold in 1903.
You can see the home via guided tours, with stops including the third-floor billiard room that was Twain's office and study.
*
Harriet Beecher Stowe Center (77 Forest St.)
12 pm
Harriet Beecher Stowe was a generation older than Twain, but they were neighbors and friendly acquaintances. Stowe wrote Uncle Tom's Cabin, her most famous work, between 1851 and 1852 while living in Brunswick, Maine, but Hartford was where she created Lady Byron Vindicated, Palmetto-Leaves, and Poganuc People.
And she did far more than write. A Connecticut native, Stowe helped to reinvigorate the art museum at the Wadsworth Atheneum and establish an art school that later became part of the University of Hartford. She was also an early member of the Connecticut Humane Society.
A museum and programming center, the Harriet Beecher Stowe Center hosts an interactive tour of the residence where she and her family lived for 23 years. It's also the location for discussions about the historical impact of Uncle Tom's Cabin and its connection to modern social issues. An exhibit room lists quotes reflecting on the novel from noted figures such as poet Langston Hughes, Roots author Alex Haley and President Barack Obama. A collection of related ephemera and memorabilia displays versions of the novel in different languages.
*
Hartford Public Library (500 Main St.)
1 pm
This downtown branch has far more than books to check out. It holds the Hartford History Center, a museum and archive representing 300-plus years of Hartford's community through maps, photos, artwork, and municipal records along with 19th-century books, produced during Hartford's time as a major publishing center. The history of Hartford's thriving Puerto Rican community is told through examples such as the Butch Lewis Video Collection, local papers in English and Spanish, and exhibits of Puerto Rican parades from the 60s through the 90s. The Kitchen at the Hartford Public Library provides lunch suggestions and also, through its management by Billings Forge Community Works, job training to Hartford residents.
*
· SATURDAY ·
Spectra Wired Café (5 Constitution Plaza)
9 am
A coffee house by day, cocktail bar and outdoor beer garden by night, this large gathering spot brings in a morning crowd for teleworking. Its gallery wall space features works by Hartford and Connecticut artists and the stage area offers a space for open mic nights or acoustic performances.
*
The Jumping Frog (56 Arbor St., #107)
11 am
Named for Mark Twain's short story, "The Celebrated Jumping Frog of Calaveras County," this used book store is stacked with bargain hardbacks in subjects that run the gamut—art and photography, military history, presidential topics, music, transportation and so forth. Some higher-cost finds include rare editions and autographed copies. One neat discovery was an oil on canvas of Mark Twain, sold at auction for $30,000.
*
Real Art Ways (56 Arbor St.)
1 pm
This alternative arts space was started in 1975 by a group of visual artists and musicians who took over an upstairs space on Asylum Street in downtown Hartford and created a bare bones salon in which they lived, worked, and presented others' works. Today, based in a former typewriter factory, this nonprofit organization has a cinema, art gallery and theater and hosts community events, literary readings, spoken word performances, concerts, and exhibits. It schedules a "Creative Cocktail" hour every third Thursday of the month for people to gather and connect.
*
Hartford Stage (50 Church St.)
8 pm
Founded in 1964, this regional theater has since produced revivals along with new plays and musicals that have gone on to regional theaters along with Broadway and off-Broadway venues. Along with staging productions, the Hartford Stage hosts post-show discussions with cast members after the Tuesday evening and Wednesday matinee performances that follow opening night and a speaker series after the third Sunday matinee performance.
*
· SUNDAY ·
Wallace Stevens Walk
9 am
Even though he lived in Hartford for many years, Wallace Stevens never learned how to drive. He would walk 2.4 miles to work, composing poetry along the way. Created by The Hartford Friends & Enemies of Wallace Stevens, a group preserving the poet's legacy, this 2009 designated trail follows that route from his home on Westerly Terrace to his office at The Hartford building at 690 Asylum Ave. Thirteen Connecticut granite stones mark the course, each inscribed with a stanza from his poem, "Thirteen Ways of Looking at a Blackbird." It ventures along Hartford's Asylum Hill and West End neighborhoods and passes by Connecticut Public Television, the Hartford Conservatory of Music and other buildings.
*
The Pond House Cafe at Elizabeth Park
11 am
Stevens lived near and spent time at this over 100-acre park between Hartford and West Hartford. He even wrote three poems inspired by it: "Vacancy in the Park," "Nuns Painting Water-Lillies" and "The Plain Sense of Things." Among its horticultural gardens, the park contains the first municipal rose garden in the U.S. There are also two gazebos, four greenhouses, two bridges and a pond along with tennis and basketball courts, Little League and softball fields, playgrounds and tracks and trails. Dine at the Pond House Cafe, which has gotten accolades for its Sunday brunch and draws from its vegetable and herb garden for its seasonal menu. Or order to go from their takeout window, the Dog House.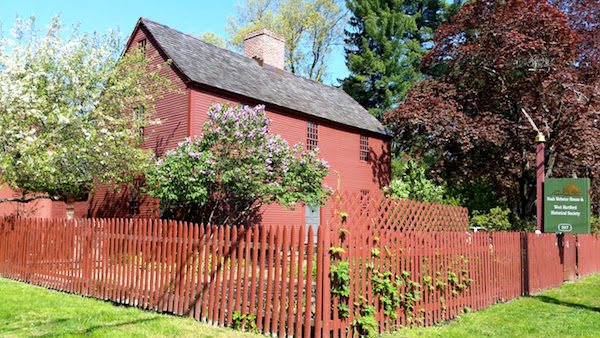 Noah Webster House & West Hartford Historical Society (227 S Main St.)
1 pm
For those who fondly remember having to look up words, spellings and definitions, the birthplace of the man who created educational materials for a newly-formed United States—in particular, the first American dictionary—is a lesson in itself. As a teacher, Webster noticed how inept schooling was in our young nation and how children were still learning from England textbooks honoring King George III. So Webster changed that with his A Grammatical Institute of the English Language; due to the color of its cover, students called it the "Blue-Backed Speller." After this book, Webster would work his massive dictionary throughout much of this life, completing it at the age of 70. At this Hartford house, wander through four rooms and see an orientation film inside a 19th-century schoolhouse theater.
---