How to Read the Signs in New York City
New Nonfiction from Joshua Cohen
From the diaries:
NEW YORK SIGNS:
LAST EXIT FOR THE VERRAZANO-NARROWS BRIDGE
Still following the coast, which veered to the north, we reached, after fifty leagues, another land, which was much more beautiful and full of forests. There we anchored, and with twenty men penetrated about two leagues inland, only to find that the people there had fled to the woods. Searching around, we found a very old woman and a young girl of eighteen to twenty, who were crouching amid the grasses in fear. The old woman had two little girls carried up on her shoulders, and clinging to her neck was a boy—they were all about eight years old. The young woman also had three children, all girls. When we came upon them, they began to shriek. The old woman made signs to us that the men had fled to the woods. We gave her food, which she accepted with pleasure, but the young woman refused us and angrily threw whatever we offered to the ground. We took the boy from the old woman to carry back to France, and wished to take the young woman too, because she was very beautiful and tall [di molta bellezza, e d'alta statura], but it was impossible to lead her away because of her crying [non fu mai possibile per i grandissimi gridi]. And so, as we were far from the ship and still had to pass through the woods, we decided to leave her behind.
A letter from Giovanni da Verrazano to King Francis of France, describing his first encounter—as the first European to enter the Narrows—with the native Lenape, 1524. Every Sunday I drive H's parents' car over the Narrows to Staten Island for pizza. I want Denino's. Though H thinks Totonno's is better, because of its crust. Da Verrazano thought the Hudson River was a lake.
NEW YORK SIGNS:
YIELD
A transitive verb, from Old English's gieldan, akin to Old High German's geltan, "to pay," dating from before the 12th century: recompense, reward; to give or render as rightfully owed, or required; to give up, or give in, to die; to surrender, submit, or relinquish oneself, another, or an object, to another, to an inclination, or temptation; to bear, or bring forth; to produce, or furnish; to give revenue as return from investment; to give up a hit or run, in baseball; an intransitive verb: to be fruitful; to cease resistance, or contention; to give way to pressure, or influence; to give way under physical force; to give place, or precedence; to be inferior; to be succeeded by another; to relinquish the floor of a legislative assembly; a noun: something yielded; the capacity of yielding. Famous usages: "To yelde Jesu Christ his proper rent," Chaucer; "What say ye, countrymen? will ye relent, / And yield to mercy whilst 'tis o er'd you," Shakespeare.
NEW YORK SIGNS:
SIAMESE CONNECTION
Get used to parking elsewhere and saying "conjoined."
NEW YORK SIGNS:
LIRR
A German friend of H's who lived in New York while pursuing an indistinct business degree would, every summer, find a very pretty boyfriend who had, or whose family had, a beach house in the Hamptons. Every Friday, she'd go out there, taking the Long Island Railroad, the LIRR, which she'd pronounce in its fullness, not as an acronym but as a guttural word: "I'll be back on Monday, I'm taking the Ler." "No to the car, no to the jitney, die Ler is faster—tschüss!"
NEW YORK SIGNS:
R TRAINS RUN EXPRESS
Until they don't.
NEW YORK SIGNS:
STOP
The German friend told H and H told me: What TV and movies call a "restraining order," real courts in real life call an "order of protection."

GROUNDHOG DAY PROTESTS 2017
Stand in the sun in a parking lot as if to make an antique photo. Daily the sun shines your shadow onto the asphalt. Where it makes no impression. Stand atop this asphalt for a year, you'd feel like you made no impression. Not even a negative. Washington is not sensitive.
"Whose streets? His streets. Whose streets? Sour streets."
"No justice! No peace!" The more I yell, the more the threat feels like a description.
"Lock me up! Lock me up!"
A wee pig awoke in our stomachs and jumped out of our mouths. Now let's chant his name.

THERE SHOULD BE WORDS
FOR THE FOLLOWING IN GERMAN
. . . resentment-of-another's-culture, resentment-of-the-authenticity-of-another's-culture, resentment-of-the-perceived-authenticity-of-another's-culture, resentment-of-one's-own- perception-of-another's-culture-as-authentic, the-darker-shadow-formed-by-the-overlapping-of-two-or-more-shadows-on-the- dance-floor . . .
GERMANY TO JERSEY FOR THE HOLIDAYS
Mom: a cathedral restored. Dad: a casino demolished.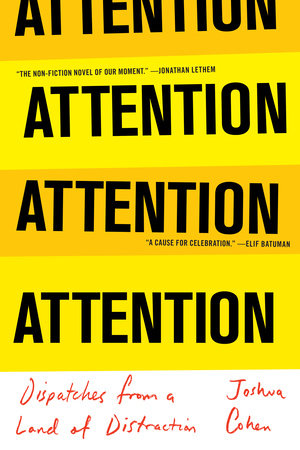 From Attention by Joshua Cohen, courtesy Random House. Copyright 2018 by Random House.
---