How to Read Surreally in a Surreal Time
Maria Reva on Books By Samanta Schweblin, Selja Ahava, and More
The ongoing Covid-19 pandemic has forced us to reexamine our reality. We speak of "surreality," a "new normal." We grieve the old world as we attempt to understand the new. A few of us even dismiss current events as nothing more than a hoax.
When the crisis began, I found myself gravitating toward surrealist books. (My own book, Good Citizens Need Not Fear, which came out as the virus began spreading in North America, is about the funhouse-mirror years leading up to and immediately following the fall of the Soviet Union.) At first I thought my reading (and rereading) choices were escapist. While Albert Camus's The Plague was hitting bestseller lists, I was getting lost in worlds that defy laws of physics and don't resemble our own. But then again, our own world no longer resembles itself, either: closed borders; perfume plants manufacturing hand sanitizer; murder hornets; Chernobyl almost burning down a second time. In bending and expanding our minds, surrealist books can help us accept our own rapidly changing reality. Here are five of my favorites.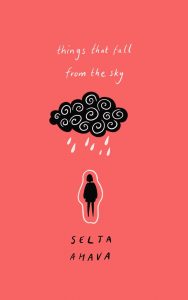 Selja Ahava, Things That Fall From The Sky
(ONE World Publications)
Winner of the EU Prize for Literature, Ahava's loosely structured novel follows characters in the aftermath of senseless tragedy—and extraordinary luck. A chunk of ice falls from the sky and kills a woman while she's planting strawberries. The woman's sister-in-law wins the lottery twice. The sister-in-law's fisherman pen pal gets struck by lightning four times. While each of these events is highly improbable, it is possible (even the chunk of ice, having amassed on the outside of an airplane as a result of a tiny leak), and experiencing them together in one book makes for a dizzying read. When the jackpot-winning woman asks the fisherman how he can carry on with everyday life, he answers that there was never such a thing in the first place. "You and I, we know it's all make-believe. But it's still not worth giving up on altogether. […] Every day I go to my boat, though I know it's not really important. Then again, what else have I got? If I weren't fishing, what else would there be?"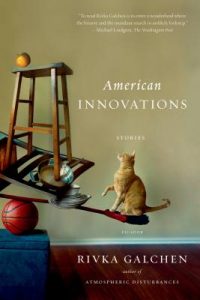 Rivka Galchen, American Innovations
(St. Martin's Press)
Rivka Galchen's story collection opens with a perfectly mundane scene: a woman picks up a misdirected phone call from a man convinced he is placing a takeout order. But by the end of the book, we have met a time traveler, a breast that sprouts on a woman's back, and a set of furniture that slinks down a fire escape, abandoning its owner. Such is the power of Galchen's work: the everyday knocks against the uncanny to create an unsettling kinetic energy.
The narrators of Galchen's stories share a ghostly quality, haunting life rather than engaging with it, often to the frustration of friends and husbands: "Even when you're here, you're gone. You're just in some la-la." When one such husband flees, the narrator's anguish focuses on the Parmesan grater he has run off with. Her down-on-his-luck friend diagnoses her pain as the "Kantian sublime […] There's your life, and then you get a glimpse of the vastness of the unknown all around that little itty-bitty island of the known." This is the crux of American Innovations: the exploration of this ungraspable ether, this aforementioned "la-la." But we never linger there too long. The cerebral moments are often interrupted by comedy; in the very next sentence the abandoned wife reflects: "Sublime. I thought of it as a flavor. Maybe related to key lime."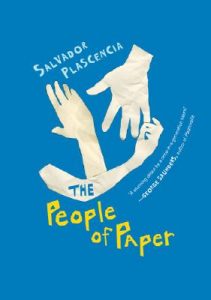 Salvador Plascencia, The People of Paper
(Mariner Books)
This metafictional novel defies summary, but for the sake of trying: a gang of characters wages a war against the omniscient narrator—who is also a planet; who is also the author himself—to keep him from intruding upon their thoughts. The most extraordinary part of the novel, however, isn't the characters' mind-shielding inventions or the mechanical turtle with its binary interjections of "101100110…", nor is it the cameos of Rita Hayworth and Nostradamus. It is the author's own heartbreak. Plascencia becomes so consumed by the writing of The People of Paper, his girlfriend Liz leaves him for another man. The novel derails spectacularly: Plascencia casts the adulterous Liz as the new villain and reveals intimate details of their relationship. Though the other characters have their fair share of heartaches, it is the author's own emotional spiral that is the most poignant facet of the book. Anyone who has had to produce art amidst personal turmoil—or get any other work done, for that matter—will relate to Plascencia's horror of watching his creation rebel against him. The novel's intrigue also lies in its ethical dilemma: does Plascencia have the right to expose, for the sake of Art, the private lives of others? "You have sold everything, save yourself," the fictionalized (or possibly the real) Liz writes in her own dedicated chapter, "[…] and for what? For twenty dollars and the vanity of your name on the book cover."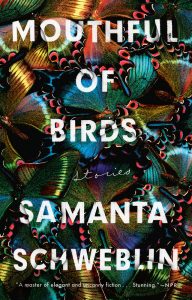 Samanta Schweblin, Mouthful of Birds
(Riverhead Books, trans. Megan McDowell) 
In Argentine surrealist Samanta Schweblin's story titled "Preserves," a young woman fantasizes delaying an ill-timed pregnancy. If we enjoy marvels such as refrigeration and online bill payments, she ponders why it is that "we can't just make a small change in the order of events." As we soon find out, such "small" changes are indeed possible; uncanny rules and potentialities govern each story in Mouthful of Birds. Yes, a pregnancy can be reversed (and preserved in a jar), so long as the patient obeys an alternative doctor's strict regimen. In the title story, a teenage girl's physical blossoming can only be sustained with a diet of live birds.
The idiosyncratic logic of these tales makes us reexamine our sense of normality. For instance, when the father of the bird-eating teenager confronts her about her habit, she points out that he eats birds, too. Most of us do. They may not be live birds, but after immersing ourselves in Schweblin's evocative writing, we can't help but imagine what it would be like to have "a mouth full of something all feathers and feet, to swallow something warm and moving."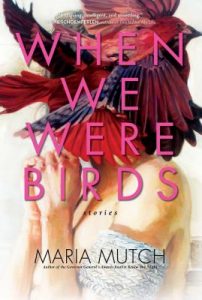 Maria Mutch, When We Were Birds
(Simon & Schuster)
As a child I used to believe that all humans inevitably metamorphosed into birds. It is a delight to be plunged back into this world of possibility in Mutch's debut collection. When We Were Birds feels as timeless as childhood memory, the stories reading as fables. But under the seemingly whimsical avian motif lurks a foreboding darkness. Mutch's language is potent with danger; in "Appetites," a retelling of Little Red Riding Hood, she describes the famous garment as "The cloak of cloaks, and not the one that hides the wearer but one that marks, like a fawn bleeding out on snow or a thought you don't want to think."
In Mutch's world, a thought is never simply a thought—it is always at risk of materializing.
In "The Logic of Loss," a kidnapper's narcoleptic dreams of birds spill into reality when the baby he has just stolen sprouts a feather from her neck. Later, observing his accomplice's breasts, he wonders if the woman has begun lactating.  "He had heard such a thing could happen, the mind could manifest amazing configurations."
__________________________________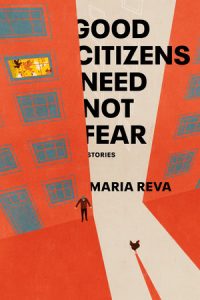 Good Citizens Need Not Fear by Maria Reva is available via Doubleday.
---