How to Organize Your
Home Office
Pre-Pandemic Advice for Post-Pandemic Life
Life breeds paperwork—bills, bank state­ments, receipts and subscriptions that accu­mulate with the years. The I.R.S. requires you to keep tax returns for several years, and some documents indefinitely. Homes have paper trails, too, with warranties, mortgage documents and insurance poli­cies. Every appliance has a user's manual. Do you need them all? It's hard to know, but we can help.
Whether your home office is a desk by the kitchen or a dedicated room where you handle both professional and household business, the space can quickly get cluttered and confusing. Paper piles up. When you need to find a bill, document or receipt, you have no idea where to look.
We won't hide the truth: Bringing order to bills, receipts, documents and taxes can be a tedious job. But there is also something deeply satisfying about a neatly labeled fil­ing system, so keep that in your mind as you dig through years of paperwork.
Take Control of the Paper
Bring order to your office space, and it will affect how you live in your home every day. When the mail arrives, you'll know where to put items, and when tax season comes around, you'll be prepared for the taxman.
Before you dive in, think about how you use the space now, and how you'd like to use it. If the home office is primarily a work space, consider ways to make it a calmer, more focused area, with fewer distractions. If it is the place where mail and bills move in and out of the home, consider adding tasteful bins or baskets to separate incom­ing tasks with those ready to leave, so any­one in the house knows where paperwork should go.
As you begin this project, divide your work into two general areas of focus: your desk and your files. If you have more than one area where you attend to business, like an office and a kitchen desk, tackle both rooms during this project so that you can create proper homes for your documents. If your home office needs a makeover, see page 92 for how to decorate it.
Your Desk
Clear your desk of its contents, putting like items together. This is a great time to clean out the drawers, picking up stray paper clips, thumbtacks and business cards. Wipe down the surfaces and vacuum up any dust from the drawers. Separate the contents of your desk into piles: office supplies like pens, scissors and notepaper; equipment like staplers and hole punches; paperwork; and miscellaneous items.
What to toss:
Toss broken pens, orphaned paper clips, and the last, lonely Post-it on a pad. Those electronic cables that have been sitting in your drawer unused for two years with no obvious use can go, too. Put stray coins in a coin jar, sort and roll them, and bring them to the bank.
Recycle or trade in electronic equipment like hard drives, computers and defunct tab­lets and smart devices. Out-of-date startup discs for computer programs you no longer use can go, too. (Remember, many installa­tion software programs can now be down­loaded from the internet.)
If you have pushpins but don't actu­ally use them, give them to someone who will. The same goes for other unused office supplies.
*
AN ORGANIZED WORK SPACE
Keep your desktop as clear as possible, with only a phone, space for your laptop or desk­top, a pencil holder, a box of Kleenex and a coaster on the top. Everything else can go back in the drawers. An open surface will be easier to keep clean and help you feel more in control of the space.
Dedicate deeper drawers for current files and paperwork, like upcoming bills and current work projects. Divide the stuff by categories and then place items in bins or drawer organizers accordingly. Here are some categories to consider:
Printing materials: printing paper, photo paper and spare ink
Tools: staplers, staple remover, hole punch, calculator
Cables: spare charger cords and USB cords
Writing tools: pens, pencils, erasers
Paper: notebooks, sticky notes
Mail material: stamps, envelopes, return labels
Your Files and Paperwork
Whether you have a large filing cabinet or a collection of accordion file folders, now is the time to go through those documents, separating what can go from what should stay.
If your filing cabinet is a large one, do this task one drawer at a time so that the room does not get overrun with papers. If you store papers in filing boxes or accordion folders, go through those one at a time.
"Paperwork really becomes clutter, and it becomes this area in your home that tends to hold a lot of guilt. It's an energy drain, even just sitting there, because your subconscious mind knows that it's there."
–Anjie Cho, architect and feng shui consultant
*
REDUCING THE PAPER TRAIL
Some documents, like tax returns, stay with you for years. Many papers, however, can be shredded. If you are uncertain about which tax documents to keep, speak with your tax preparer or financial advisor for guidance. Information for other types of documents can readily be found online.
Toss user manuals for appliances that you no longer have, along with any man­uals that you could find online (which is likely most of them).
Most takeout menus are now avail­able online. So toss the paper copies. Scan receipts and utility bills and shred the orig­inals, if you can. If you do not have a scan­ner, download a scanning app.
Shred bank statements that are avail­able online or ones you can scan (and do not need to hold on to for tax purposes). Transfer business card information into your contacts and shred the cards.
*
HOW TO ARCHIVE
Move paperwork that needs to be archived, like old tax returns, into storage contain­ers, labeling the boxes so you know what is inside each one. Store important docu­ments like birth and marriage certificates, mortgage documents and Social Security cards in a fireproof safe or, better yet, in a safe-deposit box outside your home. Consider digitizing your bills, tax returns and receipts. Stay on top of the digitizing by making it a weekly or monthly task.
For paperwork that you file away, scrap the traditional filing cabinet, which can get densely packed and become a place you want to avoid. Instead, dedicate accordion files or file boxes for specific categories. Label and store the files in a cabinet or shelf and pull each one out as needed. Here are some categories to consider:
Taxes: Receipts, bills and bank statements you'll need when you file your taxes. Throughout the year, toss the paperwork in the appropriate section. When tax season arrives, half the work is already done.
Home: Information about your insurance, repairs, mortgage statements, permits, con­tracts and receipts.
Auto: Maintenance bills, insurance informa­tion and auto loan information.
Medical records: Medical bills, prescription information and any other medical details.
Pet records: Any information about your pet, including vaccination records and health records.
TIP: Sift through these file boxes once a year—tax season is a great time to tackle paperwork—to shred the paper you no longer need.
*
KEEP SOME PAPERWORK HANDY
Keep only the objects you need to do your work and run the business of your house­hold. Keep paperwork that you need to access regularly or occasionally. Limit this to papers that you actually reference from time to time, such as upcoming bills, receipts for items you might return soon, tax information for your upcoming tax year and recently paid bills. Get file folders (col­ored ones are a cheerful way to categorize your stuff), a file sorter and a label maker. Accordion files or file boxes may also come in handy. Dedicate a file folder for go-to documents that you need to access from time to time.
 *
CREATE AN INCOMING/ OUTGOING STATION
With a file sorter, create an organized shelf to house the stuff that you need to do within the week. Here are some examples:
Mail: Make folders for outgoing mail labeled "to do" (like bills to pay or letters to sign) and "to file." Once a week, sort through the folders.
School: Give each child a labeled folder where you place report cards, notes from the teachers and information about upcoming field trips and projects.
Miscellaneous stuff: Designate a file for coupons and restaurant menus you access
_________________________________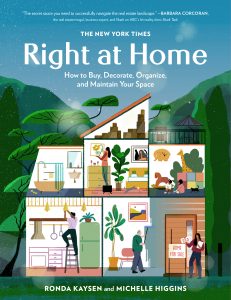 From The New York Times: Right at Home: How to Buy, Decorate, Organize and Maintain Your Space by Ronda Kaysen and Michelle Higgins. Used with permission of the publisher, Black Dog & Leventhal. Copyright 2020 by Ronda Kaysen and Michelle Higgins.
---