How Thomas Jefferson's Writing Established the Stories of Colonial America
Fred Kaplan Examines the Historical Record
Colonial Americans, especially in Virginia and Massachusetts, were from the start sophisticated tellers of stories about themselves, their origins, their settlements, and their relationship to those who lived there before them, to the people, Red and Black, whom they subjugated or owned. Their stories were also about their connection to the mother country, Great Britain, from which most had come, stressing whom they owed their allegiance to and from whom they got the right to possess the land they had settled.
Usually they knew exactly what they were doing and why. Fact and fiction, reality and desire, action and thought, aspiration and imagination, history, natural science, and theology, the access through language to narrative patterns and claims were part of the American experience from the start. The earliest settlers of Virginia and Massachusetts began the making of American identity. Jefferson was one of its most gifted and influential storytellers.
In 1757, at the age of fourteen, Jefferson inherited a large share of the property his father had amassed, "the lands," he later wrote, "on which I was born and live." Peter Jefferson was the largest property owner in Albemarle County in west-central Virginia. A surveyor, cartographer, planter, and slave-owner, he had married upward. A native Virginian, he came from a moderately well-to-do but not wealthy family.
His wife, Jane Randolph, made him and their ten children, two of whom were sons, kin to one of the most influential families in the colony. Peter and Jane Randolph Jefferson's children belonged to the privileged elite. Peter had an eye for wealth, power, and adventures, for settlement and expansion, and even for books, which his eldest son inherited. In his will, he made customary provision for his wife, his daughters, and his sons. It was an unusually equitable will for its time.
Beyond specific bequests to each child, at his death at the age of forty-nine, Peter Jefferson bequeathed "unto [his eldest] son Thomas all the residue of my Estate whether real or Personal of what kind soever," the plantations and slaves to be held in trust for him until he came of age. The eldest son benefited from the custom, though not the letter of primogeniture, one of numbers of laws to keep estates intact. It was a feature of entail, requiring future generations to keep or pass on their property according to restrictions created by previous owners. It was meant to keep estates intact, to keep wealth and power concentrated.
None of Thomas's sisters inherited land. They inherited domestic slaves, a small amount of money, and their educations at the expense of the estate. Peter Jefferson's wife got life tenancy of the family home, Shadwell, about three miles from the small village of Charlottesville. The will provided that each son should inherit either one of two large properties, one on the Fluvanna River, about 2,300 acres, the other on the Rivanna River. The Rivanna land, including Shadwell, was on the southern part of the lower ridge of the South Mountains, which ran north to south for about eighty miles, about thirty miles east of the Blue Ridge. Its highest point was almost 1,500 feet above sea level. As the first son to come of age, Thomas chose the land on the Rivanna, about five thousand acres.
Among his gifts as a writer, Jefferson had at times, for eighteenth-century prose, a colloquial and conversational voice.
Peter Jefferson had risen through energy, personality, skill, marriage, kinship connections, land speculation, and a favorable legal and political structure to a line of "demarcation" which most Virginians were below. It was a line that his eldest son respected in some ways and challenged in others. "To state the differences between the classes of society, and the lines of demarcation which separated them would be difficult," Jefferson wrote to William Wirt in 1815. "The law . . . admitted none, except as to the twelve counsellors," rich and supposedly wise men who, with the royal governor, governed the colony.
"In a country insulated from the European world" and "its sister colonies with whom there was scarcely any intercourse . . . certain families had risen to splendor by wealth and the preservation of it from generation to generation under the law of entails; some had produced a series of men of talents; families in general had remained stationary on the grounds of their forefathers, for there was no emigration to the Westward" beyond the Blue Ridge Mountains.
"In such a state of things, scarcely admitting any change of station, society would settle itself down into several strata, separated by no marked lines, but shading off imperceptibly, from top to bottom, nothing disturbing the order of their repose." There were no titles, as in the mother country, but "there were . . . Aristocrats, half breeds, pretenders." A large part of the population was landless or had only enough to sustain themselves and their families. There also existed "a solid independent yeomanry, looking askance at those above" but essentially docile. Life, for them, was largely hardscrabble. "And last, and lowest" were the "Overseers, the most abject, degraded and unprincipled race."
The overseers managed the daily life of the slave laborers who did the manual work on the thousand and more–acre tobacco farms on which the governing class resided. The on-site work of the Jeffersons and Randolphs was to oversee the overseers. They were a privileged class, possessors of and possessed by their property in all its material forms.
Rain dripped through the roof of a plantation called Fairfield into the room in which nineteen-year-old Thomas Jefferson was sleeping. It was Christmas Day 1762. He was two years away from coming into his inheritance. He awoke to find his pocket watch, which he had placed by his bedside, floating in water. His "poor watch," he jokingly complained to his closest friend, John Page, "had lost her speech." It had also lost a representation, probably a silhouette, of a young lady he was passionate about. His wallet, stored for the night a foot from his head, had also been attacked. It had been eaten through by rats.
Owned by the husband of Jefferson's newly married sister Mary, Fairfield was a convenient stopover on the way from Williamsburg to Shadwell, the house in which Jefferson had been born on April 13, 1743. The 108-mile distance between William and Mary College and home usually took three days by horseback, longer in bad weather. The main houses of plantations like Fairfield and Shadwell were not grand. Large families were crowded into small spaces. Rats and rain frequently shared occupancy. In warm weather, there would be many more insects in the house than people. Outside were hundreds and often thousands of acres of tobacco farmland.
Christmas Day was not a religious day in Church of England Virginia. It was a day of social celebration. The first thing on the young man's mind that morning was his need to communicate with his good friend. One of the first things in his hand, other than the "poor watch" that he rescued, was his pen. He had a story to tell and a state of mind to write about. The rain and rats didn't spoil his humorous, satirical, and self-revealing mood. Very little he wrote after his school days reveals a notable sense of humor or an inclination toward self-satire. There's no record of his telling jokes or responding to other people's.
But on Christmas Day 1762, he had his moment as a humorist, a self-mocking memoirist, the kind of writer he never was to become. Still, the story creator, the exaggerator, the tall-tale teller, the writer who could use language effectively to define himself to himself and others was there from the start. "This very day, to others the day of greatest mirth and jollity," he wrote to Page, "sees me overwhelmed with more and greater misfortunes than have befallen a descendant of Adam for these thousand years past I am sure."
John Page was the heir to Rosewell, a spectacular house and plantation overlooking the York River. He was almost exactly Jefferson's age. His classmate at William and Mary College, Page was to be a lifelong friend. He was to have a successful minor political career. Page's family had been in Virginia since the middle of the previous century, his great-great-grandfather having migrated from the London area. When the Jefferson family had arrived and from where is unknown. The descendants of the grandfather of Peter Jefferson assumed that the family came from Wales at about the turn of the seventeenth into the eighteenth century.
Like most of the first settlement families, the Pages had established themselves on a river with access to the ocean; they married well, expanded their property, and became one of the colony's leading families. Peter Jefferson went to what was then considered the frontier, later to be named Albemarle County, its "3d or 4th settler," just short of the Blue Ridge. The Pages already had their fortune. Peter Jefferson went to Albemarle and beyond to make his. In 1762 the Pages were at the top of the social and political "lines of demarcation" that the elderly Thomas Jefferson described to William Wirt. The Jeffersons had risen to it through Peter Jefferson's marriage to Jane Randolph.
Jefferson's lamentation about the loss of the image in his watch was spontaneous self-expression. Job's "misfortunes," he humorously acknowledged, "were somewhat greater than mine, for although we may be pretty nearly on a level in other respects, yet I thank my God I have the advantage of brother Job in this, that Satan has not as yet put forth his hand to load me with bodily afflictions." At least he was young and healthy. He was also indulging his pen in playful self-mockery. "You must know, dear Page, that I am now in a house surrounded with enemies, who take counsel together against my soul and when I lay me down to rest they say among themselves Come let us destroy him."
These enemies were a host of aggressive rats in a parodic and comic misfortune, with a semiserious complication. The rats had, he wrote, animating them into playful agency, conspired against him as agents of the devil. "I am sure if there is such a thing as a devil in this world, he must have been here last night and have had some hand in contriving what happened to me. Do you think the cursed rats (at his instigation I suppose) did not eat up my pocketbook which was in my pocket within a foot of my head? And not contented . . . they carried away my . . . silk garters and half a dozen new minuets," sheet music he needed for his violin practice and pleasure. "But of this I should not have accused the devil (because you know rats will be rats, and hunger without the addition of his instigations might have urged them to do this) if something worse and from a different quarter had not happened."
To blame the devil was not a religious construction. Jefferson was never to believe in supernatural creatures except for a first cause. That was his view from early on. "When I went to bed I laid my watch in the usual place, and going to take her up after I arose this morning I found her, in the same place it's true but! . . . all afloat in water . . . and as silent and still as the rats that had eat my pocket-book."
As a storyteller he could have it both ways: it could not have been accidental, though the denial was an affirmation that it was accidental. He had been unlucky. He also had been careless. It was good fun to make the Devil take the blame. "There were a thousand other spots where it might have chanced to leak as well as at this one which was perpendicularly over my watch. But I'll tell you: It's my opinion that the Devil came and bored the hole over it on purpose. Well as I was saying, my poor watch had lost her speech: I should not have cared much for this, but something worse attended it: the subtle particles of the water with which the case was filled had by their penetration so overcome the cohesion of the particles of the paper of which my dear picture and watch paper were composed that in attempting to take them out to dry them Good God! . . . my cursed fingers gave them such a rent as I fear I never shall get over. This, cried I, was the last stroke Satan had in reserve for me: he knew I cared not for anything else he could do to me."
It was, he mock angrily concluded, his fingers that were "cursed." But the clumsy fingers whose touch had completed the shredding of the image firmly held the pen that created this expressively imaginative letter. Among his gifts as a writer, he had at times, for eighteenth-century prose, a colloquial and conversational voice.
In Jefferson's Virginia, courtship between members of the same class was highly ritualized. He was marginally too young to marry; the lady in the silhouette was of marriageable age. The woman whom 19-year-old Jefferson had fallen in love with was 16-year-old Rebecca Burwell. He had attempted to engage with her in Williamsburg, with no significant success. Shy and almost speechless, his first attachment of the heart was strong but recessive. She was the recipient of and the projection of the dialectic between his desires and his shyness. With Rebecca, his body talked awkwardly and mostly in flight. Expressive and bold on paper, in her presence he tended to be irresolute, tongue-tied. Apparently, sex and courtship both enticed and confused him.
Whatever his physical intensity, he gave it no expression for the record. Rebecca seems not to have taken him seriously enough to advance their relationship beyond Williamsburg dances and social gatherings. Much of the relationship was in Jefferson's head. It was also in his letters to friends. The image that had been enclosed in his watch had been, he wrote to Page, "defaced." But "there is so lively an image of her imprinted in my mind that I shall think of her too often I fear for my peace of mind, and too often I am sure to get through Old Cooke [Edward Coke's Institutes of the Lawes of England] this winter: for God knows I have not seen him since I packed him up in my trunk in Williamsburg."
__________________________________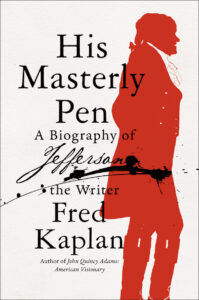 Excerpted from His Masterly Pen: A Biography of Jefferson the Writer by Fred Kaplan, available via Harper Books.
---