How the Poets Wrote
of Billie Holiday
Cedar Sigo on the Voice of a Lifetime, and the Writing it Inspired
I fell in love with Billie Holiday's music because it was something I was allowed to discover for myself. I remember that my mother and stepfather had gone to Nashville in 1993 to record an album. I was 15 years old. At some point during the two weeks they were away I bought a cassette tape of Holiday's famous 1930s Columbia recordings backed by Teddy Wilson and His Orchestra, with Lester Young often alongside Holiday to mirror a few phrases and to elongate and drift behind others. What jazz musicians of that period liked to call "filling up the windows." By the time my parents had returned from Nashville I had memorized every inflection on that Billie Holiday cassette. I was hypnotized by her laid-back phrasing as well as the drastic change of tone in Holiday's voice with each passing decade, plus the fact that in every setting the band seemed to be following the singer, not the other way around.
But there was, of course, an enormous amount of struggle to Holiday's life story: her on-and-off dependence upon drugs and alcohol, the rebellion of performing and recording the anti-lynching song "Strange Fruit" in 1939. Her 1947 imprisonment at Alderson Federal Prison Camp following years of extensive surveillance and harassment by Harry J. Anslinger, then director of the Federal Bureau of Narcotics. Upon her release from prison in 1948 she was essentially robbed of her livelihood through the blatant withholding of her cabaret card. An artist needed this card to sing in the clubs of New York City. It was tantamount to a form of exile, as she was forced to leave home in order to make a living. I can't help but think of Keats, of the old, die-hard pairing forced upon us as poets: Truth and Beauty. If in fact we are interested in truth as a backdrop we should be teaching the life of Billie Holiday in order to get at the true nature of subjugation in this country. So often the lens we are offered is that of our forefathers. Why must we constantly recast history within the myth of the American dream?
The story of Billie Holiday has been told many times and in many forms. I think I have read almost all of them. A few that stand out include two books aimed at young adults, one by poet and publisher Hettie Jones, titled Big Star Fallin' Mama: Five Women in Black Music, as well as Don't Explain, a biography written in the form of a long poem by Alexis De Veaux. Lady Sings the Blues is the ghostwritten memoir Holiday completed with journalist William Dufty in 1956. My personal favorite of the Holiday biographies was written by Donald Clarke, titled Wishing on the Moon. It was published in the fall of 1994, less than a year after my obsession with Holiday's music began. I had collected huge amounts of Billie Holiday records by this point, from every period, and I once went so far as to write Donald Clarke in order to date one particular live set that had offered no recording information. He actually wrote back and identified the set as stemming from an engagement at Miss Olivia Davis's Patio Lounge in Washington, DC, 1956.
*
In an interview conducted by Mike Wallace that same year, Holiday was asked, "Why is it that so many jazz musicians die young?"
We try to live one hundred days in one day and we try and please so many people. Like myself I want to bend this note and bend that note, sing this way and sing that way and get all the feeling and eat all the good foods and travel all around the world in one day and you can't do it.
Some of my favorite occasional writing about Billie Holiday has been done by poets. There is, of course, "The Day Lady Died" by Frank O'Hara. In the poem, O'Hara leads us through the details of an afternoon spent running around New York City. The poem begins to slow down as he asks the tobacconist at the Ziegfeld Theatre for a copy of the New York Post "with her face on it." As the reality of Holiday's death sets in, the poet begins to think back over his not so distant past:
and I am sweating a lot by now and thinking of leaning on the john door in the 5 SPOT
while she whispered a song along the keyboard
to Mal Waldron and everyone and I stopped breathing
In their novel Inferno, Eileen Myles describes Holiday's late, tattered, fifties voice as "a scratch where a croon used to be." John Wieners wrote a poem titled "Broken Hearted Memories" about meeting Holiday in a bar after her show with his lover in tow. It ends with a description similar to Eileen's, "Billie's grey-hair was Parisian style and her / singing Big Apple. She's still rotting nectarines." Sometimes a poem may not even be dedicated "to" Billie Holiday, and I can still hear her intimate carving into space as an influence. I can hear both her phrasing and mythology at play in this piece from a poem by Jayne Cortez titled "Rose Solitude (for Duke Ellington)":
Ask me
Essence of Rose Solitude
chickadee from arkansas that's me
i sleep on cotton bones
cotton tails
and mellow myself in empty ballrooms
i'm no fly by night
look at my resume
i walk through the eyes of staring lizards
i throw my neck back to floorshow on bumping goat skins
in front of my stage fright
i cover the hands of Duke who like Satchmo
like Nat (King) Cole will never die
because love they say
never dies
Amiri Baraka wrote a beautiful paragraph on Holiday's music in 1962, three years after her death. This piece is titled "The Dark Lady of the Sonnets" and was eventually included in Baraka's 1967 collection, Black Music:
Nothing was more perfect than what she was. Nor more willing to fail. (If we call failure something light can realize. Once you have seen it, or felt whatever thing she conjured growing in your flesh.)
At the point where what she did left singing, you were on your own, at the point where what she was was in her voice, you listen and make your own promises.
More than I have felt to say, she says always. More than she has ever felt is what we mean by fantasy. Emotion, is wherever you are. She stayed in the street.
*
A voice that grew from a singer's instrument to a woman's. And from that (those last records critics say are weak) to a black landscape of need, and perhaps, suffocated desire.
Sometimes you are afraid to listen to this lady.
I remember that when listening to Billie Holiday a few years later, in college, my roommates would sometimes comment on her later Verve recordings as "depressing." Somehow, I had always stayed ahead of that interpretation. I was listening for the slight delay, the authority thrown down in a single gesture, how every silence locked into place, the encroaching rasp enhanced the sensation of her voice being chiseled out from the darkness over and over. And for all these years the realms within her voice have continued to unfold before me. Many of the 1950s records were rearranged versions of songs she had recorded with Teddy Wilson and His Orchestra in the '30s, meaning, by this point, she had assembled her own songbook out from the oeuvres of Ellington, Gershwin, Arlen, Strayhorn, etc. This sense of rendition reminds me that as poets we do not simply read the poems of others, we cover them; that is to say, inhabit and reinterpret the lyric. The songs we think of as "belonging" to Holiday are those that she imparts with an entirely new melody.
Sometimes you are afraid to listen to this lady.
My sense of the musical phrase in poetry is also haunted by writing slogans, which I have memorized over the years, those slogans I keep in mind for myself as well as future students. One of the most elegiac, lyrical, and redeeming is Ted Berrigan's line, "Be born again daily, die nightly for a change of style." It is probably best that we hear this line within the context of the entire poem:
Whitman in Black
For my sins I live in the city of New York
Whitman's city lived in in Melville's senses, urban inferno
Where love can stay for only a minute
Then has to go, to get some work done
Here the detective and the small-time criminal are one
& tho the cases get solved the machine continues to run
Big Town will wear you down
But it's only here you can turn around 360 degrees
And everything is clear from here at the center
To every point along the circle of horizon
Here you can see for miles & miles & miles
Be born again daily, die nightly for a change of style
Hear clearly here; see with affection; bleakly cultivate compassion
Whitman's walk unchanged after its fashion
"Die nightly for a change of style." I always forget about the "Be born again daily" part. That slight addition makes the line even more indestructible. At the time that he wrote this poem (summer 1977) Ted Berrigan was an acknowledged master of the serial collage and of condensing individual lines. In "Whitman in Black," he retools these sensations slightly. We are handed a hard-boiled, Raymond Chandler–like narrative. In the notes section at the back of Berrigan's Collected Poems the editors tell us that this sonnet was inspired by the crime novelist Ross MacDonald, using his handbook On Crime Writing as source material. In the poem, Berrigan exploits the fact of his own mythic status as a New York City poet, and this mythology is allowed to bleed through tonally and to pool up in places. The proverbial "old hat in secret closet." The poem's effects are exquisitely timed out. In Berrigan's hands, "the last poem" can begin as a grid for any number of nights, whenever the light beckons through a new tear in the screen. As if we could ever change our actual walk . . . these constant tweaks to the writing process are in some ways useless. There are elements of our voices that will remain unchanged. All language is eventually abandoned or recombined, and this state of mind is romantic, "the machine continues to run." Maybe all this time I have just been seeking companions in these various triggers and assignments.
__________________________________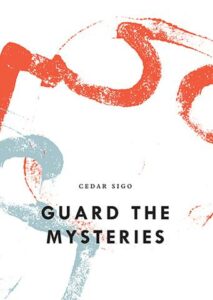 Excerpted from Guard the Mysteries by Cedar Sigo. Reprinted with permission of the publisher, Wave Books. Copyright © 2021 by Cedar Sigo. 
---