How the Internet Turned "Florida Man" Into a Figure of Indulgence, Decadence, and Bad Decision Making
Tyler Gillespie on the Rise and Fall of a Digital Antihero
I have a theory that any true Floridian is less than five degrees of separation from a Florida Man story, a headline like "Florida Man in Pirate Costume Arrested for Firing Black-Powder Guns." My theory rests on a Floridian knowing the neighbor's son, a "Florida Man Learns Hard Way That He Stole Laxatives, Not Opioids." Since Florida Man can also be Florida Woman, a Floridian might know a friend's cousin who went viral as "Florida Woman Charged with Stealing Rental Car Says 'Demons Took It.'" In my case, a family member called the cops when a drug deal went wrong. Her dealer tried to rob her, and she wanted him to get arrested. I found the pre-viral Florida Man story in one local newspaper. The story happened in the early 2000s, so it's all but buried on the internet.
In the mid-2000s, Fark.com—a website with the tagline "We Don't Make the News. We Mock It"—began to track weird Florida news and contributed to the genesis of Florida as an internet meme. A major increase in searches for the term "Florida Man" later occurred in June 2012, around the time of the viral Miami Cannibal story. A guy had reportedly smoked bath salts and chewed off the face of a homeless man who had passed out near a road. The Cannibal story was shocking, fear-inducing, twisted, and sad. The victim went through a slow and difficult recovery. The story was morbidly intriguing to some, and it became a primer for Florida Man—who has been described as a "Yankee nightmare in human form" and "everything frightening about white trash life in one meme."
Florida Man entered the cultural zeitgeist soon after the cannibal story. An associate editor at GQ noticed the Florida attention and created the @_FloridaMan Twitter account to make his colleagues laugh. The account received nearly 64,000 followers its first month. The account used a mugshot of a man with black marker all over his face. This man was not an actual Florida Man, but a man arrested in Indiana for trying to "attack his roommate with a sword." The account's headlines contained an element of wildness, hopelessness, and physicality. Florida Man may have been out of control, but he had a certain ingenuity, often fueled by drugs and/or alcohol.
The internet loved these headlines and their accompanying mugshots. Florida Man may as well have been the mayor of Reddit with over a half million members in the subreddit dedicated to "news about the terrible superhero 'Florida Man' and his latest misadventures." He lodged himself into pop culture, depicted on the TV show Atlanta. He had his own beer, tour guide, and music festival once headlined by the indie rock band Weezer. He's apparently quite lucrative.
Journalist and author Craig Pittman interviewed me for a story he wrote about an attempt to trademark "Florida Man." I had written a book of Florida Man poems, and Craig wanted my thoughts on the guy who owned the aggregated site "floridaman.com." The site sold T-shirts and other merchandise. The owner had begun the process to trademark the term to thwart Oxygen TV. The network had announced a true crime show inspired by the meme. They described the show as when a crime is so outlandish that it "sounds like something from a Hollywood screenplay—there's a good chance it was actually committed by a 'Florida Man.'" The guy who owned the website "floridaman.com" wanted to trademark the term before the show aired. His attempt proved unsuccessful, but, hopefully, he won't try to sue me anymore.
The internet turned Florida Man into a Southern Gothic figure of indulgence, decadence, and bad decision making.
Florida Man lived for about six years before his peak internet popularity. For the "Florida Man Challenge," sites like Twitter and Reddit encouraged people to Google their birthdates along with "Florida Man" to help people find their "inner Florida Man." The internet turned Florida Man into a Southern Gothic figure of indulgence, decadence, and bad decision making. That's a nice way of saying the meme allowed people to make fun of people who were often poor and dealing with addiction or mental health issues.
*
Floridians have never exactly maintained a pristine reputation. We've behaved badly since statehood. Historians called antebellum Florida a "rogue's paradise." Those Floridians liked to carry weapons, and "alcohol may have led to frontier violence." A penchant for alcohol and violence persisted and may have contributed to 1895's reported "Cutting Affray" when Chas stepped in front of Sam in line at the butcher shop. Sam's brother ran into the butcher shop to get a knife. He tried to stab Chas. The scrum lasted until "blood was seen" and the perpetrators fled to the woods to face later arrest.
I could almost understand fighting over a long wait for a good piece of meat, but I couldn't get down with a turn-of-the-century man who "Killed His Sweetheart." This story discussed a husband who asked his wife to "stroll by sunlight through the meadow and green pastures." On this stroll, the wife apparently told him she could no longer be with him "for all he is worth." Three shots were fired. The paper made it seem like the husband killed his wife, but the jury "held an inquest over the body," and "the verdict was that the shooting was accidental." They let him go.
Florida papers weren't always filled with such violence. There were sections for "fish news," poetry, potatoes, and the Alachua Booster's "Edna May's recipe for being a successful wife to the ultra-rich." For those interested in bagging a sugar daddy, May's 1912 tips included spending time out in the country, focusing on vivacity, and living a simple life. I can't promise May's advice will translate to online dating success. During her time, Florida contained more alligators than people. Only about a half million folks lived in the state, a mostly untamed frontier. Businessmen and chamber of commerce members changed Florida's image. Developers dredged mangroves and salt marshes to make beaches. Trains brought people from up North. An 1896 advertisement for Tampa called the area a "health & pleasure seekers paradise," and a late-1800s article described its days as both invigorating and health restoring. The state marketed itself as a destination. The first sixty years of the 20th century saw Florida's population balloon by more than 900 percent. Transplants brought with them their own ideas of paradise, and they had plenty of space to do generally weird things.
Generally weird Florida emerged as a news subgenre, in part, because beach bum life coexisted alongside diverse flora and profitable fauna like the reported "Wave of Palm Tree Thefts" in the mid-1990s. Former Tampa Bay Times editor Janet Keeler told me that generally weird headlines evolved into "Florida Man" because of journalism basics. The inverted pyramid put the most important information at the beginning of a news story, and, for decades, journalists refrained from using everyday people's names in leads, the first sentence or two of stories. This meant stories often started with "Florida man arrested for" or "Florida woman arrested for," and, Keeler said, "without this construction social media wouldn't have such a tidy way to collect the stories." These news headlines helped Florida man become Florida Man, but the state's bad behavior may have stayed regionally confined, like, say, Idaho's or Nebraska's news, if not for our public record laws.
*
Craig Pittman mentioned these laws during a "Who Is 'Florida Man'" segment on The Daily Show with Trevor Noah. "Florida was the first state in the nation to pass this landmark law called the Sunshine Act," he said. "Basically, any government document is available for reporters to go in and see." Florida Man may live on the internet, but his crimes occurred in real life. I had wanted to understand these sunshine laws better, so I emailed Professor Catherine Cameron at the Stetson University College of Law. "That Florida Man," she responded, "certainly does get himself into a lot of trouble!"
"It is quite the stigma when you live elsewhere that you're from Florida," she said. "They think everyone down here is crazy."
On the day of our interview, I kept my engine running in the parking lot of Florida's oldest law school. I listened to a DJ break down the day's news. A Florida man had been arrested for allegedly carrying a Molotov cocktail for his own protection. "Of course, that story happened in Florida," the DJ said. "We do the news best down here." He laughed. Thunder rumbled. Storms had raged so badly the previous day that administrators threatened to cancel classes. As quickly as the Florida rain came, so it went. I didn't need an umbrella as I walked to Professor Cameron's office.
We had both spent our formative years in Pinellas County. The area inspired 2012's Spring Breakers, and scenes were filmed in the same city as Stetson Law. In the sex-and-drug-fueled film, James Franco sported iconic Florida tattoos such as a gun, the state's outline, and my hometown's 727 area code. He embodied everything I once considered cool, and if I could've gotten similar tattoos as a young teen, I probably would have. Professor Cameron looked less like the tatted Franco and more like the clean-cut Blossom, a friendly TV character from the nineties who grew up to be Dr. Amy Farrah Fowler on The Big Bang Theory.
Lawyers make certain Floridians uncomfortable, but our shared Florida-ness and her relaxed demeanor put me at ease. She had studied journalism, communication, and law at the University of Florida, then fled to the North to work at the Reporters Committee for Freedom of the Press in Washington, D.C. "It is quite the stigma when you live elsewhere that you're from Florida," she said. "They think everyone down here is crazy." Professor Cameron eventually moved back to the Sunshine State for a job and to live closer to family.
She told me internet writers took to our WTF(lorida) moments because of our reputation, and because our laws made it easy to access reports. A push for public record law reform came after the Watergate scandal in the 1970s, when President Richard Nixon got caught in a string ball of lies journalists helped unravel. People wanted more public accountability. Citizens funded the government and wanted access to governmental actions and information. We should know everything from our leaders' on-the-record discussions of reality TV to their plans for using taxpayer funds. Most states opened the records but balanced them against privacy rights. Florida basically said, it's whatever. Anything's fair game.
Florida passed laws nicknamed sunshine because, as anyone raised in the church like me knew, what was done in the dark eventually came to the light. The nickname also led to questionable legal writing puns like the laws "can cause sunburn." Puns aside, these laws helped Florida become the state to which many other states looked for their own open government statutes. Florida developed a broad presumption of openness in public record laws. Journalists and bloggers and anyone else could access public documents. These documents included police reports that could be turned into clickbait headlines.
The full Florida Man story may go untold because of the fast-paced news cycle paired with specific exemptions. These public records exemptions created a lag between the initial information available and the facts needed to tell a full story. One of these exemptions allowed records to be sealed for active, ongoing investigations. This allowed officers to do their jobs. It also meant journalists got blurbs from police blotters without getting much else. "If you could wait until after the investigation," said Professor Cameron, "then you'd have the complete story, and I wonder if that's the discrepancy between what ends up in the headline and what really happened to these folks." Writers couldn't get immediate access to the full information, but they could get a headline and a mugshot.
"It's a cultural phenomenon that we don't recognize that these are real people," she said.
These mugshots weren't only used by journalists. Websites began to publish booking photos and charged a fee for people who wanted them removed. One of these sites allegedly took more than $2.4 million in fees from nearly six thousand people nationwide. A group filed a class-action lawsuit against such sites because of their exploitation. Journalists might not use these photos for the same kind of exploitation, but a story's mugshot identifies a person as no good. The person's guilt didn't necessarily matter. Those who survived high school can attest: the truth doesn't always save a tarnished reputation.
It may seem like I'm against such laws, but Florida's public records are a source of state pride. We should be able to keep tabs on public officials. We should also be able to access these records to screen our first dates. These laws are good things, but they are also a reason why Florida Man became an easy joke.
The records in states like California and Arizona are nearly as open as Florida's own. And I'm calling it now. Arizona will be the next Florida. People move there for retirement, odd desert reptiles abound, and they keep their public records open. Arizona Man may one day reign as king over the weird news game, but, for now, it's still Florida Man. He's the usual and easiest suspect.
Before I left Professor Cameron's office, she mentioned a cultural shift. She believed we've been allowed to distance ourselves from people in headlines who sometimes got fired for their public mugshots. Some reportedly killed themselves after struggling with the infamy. "It's a cultural phenomenon that we don't recognize that these are real people," she said. "The infotainment part of journalism made us all forget that this is not an actor on TV. This is an actual human being and a life."
 _____________________________________________________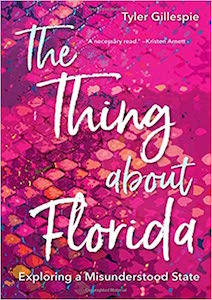 Excerpted from The Thing about Florida: Exploring a Misunderstood State by Tyler Gillespie. Reprinted with permission of the University Press of Florida.
---