How The Fresh Prince of Bel-Air Tackled the Topic of Black Fatherhood
Chris Palmer Considers the Show's Lasting Impact and Influence
"That's My Dad"
The Fresh Prince was in the middle of its fourth season and Will Smith was eager to test his thespian limits anew. The show had used fatherhood as a strong thread throughout its run but Will was usually a cursory player in those episodes.
He wanted to address fatherhood head-on and began kicking ideas around about the Will character reuniting with his father, who had scarcely received a mention in the show's previous seasons. "Papa's Got a Brand New Excuse" (Season Four, Episode 24) would see Will's father Lou Smith's surprise return into his life after fourteen years.
The aim of the show was threefold: Uncle Phil would hit the height of his protective fatherly tendencies, it would shine a light on the importance of Black fatherhood, and Will could take a step he had long desired—flex his acting muscles as the centerpiece of a weighty story line.
Will considered himself a student of Black popular culture, soaking up everything from the Harlem Renaissance to Motown to the origins of hip-hop. It was he who suggested Ben Vereen for the role of the Fresh Prince's father. He had devoured Roots when it first aired and again in adulthood. There was even a Vereen reference in the first season. Arrangements were soon made and Vereen was on his way to Los Angeles to tape the episode.
"The first time I met Will was at the table read and he was so gracious," remembered Vereen. "The cast was warm and beautiful. But Will was like an ember that just burned so bright."
The episode begins with a hesitant Will reluctantly letting his father, Lou, back in his life. But their bond quickly builds and Will's heart soars. At an amusement park Lou tells him he was an all-city point guard back in Philly. He hits several shots to win a prize as a young boy looks on.
"He's pretty good," says the boy.
"That's my dad," beams Will.
It is the first time in his life he has ever said those words. Will is now completely invested in building a life with his father.
In the penultimate scene, after spending the week getting to know Lou, Will prepares to depart with him on a cross-country road trip back east. It is Lou's biggest job yet as a long-haul trucker. After an intense back-and-forth with Uncle Phil in the family room, the show perilously wades into uncharted dramatic waters. The audience, hushed, felt the weight of the moment. There would be no gags to puncture the solemn veneer.
"Tell Will I'll call him from the road," says Lou.
"I not gonna do your dirty work for you," counters Uncle Phil.
Will comes bounding in from the kitchen clutching his packed bag, buoyant about their adventure.
"Uh, Will, I'm glad you're here," says Lou. "Something came up."
Lou is unable to take Will because he needs an extra driver to help him make the distance in allotted time. Will is crestfallen. His new world is shattered in a moment.
Boulware was struck by the fact that Will's father was almost completely absent from the show without any real explanation.
"It was nice seeing you, son," says Lou, backing away.
"You, too…Lou."
Lou exits. Will is crushed. His defenses kick in.
"This actually works out better for me," he says with a wavering, unconvincing cool. "I heard the slimmies be coming to class with next to nothing on."
Uncle Phil looks at Will with sad compassion. Offers a life raft.
"Will, it's all right to be angry," he soothes.
Will's words pour out in a jumble of confusion and anger and hurt.
"Why should I be mad? At least he said good-bye this time. I just wish I hadn't wasted my money buying this stupid present. Hey, you know what, ain't like I'm still five years old, you know? Ain't like I'm going to be sitting up every night, asking my mom, 'When's Daddy coming home?' You know? Who needs him? Hey, he wasn't there to teach me how to shoot my first basket, but I learned, didn't I? And I got pretty damn good at it, too, didn't I, Uncle Phil? Got through my first date without him. I learned how to drive, I learned how to shave, I learned how to fight without him. I had fourteen great birthdays without him! He never even sent me a damn card.
"TO HELL WITH HIM!!"
It is a chilling moment that stuns both Avery and the audience.
Fade out.
*
"Breathe…"
Vereen stood off stage right and tried to settle himself. He exhaled and put his right hand temporarily over his heart. He let out another slow breath. His eyes were closed.
He pulled his character's black knit hat off his head. It would remain in the closet of his Manhattan apartment for the next twenty-five years.
Will and James were standing not twenty-five feet away, engaged in what would be the series' most memorable moment.
"Breathe, breathe, breathe," Vereen mouthed to himself as he watched Smith and Avery.
Vereen was an actor. He cheered for actors. He wanted to see good acting. He was struck dumb by what happened next.
"I ain't need him then and I don't need him now!" insists Will.
"No, you know what, Uncle Phil? I'm gonna get through college without him, I'm gonna get me a great job without him, I'm gonna marry me a beautiful honey, I'm gonna have me a whole bunch of kids, and be a better father than he ever was. And I sure as hell don't need him for that, because there ain't a damn thing he could ever teach me about how to love my kids!"
An excruciating beat.
Will's anger begins to dissipate. He chokes up. He is without defense. Tears stream down his face. He is five years old again.
*
"What if?"
The episode's writer, Bill Boulware, had been ruminating on the idea for the show for quite some time. Years, in fact. When he was growing up, his parents divorced when Boulware was very young, and he was left with a feeling of emptiness. Now that his father was no longer in his life, his direction and drive began to wane.
"Fatherhood is a topic that I've always had an interest in from the perspective of both the father and the son," said Boulware. "When my parents split I wasn't allowed to see my dad but I really wanted to have a relationship with him. So the idea had been percolating in my mind for a while."
Boulware grew up in the impoverished Colonial Projects in Harlem, right next to the famed Polo Grounds. He could look out his window and see center field at the Bathtub, where the New York Giants played. In the eighth grade his mother enrolled him in the small but predominately Jewish New Lincoln School, on 110th Street in Harlem. There he began to fall in love with books and writing. He would devour the work of novelists Graham Greene and Jack London and excel at writing dramatic short stories.
He gave up his dream of becoming a writer after completing his undergraduate degree at Wesleyan University. Fresh into the real world, he found little encouragement and support for his ambition. He instead took a job at Syracuse University as an admissions officer in charge of recruiting minority students, while earning his master's in city planning.
[Will] admired his father but had also witnessed him strike his mother, a fact he would not speak about for forty-four years.
He kept busy, but it wasn't where he wanted to be and he wasn't taking much home at the end of the day, either. He was disillusioned and broke, but the writer's dream stayed alight within him the whole time. On a whim, the young Boulware applied to film school at Boston University. Even crazier, he got in. Upon graduation in 1977, he was accepted to a writing program at Columbia Pictures in Los Angeles, which launched his screenwriting career. After stints on Benson and The White Shadow, he created the hit Black family sitcom 227, which ran for five years and turned out 115 episodes.
Immediately after 227 ended he got wind of a new pilot starring the inexperienced rapper-turned-actor who went by the name the Fresh Prince. After a round of interviews, Boulware was told indirectly that he was too old for the show. That he was out of touch with street culture. His lack of hip-hop knowledge didn't help.
"Basically," Boulware lamented, "I wasn't hip enough. Then I watched the show and thought, You think I couldn't write that?"
But the opportunity would come back around with Season Four of The Fresh Prince as Boulware was hired as a supervising producer (by Gary H. Miller, the least hip executive ever associated with the show).
At thirty-nine, the wounds from his father's absence were still raw.
"My dad had let me down so many times," Boulware explained, "but no matter how many times it happened I still wanted him in my life. I wanted Will to go through the same thing."
Boulware's mother felt that his father, who had dropped out of high school, had not played a big enough role in his life and did not deserve to see his son. He wasn't the kind of person he needed to be around, reasoned his mother.
While the show's producers had passed over him four years earlier, he regularly watched the show, mostly to support his friend and showrunner, Winifred Hervey, one of the few Black female executives in Hollywood. Boulware was struck by the fact that Will's father was almost completely absent from the show without any real explanation. The fact was highlighted by the constant recurring presence of Will's mother, Vy, who had made appearances in every season.
Given his personal experience, Boulware saw an opening.
"Each show starts off with a 'what if,'" said Boulware. "So in that week's pitch meeting I said, 'What if Will's father comes back in his life?'"
Since the subject matter was heavier fare than normal, Boulware teamed up with staff writer David Zuckerman as the clock ticked toward showtime. Often when writers on the show would team up, each would take a turn hammering out the script and hand it back to his partner until they had a finished product to send to the showrunner. But on "Papa's Got a Brand New Excuse," they locked themselves in a room and wrote together from page one.
The pair knocked the script up in about two days before sending it over to showrunner Gary H. Miller, who returned it with few notes. Miller told Will they had something special from the start and the actor lit up after reading the script. It had been exactly what he was looking for.
But there was one thing that stood out to Smith more than anything else: the monologue at the end of the show. They were words not unlike the kind he'd always wanted to say to his own father. Will's had not abandoned him like his fictional counterpart's had, but he had left a wound with his overbearing, unemotional parenting. These were feelings Will had held forever, but even more so now—what the audience and writers hadn't known, couldn't have known, is that Will Smith, the actor, had become a father himself. His first son, Trey, was born to his first wife, Sheree Zampino, eighteen months earlier, during Season Three of The Fresh Prince. Smith's 1997 hit "Just the Two of Us" is an ode to Trey and explores how fatherhood transformed him.
"How come he don't want me, man?"
Avery, instinctually parental, pulls him close. Will buries his head in his chest. Never more has he been his son.
The episode had ended not to the typical buoyant soundtrack, but to an appropriate silence instead.
Until that moment, Avery, a master craftsman, knew to keep his distance. He knew that Will Smith, the actor, was being born in that moment. He knew how much Will chased the evolution of his own acting ability. Will would spend hours in Avery's dressing room picking his brain on every branch of the arts. He was obsessed with process. He hated to make mistakes. He wanted to make Avery proud.
It was part of Smith's deep-seated desire to please, which was born out of the complexities of his relationship with his own father. He admired his father but had also witnessed him strike his mother, a fact he would not speak about for forty-four years.
*
"An Actor is Born"
Avery was known for his exceptional patience as an actor. Equal parts forgiving and encouraging, he could keep his distance or engage. He could incite or disarm. He was a force. His talent was equaled only by his imposing stature. But Avery knew a moment when he saw one.
The script had called for the very words Smith spoke. But Avery knew Smith had plumbed unexpected depths. He had grown quiet in the days leading up to the taping. He had avoided Avery. This was not an anomaly. Smith would find quiet moments in alcoves or the conference room at the end of the hallway.
He would disappear both from the world and into his character. He wouldn't talk to anyone. He would pace. Agonize. Second-guess. Frustration bubbled over into fits of passion and doubt.
Avery was startled by Will's performance despite several table reads and rehearsals. He'd also always known he had it in him. So did Vereen, tears streaming down his face in the aftermath of Will's monologue.
Will Smith, the man, had entered stage left and exited a different actor.
"That wasn't acting," said Vereen. "That was being. That was real. It was an incredible moment."
The studio audience, who had been so conditioned to laugh, was silent. Sniffles could be heard under the original taping. A woman gasped. The episode had ended not to the typical buoyant soundtrack, but to an appropriate silence instead.
For all their ambition and promise and naiveté born from a need to fit in, the cast, a once-ragtag group of newcomers, stage veterans, and a rapper, together four years this winter, could not have known their collective efforts could reach such emotional heights and lay bare the deepest parts of their being.
They wept.
__________________________________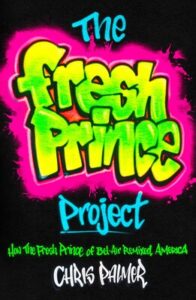 Excerpted from The Fresh Prince Project: How the Fresh Prince of Bel-Air Remixed America by Chris Palmer. Copyright © 2023. Available from Atria Books, an imprint of Simon and Schuster.
---