How Siskel & Ebert Brought Movies to the People
Matt Singer on the Bygone Era Before Movie Clips
Today, everyone—myself included—just calls it Siskel & Ebert.
That's become the default name everyone uses when talking about the influential movie review show that aired on public television and in syndication from 1975 to 1999. But the reality is that "Siskel & Ebert" was technically only titled Siskel & Ebert for the second half of its run on television. When the Chicago Tribune's film critic, Gene Siskel, and the Chicago Sun-Times' film critic, Roger Ebert, debuted on Chicago's WTTW, their show originally went by the name Opening Soon… at a Theater Near You. Before long, that was changed to Sneak Previews. When Siskel and Ebert jumped ship to syndication in 1982, the new show was called At the Movies With Gene Siskel and Roger Ebert, or At the Movies for short.
Certainly the various name changes reflect how famous Siskel and Ebert themselves became over the course of their run on television. But they also speak to a reality that many younger and more casual fans who only know them from their later years might not realize: That Siskel and Ebert were anything but the gold standard of film criticism on TV when they started. In fact, if the series had depended on the charisma of its two leads to draw viewers in its early days, Opening Soon… would have surely closed soon after it opened.
Siskel and Ebert were anything but the gold standard of film criticism on TV when they started.
To see what I am talking about, watch any episode from the early days of Siskel and Ebert. The two men would later confess they felt terrified at those first tapings; Ebert claimed they were so "petrified" by the prospect of filming an Opening Soon… episode that they would stretch out their pre-recording cup of coffee as long as possible. Coffee wasn't allowed in the WTTW studio, so as long as there was some java left in their cups, Gene and Roger could postpone the impending disaster for a little while longer.
And it was often a disaster. On Opening Soon… at a Theater Near You, Siskel and Ebert didn't look terrified; they mostly seemed bored. There was no energy to their reviews, or to the back-and-forth "crosstalk" debates that became their trademark. Former New York Times film critic (and former Ebert replacement host on At the Movies) A.O. Scott told me "if you look at the early tapes from the PBS era, you cannot believe that this has any future." If anything, he's underselling it.
So why, if Gene Siskel and Roger Ebert were so bad, did the show endure long enough for them to get so good that they became one of the most recognizable onscreen duos in TV history? The answer lies in those early titles: Opening Soon… at a Theater Near You and Sneak Previews. In those days, Siskel and Ebert were arguably not even the stars of the show. The true stars were the film clips.
To understand why, you need to recognize just how different the movie world is today, some 45 years later. If someone wants to watch a trailer for a movie now—almost any movie from the entirety of cinema history, no matter how obscure—it takes exactly as long as the time needed to type the film's title into Google or YouTube to find it. (Even if the title is The Incredibly Strange Creatures Who Stopped Living and Became Mixed-Up Zombies, we're only talking a matter of seconds.) If you're not by a computer, you can watch trailers or clips from films anywhere at anytime on a smartphone. Hundreds (if not thousands) of websites, blogs, YouTube channels, and podcasts deliver daily and sometimes hourly updates about movies big and small, new and old. On social media, the conversation around movies never stops.
When Opening Soon… at a Theater Near You premiered on WTTW in November of 1975, no one in the audience owned a VCR.
That's today. In 1975, none of those things existed. When Opening Soon… at a Theater Near You premiered on WTTW in November of 1975, no one in the audience owned a VCR. VHS tapes hadn't even been invented yet.
That is the world where Siskel & Ebert took root—in large part because information about and clips from new movies were so hard to come by in those days. Opening Soon… at a Theater Near You filled that void by presenting lengthy scenes from the titles that Siskel and Ebert discussed. Sneak Previews was never quite an accurate title for the show, because Siskel and Ebert reviewed rather than previewed films. But for many in the audience in the 1970s, the show served the same basic essential function as a sneak preview: It gave them their first glimpse of a movie they might want to see.
This period was so much the Wild West of TV coverage of movies, in fact, that these clips were not even provided by the movie studios. Today, every major film release comes with an "electronic press kit" or "EPK" which includes trailers and short scenes from the movie that broadcasters can use as part of their news pieces and reviews. Not in 1975. Back then, if Sneak Previews wanted to show a scene from a movie during a review, they had to make it themselves.
That's precisely what they did. When Gene and Roger attended press screenings, a member of the Sneak Previews production staff accompanied them with a notepad and a stopwatch. When either man saw a scene they thought they might want to talk about on the show, they called out to the staffer, who made a note of the timecode. They also had to keep track of the reel changes that would appear intermittently in the top corner of the screen because—oh by the way—digital film projection was still a few decades away, so knowing which reel of celluloid 35mm film the clips appeared on was essential for the next step in the process.
After the screening ended, the Sneak Previews producer would take the specific reels of film featuring the scenes Siskel and Ebert selected, trudge them across Chicago to a transfer house, dub the scenes to videotape, and return the huge 20-pound film cans to whatever screening room or movie theater they had borrowed them from in the first place. It was an absurdly labor-intensive process, but it was the one that gave Sneak Previews its first major selling point: Scenes from new movies you couldn't see anywhere else, carefully chosen by the show's critics to illustrate their on-camera arguments.
You can watch the movie world shift around Gene Siskel and Roger Ebert over a quarter century.
If you do what I did, and watch hundreds of hours of Sneak Previews episodes chronologically (something, believe it or not, I would recommend!) you can watch the movie world shift around Gene Siskel and Roger Ebert over a quarter century. The show charts the introduction of music videos, the explosive growth of camcorders, the rise of the American independent film movement, and so much more. Home video debuts and then grows into a major financial force in Hollywood. VHS begets LaserDiscs, which then evolved into DVDs.
Gene and Roger evolved too. They learned to translate their combative off-screen energy into a compelling onscreen dynamic, and became popular TV stars. When they left At the Movies to launch a third review series at Buena Vista Television in 1986, the initially called it Siskel & Ebert & the Movies. After a year under that title, the final three words were dropped. Siskel & Ebert was finally, officially born. By that time, that—even more than the clips—was who people were tuning in to watch. And that was the way things remained until Gene Siskel's death in 1999.
Today, there isn't a Siskel & Ebert type show on television—although you can certainly find similarly styled debate series about sports and politics all over your cable package. To some degree that makes sense. You can watch those all-important clips anywhere and anytime now. And you can't do Siskel and Ebert without Siskel & Ebert.
___________________________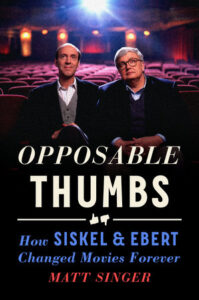 Opposable Thumbs: How Siskel & Ebert Changed Movies Forever by Matt Singer is available now from Putnam.
---