How Single-Family Zoning Laws Reinforce Existing Race and Class Divisions
Richard D. Kahlenberg on the Decades-Long Fight for Affordable and Equitable Housing
Janne Flisrand, a white middle-class liberal activist in Minneapolis, came to the issue of housing through her work in education. In the late 1990s, she was running an after-school program tutoring kids from low-opportunity neighborhoods. She was frustrated that "the kids that we were working with and hanging out with kept disappearing." When she'd investigate, she says, the children invariably had "some sort of housing instability story."
So Flisrand shifted her focus from education to work supporting subsidized housing for low-income families. After a decade, however, there, too, she felt, "we were continuing to lose ground…despite the hundreds of millions of dollars" invested. She began to investigate "these deeper root economic rules" and zoning laws that at the time many "people didn't know about" and that "nobody was talking about."
A community of like-minded individuals in Minneapolis began forming to slowly chip away at exclusionary zoning policies that kept housing scarce and less affordable. In 2014, council member Lisa Bender backed a successful plan to allow residents in single-family-zoned communities to add small in-law flats or accessory dwelling units (ADUs). At the time, one council member raised the specter of ADUs becoming houses of prostitution. But when some 140 ADUs were added and fears were not borne out, Bender was ready for more reform.
So were Flisrand and other activists. In February 2017, a couple of Flisrand's friends, John Edwards and Ryan Johnson, started an art campaign and an associated Twitter account to raise awareness of the ways in which exclusionary zoning hurt people. Edwards and Johnson called their Twitter account "Neighbors for More Neighbors." The name was a brilliant reminder to people of the shared humanity of those who wanted to be included—they were people, too, who simply wanted to be neighbors.
Dating back to the 1960s, people who tried to make changes almost invariably failed.
Momentum for reform built when Jacob Frey, a young candidate for mayor of Minneapolis and himself a renter, made affordable housing "one of the centerpieces of his campaign." In November 2017, activists were thrilled when Frey—just thirty-six years old—was elected mayor. Five new members were elected to the city council. The council as a whole now had twelve Democrats and one member of the Green Party. In January 2018, the council elevated then-thirty-nine-year-old Lisa Bender—leader of the earlier ADU fight—to be council president.
The generational shift was important, Flisrand says. The split in Minneapolis over housing was not so much Republican versus Democrat, but older Democrats versus younger ones. The younger elected officials, she notes, "get how housing, racial justice, school success, school segregation, and climate and all these other issues fit together" in a way that some older Democrats did not.
In March 2018, word leaked to the media that the city council was considering allowing duplexes, triplexes, and fourplexes in areas previously zoned exclusively for single-family homes. Critics were especially contemptuous of the provision to allow fourplexes, which opponents labeled "freyplexes" after the mayor. Council member Andrew Johnson in Ward 12 said the zoning reform proposal would be received "like a lead balloon" by his constituents.
"Quite a few council members reacted negatively," Flisrand recalls, but the flip side was that advocates were also energized. She teamed up with Edwards and Johnson to create a new grassroots umbrella organization, taking the name of the Neighbors for More Neighbors Twitter account, to support Frey and Bender to do something no major city had ever accomplished: legalize duplexes and triplexes throughout an entire city in one fell swoop. Usually reforms to relax zoning laws are fought community by community. But Minneapolis wanted to legalize "missing middle" homes throughout the city.
People were beginning to wake up to the idea, Flisrand says, that "there aren't enough homes for all the people who want to live in a growing city and that that is harmful in a whole host of different ways." Flisrand says the draft proposal "was clearly pushing us somewhere we hadn't been yet." For advocates of change, "it injected a lot of energy. It gave people something to show up for and fight for."
While in the past, council and zoning meetings had been dominated by folks saying, "I love my neighborhood and I don't want it to change," suddenly new voices were calling for housing that was more abundant and affordable. "That made it feel possible," she says.
But the odds were still very long, and there was plenty of reason to be skeptical. The proposal represented a big political lift and would require a major culture change. A city of 425,000 residents, Minneapolis had at the time one of the most stringent zoning policies, having banned duplexes, triplexes, and larger apartment buildings from 70 percent of its residential land. In New York City, by comparison, just 15 percent of residential land is set aside for single-family homes.
And there was the reality that no major city had ever done what Minneapolis was trying to do. Indeed, dating back to the 1960s, people who tried to make changes almost invariably failed. Although there has long been a consensus among researchers that single-family zoning is bad for housing affordability, bad for the environment, and bad for racial justice, there has been an equally durable political consensus that little could be done to change these policies.
Such policies have been ubiquitous—"practically gospel in America," says the New York Times—and have long been viewed as impossible to reform. As one journalist noted, increasing the supply of housing by relaxing restrictions runs into a classic political problem: "a lot of the beneficiaries are really diffuse," because those who would be better off from more building don't even live in a given neighborhood. Meanwhile, "the people who view themselves as being harmed are really concentrated."
A researcher at Dartmouth coined the idea of the "homevoter hypothesis"—that, because homeowners place most of their assets into their homes, they fiercely resist development. Increased supply, as cartels like OPEC know, threatens rising prices.
And homeowners often fear that development might bring changes to the neighborhood that could negatively affect property values in their neighborhoods, the national research on the issue notwithstanding. Accordingly, when proposals surface to liberalize exclusionary single-family zoning, wealthy, white homeowners often show up in force, and older, male, white homeowners tend to dominate meetings.
*
Tackling exclusion in housing has always been a dicey political issue for progressives, and potentially career-ending. In 1966, Senator Paul Douglas of Illinois and Governor Pat Brown of California both lost their seats because they championed fair housing.
In 1970, as noted earlier, Richard Nixon's secretary of housing and urban development George Romney proposed the ill-fated Open Communities program that would have withheld federal infrastructure aid to jurisdictions that employed exclusionary zoning that discriminated against poor or minority families. But Nixon, fearing a backlash, killed the program.
Homeowners often fear that development might bring changes to the neighborhood that could negatively affect property values.
Because the politics of zoning change were so tough, reformers turned to litigation. In 1975, the New Jersey Supreme Court granted a victory in the Mount Laurel decision requiring that each community provide a "fair share" of affordable housing, and it gave the decision further teeth in the 1983 Mount Laurel II decision. But backlash was fierce. Tom Kean, who was governor of New Jersey from 1982 to 1990 and who is today regarded as one of the last of the liberal Republicans, called the Mount Laurel II decision "communistic," and he sought a constitutional amendment to limit the state supreme court's ability to decide zoning cases.
Chris Christie, New Jersey's pugnacious Republican governor from 2010 to 2018, was also a fierce critic of the Mount Laurel decisions and of the Council on Affordable Housing, which was created to enforce the "fair share" requirement. When running for governor, Christie promised to "gut the mandates, gut the quotas, and gut the fees" imposed by the Council on Affordable Housing. As governor, Christie issued an executive order in 2010 that sought to abolish the Council on Affordable Housing and transfer its duties to an agency under his control, but the effort was blocked by the courts.
In 2015, after Christie continued to seek to weaken the implementation of Mount Laurel, the New Jersey Supreme Court itself abolished the Council on Affordable Housing and decided that lower courts themselves must review local compliance with the Mount Laurel decision. In the Mount Laurel community itself, there was strong resistance, and it took thirty-one years of fighting and litigation before a one-hundred-unit affordable housing project finally opened its doors.
So, too, in the liberal Baltimore, Maryland, region, one of the metropolitan areas that participated in the Moving to Opportunity program, the small-scale federal housing integration plan spawned major backlash from white residents in the early 1990s. In response, the normally liberal Maryland US senator Barbara Mikulski, who chaired the Senate Appropriations Subcommittee with jurisdiction over HUD, rescinded $171 million earmarked for expanding the program.
If all this weren't discouraging enough, Minneapolis activists watched as zoning reform in deep-blue California crashed and burned in early 2018. California state senator Scott Wiener, a San Francisco Democrat, drafted SB 827 to eliminate zoning restrictions for developers who wish to build apartments up to eighty-five feet tall (about eight stories) within a half mile of train stations and a quarter mile of high-frequency bus stops.
The bill had a lot going for it. In California, the unaffordability of housing is legendary. Silicon Valley employers were having trouble attracting employees given the price of homes. According to a 2016 McKinsey Institute report, California needed to build 2 million units to meet existing demand, and a total of 3.5 million units to meet expected growth in demand by between 2016 and 2025. McKinsey further found that if local governments rezoned areas within half a mile of transit stops, there would be room for California to potentially build an estimated 1.2 to 3 million new housing units by 2025.
__________________________________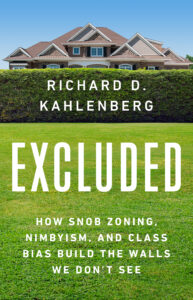 This article has been excerpted from Excluded: How Snob Zoning, NIMBYism, and Class Bias Build the Walls We Don't See by Richard D. Kahlenberg. Copyright © 2023. Available from PublicAffairs, an imprint of Perseus Books, LLC, a subsidiary of Hachette Book Group, Inc.
---