How Should You Name Your Characters?
Alison Stine on Conveying Setting, Style and Identity through One Important Word
I named my son for two men. One, a neighbor in New York City where I had tried to live, briefly and painfully, with my first husband. The neighbor was one of the only friends I made in the city. He would put on a three-piece suit every day to go out walking, wait for me by the mailboxes. The other namesake was the grandfather of an old friend. Both men were elderly, in their nineties when I knew them. I wanted an old-fashioned name for my son, one that would last.
I was named for Ali MacGraw after my parents saw Love Story. (Yes, the actor who plays the character who dies.) In my twenties, on a bus to Vermont, I met someone who had named their daughter the same way: the bus driver. His daughter and I were exactly the same age. The conversation had started when he asked me how many l's were in my name.
When it comes to writing, naming is one of the more fun problems of fiction, perhaps especially speculative fiction, where names can be as elaborate, archaic, or invented as the imaginative worlds they inhabit. One sci-fi writer recently joked on Twitter that the worst part of publication is being asked by readers and interviewers how to pronounce characters' names.
My first novel, Road Out of Winter, is narrated by a woman who has to make the difficult decision to leave her home in Appalachia after two years without spring. She's grown up on her family's illegal marijuana farm, and she's queer in a rural place, in a small town without people who support or understand her.
I wanted a final girl name.
A horror movie fanatic, I'm well-acquainted with Carol J. Clover's work on the final girl: the character in horror movies, especially slashers, who survives to kill the killer. One of the common traits of the final girl is that she has an androgynous-coded name, or one that is shortened, like Jess or Sid.
I named my character Wil, short for Wylodine, a traditional Appalachian name that I could imagine as music from the tongue of my Kentucky grandma (and I discovered later is similar to the name of Dolly Parton's sister, Willadeene). Old-fashioned and feminine, it makes sense that the narrator of my novel would go by a nickname. Wil is the kind of name I have always wanted for myself: something short and strong that does not immediately identify me as female.
Names must be deliberate and memorable, distinct. What do you want readers to focus on?
Names for characters can come from anywhere, from pouring over baby name lists or books to haunting graveyards, staring at tombstones. When I was a child, my dad told me I should read obituaries, like his favorite writer Agatha Christie, who had found many of her character names that way.
I was once roommates with a writer who was struggling to complete a novel sold as a proposal. When I read the published book, I noticed he had named multiple characters some version of my name, Ali and Alison. I mean, I was right there.
Naming a character can feel like unbearable pressure because it isn't just a name. It's an aspect of characterization that's immediate. Readers will make up their minds about a character based on initial impressions. What is the character's first action in the book? And what are they called?
Names can immediately convey background, home, or region, like Wylodine (we know we're not in Kansas), or Sarabeth, the protagonist of Laura McHugh's What's Done in Darkness, who escapes a religious sect only to be pulled back again (we might be in Kansas but are in fact in Arkansas). Or Tarisai, the main character of the West African inspired Raybearer series by Jordan Ifueko. Or Naamah, Noah's wife and the titular character of Sarah Blake's novel about the Biblical flood.
The music of a name—or lack of—makes you feel a certain way. Names can radiate warmth or coolness, familiarity or fussiness, trust or suspicion.
It's Edmund, the doomed student, in Donna Tartt's A Secret History, but he goes by Bunny. Antoinette Conway, the detective who is as prickly as her name, until her facade cracks, in Tana French's The Secret Place and The Trespasser. Kin Stewart, the time-traveling IT specialist and dad in Mike Chen's Here and Now and Then. And Lena in Lakewood, Megan Giddings' novel about a young Black woman who participates in a medical experiment to raise money for her mother's care.
I studied maps of expected climate damage to find the cities that might be impacted or erased.
Names must be deliberate and memorable, distinct. Too many characters with similar names—even names that start with the same first letter—and readers can be confused. Names also need to make sense for the location, time, and tone of the story. If a major character is unnamed, that's a decision too, one that can draw attention to itself. What do you want readers to focus on?
In my novel Trashlands, I named all the characters after animals, plants, and places predicted to be lost to climate change. So, the main character is Coral. Her partner is Trillium (a native Ohio wildflower). A reporter is named Miami. Other characters include Tahiti, New Orleans, Maple, Venice, Joshua Tree, and Bee.
Set a generation or two after hundred-year floods rewrite the coasts of America, climate change is an unwritten, yet major character of Trashlands. After the flood waters recede, what's left is plastic. A lot of plastic.
So much plastic, characters use it as money. They melt it to make bricks. They use plastic forks as fringe and K-cup coffee pods as bras on the costumes of the dancers at Trashlands, the strip club at the end of the world from which the novel takes its name.
In Trashlands, I don't write about the climate crisis directly but it still dictates every aspect of the characters' lives, from their jobs (plucking plastic out of the river) to the food they eat (foraged, hardy plants and expired processed snacks) to the place they live (a junkyard around the club). Names are an instant way to convey backstory, including loss.
I'm not sure how it came to me that the characters should be named the way they are—only that I felt memory devices would be limited in a world without phones or cameras. And the only books most of the characters have read is a badly damaged set of encyclopedias.
What's another way to remember a place that washed away? An animal that has become extinct?
Pass it down as a name given to children.
I studied maps of expected climate damage to find the cities that might be impacted or erased. I researched plants that are being decimated by changing climate—and ones that may survive, in order to find things for my characters to eat. In revision, I was surprised at the coincidences, the patterns my brain made: the character Mr. Fall loves a dancer named Summer, for example.
As the world as we know it has changed in Trashlands, so has language.
Coral can't remember the word principal—she's never been in a real school with walls and staff members. She can't connect meaning or definitions to other words she randomly knows, like ditch witch and upholstery. She just knows those words because, as a child, her teacher read aloud from an ancient Yellow Pages.
New names emerge. In the novel, "plucker" refers to someone like Coral, who plucks plastic from the river to sell it. When he was young, Trillium re-located to a shelter set up by the Red Cross—but he can name the place only as "the tent city." And Coral doesn't live in Appalachian Ohio, my home for many years and the home of my heart for my stories. Coral's region is called Scrappalachia, so named for the junkyards of scrap that fill it.
A name is more than just something to call your character. It's more than just a writerly task you have to complete. It's part of a person's identity, part of their family and home. It can impact tone, convey history. Let the names be a part of your story. Let names tell the story too.
___________________________________________________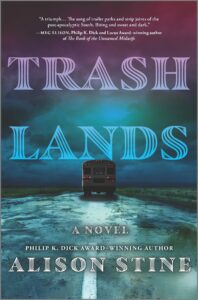 Trashlands, by Alison Stine, will be available from MIRA Books/HarperCollins on October 26th, 2021.
---