How Oscar Wilde Won Over the American Press
When the US First Encountered the "Aesthetic Apostle"
Oscar Wilde's ship docked in New York Harbor on the evening of January 2, 1882, one week before he was scheduled to speak at Chickering Hall. During the crossing he had composed his first lecture, but the journalists who swarmed onto the ship as it lay at anchor off Staten Island were more interested in Wilde himself than in the theories he had come to expound. "His outer garment was a long ulster trimmed with two kinds of fur, which reached almost to his feet," reported the New York World; "he wore patent-leather shoes, a smoking-cap or turban, and his shirt might be termed ultra-Byronic . . . His hair flowed over his shoulders in dark-brown waves, curling slightly upwards at the ends . . . His teeth were large and regular, disproving a pleasing story which has gone the rounds of the English press that he has three tusks or protuberants." His face presented "an exaggerated oval of the Italian face carried into the English type of countenance," the World reporter continued, while his "manner of talking" was "somewhat affected . . . his great peculiarity being a rhythmical chant in which every fourth syllable is accentuated." "The dress of the poet was not less remarkable than his face," declared the San Francisco Chronicle, "and consisted of a short velvet coat, rose-colored necktie and dark-brown trousers . . . cut with a sublime disregard of the latest fashion."
Like modern tabloid journalists, they peppered him with questions both flippant and straight: what time did he get up in the morning? Did he like his eggs fried on both sides or just one? Did he trim his fingernails in the style of the Empress of Japan? Was he here to secure copyright in his play? If Wilde was thrown by this barrage of questions, he did not betray it. A fellow passenger told a reporter that five days into the crossing, Wilde had told him that he was "not exactly pleased with the Atlantic" because "it was not so majestic as I expected." Wilde's disappointment was soon widely reported on both sides of the Atlantic. So too was his purported retort to a Customs agent when asked if he had anything to declare: "I have nothing to declare except my genius." On arriving in New York City proper, Wilde encountered blocked streets and required policemen to clear a way through. He could now understand why the Prince of Wales was always in a good humor, he remarked bemusedly to a mutual friend back home: "it is delightful to be a petit roi."
From one standpoint, the attentions of the press and the cult of celebrity surrounding Wilde in America are more important than the message he intended delivering in his lectures. Wilde in person was a rare exotic, at once a creature of elaborate artifice and consummate self-possession, and it is hardly surprising that American reporters fueled a wider interest in him as the living incarnation of a new kind of man. He was the first modern celebrity, a transatlantic superstar whose self-created public image went before him, and his lecture tour went hand in hand with a media frenzy accompanying his every move. Between January and March 1882 there were 314 items about him in The New York Times alone. His ideas and convictions, and still more his personal appearance, history and ambitions, were eagerly reported in the American press, initially with some skepticism.
But Wilde quickly became adept at turning the press to his own advantage, and within weeks he had won journalists over, resulting in a series of interviews, often syndicated, that were increasingly fawning and star-struck. Mass appeal followed as quickly: when he got down from the train in Oakland on March 26, a reporter for the San Francisco Examiner noted that "wherever he moved, the crowd, guided by a large, wide-brimmed, white slouch hat that he wore, followed . . . quietly and respectfully." "On the train and the boat," observed a reporter for the San Francisco Morning Call, "he was the observed of curious hundreds, many of whom had apparently made the trip across the bay purportedly to see him." In Denver, a "large crowd of unaesthetics . . . gathered about the platforms" waiting for a glimpse of the arriving celebrity.
The list of those who met or hosted him reads like a Who's Who of post-bellum America.
When his train finally arrived, they "trod upon the heels of the aesthetic apostle, . . . blockaded his way and surrounded his carriage, till the pressure of the crowd became disagreeable and even an annoyance." Wilde said that he encountered such crowds at almost every station and ascribed his fans' frenzy to "idle curiosity," adding that it was "evidence of an unfinished civilization." His American traveling companions "complained bitterly of the rudeness of the crowds at small stations," and in Corinne, Utah, "a grotesquely accoutred crowd, with a band" sought to invade the car in which he was traveling.
This cult of celebrity embraced the private realm as much as the public. "I, for one, desire that the best homes may be open to him, and that he may have the opportunity of seeing and conversing with our best people," wrote the prominent Boston abolitionist (and author of "The Battle Hymn of the Republic") Julia Ward Howe, near the start of his tour. At nearly every turn, Wilde was greeted by civic dignitaries, given private tours and welcomed into the homes of the rich, the powerful and the famous, where he swiftly overcame any diffidence with his charm, wit and style.
While many in the American establishment remained wary of him, the list of those who met or hosted him reads like a Who's Who of post-bellum America: Louisa May Alcott, Sam Ward, Julia Ward Howe, Walt Whitman, Jefferson Davis, Ulysses S. Grant, Robert Lincoln, George B. McClellan, Eugene Hale, Frances Hodgson Burnett, Oliver Wendell Holmes Sr, Charles Eliot Norton, Henry Wadsworth Longfellow, Henry Ward Beecher, Joaquin Miller. Much of the cultural work of Wilde's lecture tour was accomplished not when he was formally lecturing, but when Americans invited him into their homes, businesses and offices. With one or two conspicuous exceptions, notably the poets Walt Whitman and Bret Harte, American men seem to have been wary of him at first, but Wilde quickly disarmed any hostility or suspicion, and in their homes and workplaces his interlocutors could appreciate him and his ideas with a directness and immediacy impossible in the lecture hall.
Perhaps the most memorable of these incursions into the private realm was Wilde's trip by bucket to the bottom of the "Matchless" silver-mine in Leadville, Colorado, accompanied by the mine's administrator and the town's mayor. At the bottom of the mine, Wilde was the guest of honor at an impromptu banquet, "the first course being whiskey, the second whiskey, and the third whiskey," where the miners cheerily pronounced him to be "a bully boy with no glass eye." After the banquet, Wilde was presented with a silver drill and invited to open a new bore, subsequently named "The Oscar" in his honor.
To be sure, Wilde's message was rather different in such settings from the one he presented, for a price, by evening in the lecture hall. Ostensibly he had come to America to lecture on matters to do with art and aesthetics. "You have listened to Patience for a hundred nights and you have heard me for only one," he told his New York audience; "it will make, no doubt, the satire more piquant by knowing something about the subject of it, but you must not judge of aestheticism by the satire of Mr. Gilbert." At first he lectured on "The English Renaissance," a title soon expanded to "The English Renaissance of Art," by which he meant developments in 19th-century English culture, centered chiefly on the Romantic and Pre-Raphaelite movements, that were akin to those of the Italian Renaissance in their "desire for a more gracious and comely way of life, . . . passion for physical beauty, . . . exclusive attention to form . . . [and their search for] new subjects for poetry, new forms of art, new intellectual and imaginative enjoyments."
But the lecture, which borrowed heavily from Ruskin, Morris and Pater, often verbatim, was too long and theoretical. American audiences were often bored by it and showed it.
"Have nothing in your house that is not useful or beautiful."
Within a month he had abandoned "The English Renaissance" in favor of a shorter, simpler lecture titled "The Decorative Arts." Here Wilde argued more concisely that
what you want here [in America] is not that higher order of imaginative art of the poet and painter, because they will take care of themselves, but . . . the art that will hallow the vessels of everyday use, exerting its influence in the simplest and humblest of homes.
In sentences that seem to have ushered in America's so-called Gilded Age, Wilde told Americans that "if you develop art culture by beautifying the things around you, you may be certain that other arts will follow in the course of time." Once again, he drew heavily on William Morris, the leader of the Arts and Crafts movement, whose own lectures on the politics of decorative art appeared in book form around this time. But his new lecture was calculated to appeal to the democratic and pacifistic impulses of Reconstruction-era America:
The victories of art can give more than heroes yield or the sword demands, for what we want is something spiritual added to life. And if you wish for art you must revolt against the luxury of riches and the tyranny of materialism, for you may lay up treasures by your railways, or open your ports to the galleys of the world, but you will find the independence of art is the perfect expression of freedom. The steel of Toledo and the silk of Genoa did but give strength to oppression and add luster to pride. Let it be for you to create an art that is made by the hands of the people, for the joys of the people, too, an art that will be an expression of your delight in life. There is nothing in common life too mean, in common things too trivial, to be ennobled by your touch; nothing in life that art cannot sanctify.
A third lecture, added in March 1882 for towns and cities where Wilde was engaged to lecture twice, was even more prescriptive and practical in orientation: "I do not address those millionaires who can pillage Europe for their pleasure," Wilde declared at the beginning of "The House Beautiful," "but those of moderate means who can, if they will, have designs of worth and beauty before them always and at little cost." Art does not depend upon extravagance of luxury, he explained, doubtless recalling the triumphs of interior decoration that he had managed on a student budget while at Oxford, "but rather the procuring of articles which, however cheaply purchased and unpretending, are beautiful and fitted to impart pleasure to the observer as they did to the maker." He dispensed practical advice about how middle-class homes should be carpeted, furnished and decorated: "if you are having a house built, contract with the builder to have the main rafters of the ceiling exposed in outline" so that "the light may play constantly upon it, and not lie in a dead way." If a room contains limited or light furniture, then "the design should be light and simple." If you have big windows, "let a portion of them be filled with stained glass . . . with little bright spots of pure color which give a more subdued light." Also, "I advise you to have Queen Anne furniture," he told Americans, but "do not send to . . . England for it: it could be made here, and to that end a good school of design should be established."
"Have nothing in your house that is not useful or beautiful," he intoned, in an almost verbatim repetition of William Morris's mantra "Have nothing in your houses that you do not know to be useful or . . . beautiful." He ended the lecture on a lofty note that could not fail to inspire Americans anxious about the despoliation of their land and the growth of industry:
Today more than ever the artist and a love of the beautiful are needed to counteract the sordid materialism of the age. In an age when science has undertaken to declaim against the soul and spiritual nature of man, and when commerce is ruining beautiful rivers and magnificent woodlands and the glorious skies in its greed for gain, the artist comes forward as a priest and prophet of nature to protest, and even to work against the prostitution or the perversion of what is lofty and noble in humanity and beautiful in the physical world, and his religion in its benefits to mankind is as broad as the sun.
__________________________________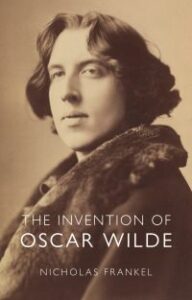 Reprinted with permission from The Invention of Oscar Wilde by Nicholas Frankel, published by Reaktion Books Ltd. Copyright © 2021 by Nicholas Frankel. All rights reserved.
---