How On the Waterfront Made Marlon Brando a Cinematic Icon
David Thomson on the Rise of an Old Hollywood Leading Man
Long before his exit (July 1, 2004, aged 80), Marlon Brando liked to write himself off. He made fun of acting and talked of it as a license for lying, a celebrity scam on dishonesty. He had let himself swell to a hulk-like stagnation that mocked the memory that he had been beautiful. As late as Last Tango in Paris, that study in decaying sensuality, he had the face of a fallen angel that cried out for more exploration or confession.
But that famously sensational film had dodged real introspection and settled for a promise of nakedness that Marlon was too shy to fulfill. It's hard with Brando to determine what he intended, because intellectual stamina was seldom in his repertoire—he was a very lazy angel. But it's possible that he had an intermit­tent plan to persuade us to take actors less seriously.
It didn't work: in 2004, and even now, he is the monument to acting, the grand figure who gave us Stanley Kowalski, Terry Mal­loy, and Vito Corleone along with the vague legacy of actors becoming inseparable from their characters. And doing it natu­rally, embedded in psychological realism.
That seems to indicate an encounter with real life. But did that precious country exist reliably for Brando, or could he never overcome his habit of pretending? All of which focuses on the question of whether a good actor can be a decent man. In a lifetime of simulation has strength of character been main­tained? And in that test, Marlon felt he was a failure.
That famously sensational film had dodged real introspection and settled for a promise of nakedness that Marlon was too shy to fulfill.
Let's look at On the Waterfront, the point at which our con­sideration of Brando had paused. It's a great title in its hope of describing an environment and a malign system, instead of just a contrived story about good guys and bad. The title seems to be thinking of some kind of analysis: economic, social—or could it be political? Titles are compass readings, courses that determine destination. It would have been a different project if The Godfather had been called In America or An Offer We Can't Refuse.
The chosen title, with or without irony, promises a human story with a respectful study of prowess and power. Whereas those alternatives speak to a different, less cheery view of things. Imagine if Waterfront had been called Organized Crime or even How Is Crime Organized?—Just Watch This Movie. I know that thesis doesn't fit on a marquee or in our eager imaginations. A picture called The Godfather murmurs to us that we'll be all right. But can you see what I'm getting at in the bold announcement On the Waterfront instead of When Terry Met Edie.
Terry Malloy was a boxer—at 168 pounds, a middleweight. Around 1950, he might have been defeated and punished by Jake LaMotta or Sugar Ray Robinson. He was handled by his brother, Charley, who told Terry to take a fix on a critical fight so that mobster Johnny Friendly could make money on a bet. Charley was known as the brains of the Friendly outfit.
But Terry tells Charley (and us, and himself) that he could have been a contender. This is the kind of thing faded boxers and athletes, and Americans, tell themselves. And it doesn't have to mean too much. If the Friendlys of the world had thought Terry had a chance at a title fight, they would have backed him all the way, just as there are criminal interests behind LaMotta in Rag­ing Bull.
So Terry is washed up as our story starts. He is sort of punch drunk, though that handicap is flowering ground for the exquisite articulation of a great actor. He has trouble counting dollar bills, but Brando turns that to pathos. And while he has makeup eyelid scars and swollen ears, he does still resemble Marlon Brando at the age of thirty. And whether he liked it or not—and his being torn was crucial—that was an elemental glory. Brando was as beautiful as anyone had been on screen—so he labored to seem authentic or ordinary. He refined Terry's hum­bleness, like an actress grooming herself in a mirror.
Brando was as beautiful as anyone had been on screen—so he labored to seem authentic or ordinary.
This is not to make fun of the actor or the film, but notice the showcase of romanticism in how Terry is presented. He is alone in the world—no parents—and Charley looks after him in only a cursory way, getting him small jobs for Friendly and soft spots on stevedore crews. Malloy is forever on the payroll. He keeps homing pigeons and he has young kids for friends. It's a sad joke to think that he has any kind of romantic life, though we see him leafing through pinup magazines.
A real Malloy in Hobo­ken then might have had enough money for brutish hookers. I'm not saying that was the only life available, but it is a level of reality that could exist beneath the tough, "gritty" look of the black-and-white photography by Boris Kaufman. Terry might have known Wanda.
But in the film's fable Terry is going to meet Edie. How should a bum get that date? you ask. The answer is very tricky. Terry works sometimes on the docks, so he knows Joey Doyle, a union enthusiast who is ready to testify to the Crime Commis­sion about Friendly's corruption. Charley gets Terry to set Joey up in a meeting. He tells Joey to go to the top of a roof, and the camera tilts up to show ambush figures waiting there. Terry pre­tends to himself that the mobsters are simply going to pressure Joey, to dissuade him from giving evidence.
But they go too far and Joey Doyle is tossed from the roof. If Terry did what he did in "innocence" or ignorance then it only suggests brain damage so great he cannot be relied on for much, let alone wooing Joey's sister, Edie, who is made well aware of the role Terry played in her brother's murder. How does she know that? Because Terry confesses to her.
I'm spelling out what happens in this celebrated film. It's up to us to determine how soft-centered the tough, gritty story is, and how much it relies on the latent sorrow in Terry and the way in which Brando serves it. So much of Terry lives in regret: he could have been a contender; he would like to be better than a bum; he wishes he hadn't fixed Joey Doyle; and he wants Edie to forgive him and to love him. He wants to be saved. People have attacked Kazan over the years for the self-serving defense of informing in On the Waterfront.
That's valid, but it is no more important than the way the narrative structure of the film—and its romance—hinges on the central self-regard in Terry and the way Kazan clings to it. Kazan once noted that so much of Brando's energy as an actor came out of shame. "Be sorry for Terry" is the aria at the core of this operatic film (with a heavy score by Leonard Bernstein), and it exceeds any interest in tes­tifying or cleaning up the waterfront. The picture is a sonata for a great actor pretending to be dumb. It is also a crude piece of special pleading that we overlook the actual emotional arc of Edie Doyle and believe she is going to love and marry (in 1954 there was no alternative) the man who arranged the killing of her brother.
Kazan reckoned privately that Edie was "a foolish part," but he trusted it to Eva Marie Saint, who was pretty, on the plain­tive side, and who had just had a stage success as the ingenue in Horton Foote's A Trip to Bountiful. Kazan liked her because he guessed she didn't believe she was pretty. Looking less than her thirty, Saint was of the Actors Studio, too, and Kazan and his producer, Sam Spiegel, preferred her to several other possibili­ties (including Grace Kelly, five years younger than Saint; she would do Rear Window instead and avoid the harsh winter days on the waterfront). Edie is not stupid, and Saint was a consci­entious actress and a wan presence, but her role is suspect. It's easy to think that the more sophisticated face and voice of Kelly would have turned incredulous over the white lies Edie has to live with.
But still it works: a lasting sense of what acting might be grew out of her situation. Though Cobb and Malden are allowed to overact in garish ways, and Brando is off on a tour de force, Edie holds the story in place and permits Brando to sing. There is a story that Kazan put his two leads together at a first meet­ing and told him to tease her in an improv situation. Brando enjoyed the fun, Saint relaxed, and the film is shaped by their growing yearning.
Movies are about pretending and the ecstasy with which on a cold day in the park even Marlon might have dreamed of his shame being wiped away.
You can see this when they are walking in a harsh New Jersey park and he takes her white gloves from her and wears one himself. That mundane action—so natural—lets us feel the emerging melody of their love, even if in the cold light of her loss of Joey we would not dare believe in it. But movies are about pretending and the ecstasy with which on a cold day in the park even Marlon might have dreamed of his shame being wiped away.
On the Waterfront is important historically in that our pleasure, our involvement, our intellectual and spiritual com­mitment, depend not just on believing we are seeing life—the tough circumstances of a punch-drunk bum in Hoboken, something we'll never know—but in the exhilaration of watch­ing an act. When Marlon goes into the business of the gloves, we are accomplices and unashamed in the love of pretending. No viewer really wanted to be Terry or credited the fantasy of his being redeemed, but the inventions of acting seemed avail­able to everyone like one of the liberties so precious in America.
There are other famous raptures in the movie, notably the taxi-cab scene where Charley tries to warn Terry about the peril in testifying to the Crime Commission. There they are, Steiger and Brando, side by side in the back seat, with weird Venetian blinds on the window so the budget could manage without rear projection. This is the moment of "I coulda been a contender," and it is an occasion when Steiger seems suitably if unusually mortified at being crushed by another actor. But don't lose sight of how the naturalistic scene is based on a crock few of us ever remark on.
In its set-up, Friendly has told Charley: shut your brother up or it's your lookout. But if Friendly was afraid of Terry's testi­mony, he would eliminate Terry and not the Charley who is the brains of his dumb operation. Yet over decades, the power of the backseat sequence has been so comprehensive that this glaring plot hole has been overlooked. We are crazy enough about good pretending to lose sight of this. So many of us have watched On the Waterfront over and over again, singing along with its songs, while ignoring the absurdity.
At the end of the picture, it becomes too hard to keep the faith. In a monstrously rigged situation, Terry tries to fight Johnny Friendly, only to be sav­aged by his gangster thugs (a group that included two famous ex-boxers, Tony Galento and Tami Mauriello). Then Friendly, close to physical ruin, orders the dockers to go back to work. In an amazing show of unity and decision, these guys say they will not work unless Terry goes in first. Thus the battered boxer, bloodied and torn, staggers to the labor hall.
So then the frantic Friendly tries to reverse his orders and wants to stop the workers from following their new hero. To Leonard Bernstein's inane pounding score, "The End" comes up as a merciful relief, but we can't quite digest that Terry and Edie are going to be happily married, on a waterfront tranquil and benign where Terry can unload whisky and bananas for the rest of time. Great acting can make you sign up for the most darned finales.
Marlon Brando was established as a cultural figurehead. He won the best actor Oscar for Waterfront, which did very well at the box office—it earned about nine times what it cost. Of course, exploitation and unfairness persisted on the real water­front (this is America)—I daresay the crooked deals are still there—and the high-mindedness of the picture and its Elia Kazan did nothing to keep up with that problem. In Kazan's own estimate—and I think he was correct—whatever the vir­tue or the damage in his testimony to HUAC, he was into his best and most personal work. I mean East of Eden, of course, but it's also Baby Doll (seriously undervalued), A Face in the Crowd, Wild River, and Splendor in the Grass.
__________________________________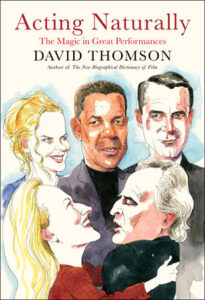 Excerpted from Acting Naturally: The Magic in Great Performances by David Thomson. Copyright © 2023. Available from Alfred A. Knopf, a division of Penguin Random House, LLC.
---